Wed Feb. 18 (day 10)
I must be getting acclimatized as the tent warmth is not always welcome. It's a mild morning, -10C gray and overcast. The sleds again move easily, sliding well over warmer snow. It's down hill from Big Thunder (elevation 406 m) along Mink Creek into Mouse Lake (elevation 350 m). The trail alternates between long portage trails and the creek itself. The creek is similar to Skuce Creek, wide open shoulders with clumps of willows and alders which can be avoided.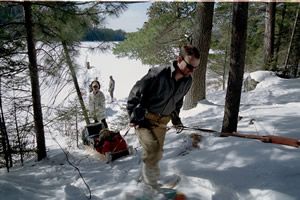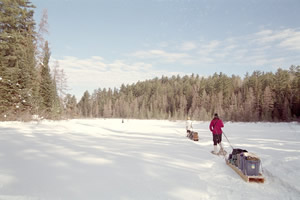 The long (1720 m) Mink Creek portage is the challenge of the day as we must tail rope down the steeper grades. Tail roping is a valuable technique I've picked up on this trip. A rope is attached to the rear of the ko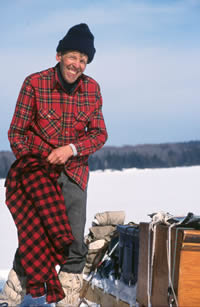 matik and used to slow the descent in a controlled fashion. It's somewhat tricky as on a significant grade, gravity forces on the loaded komatik can overwhelm the rail roper, causing them to loose their balance and either bum plant or face plant! A skilled tail roper can almost 'ski' using the tails of their snow shoes as an additional braking mechanism and be fully under control. With a tail rope in one hand and front tump lines in the other hand, I manage to successfully bring my komatik down under control. However, the drop on to Mouse Lake is too much for me - I loose control and the komatik runs away, finally stopping as it runs out on the lake. Happily, it didn't hit a tree or rock and shatter into pieces. The glory of wood komatiks (or sleds) of course is that they can be repaired in the bush using the materials at hand unlike plastic.
By now, its time for lunch. The day is bright and sunny, a fire is quickly built and sandwiches are eaten. Somehow, I sliced the bread a little thick this morning in my hurry – it's comical as we try to fit the pieces into our mouths. I try Ken's big (19" wide and 39" long) bear paw snowshoes while crossing Mouse lake and decide they are not for me. Too wide! I go back to my regular pals (14" wide x 42" long), and my hip joints thank me.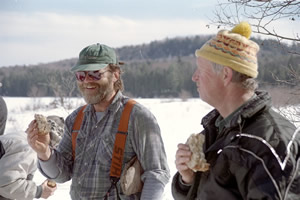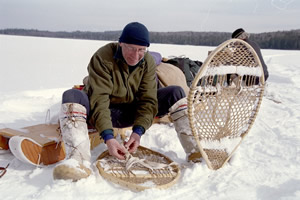 Mouse Lake is almost round…there are many slushy spots where we have to walk fast so not to get the komatiks stuck or ice up the runners. Bob goes in ankle deep in one place. There is no danger of falling completely through as the next layer of ice under the slush will support our weight. But no one likes wet feet! More patches of bare ice appear on the lake, stained tea brown. Closer investigation reveals that they are frozen, having surged up from an air hole and frozen when exposed to the colder temperatures.
The last portage of the day is from Mouse into Club Lake. For the first time, the chainsaw is used to clear large fallen trees. Neil and Don attack more modest diameters with their axes. By 4pm, we are across the portage and looking for a camp site, all being tired from the long portages today. The overland portages are always more taxing than level lake pulling. Today, it's been 2600m of portages and 3900m of lake travel…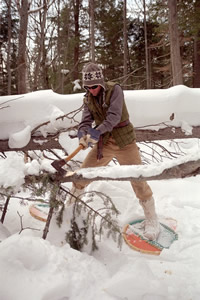 As Craig and Bob debate the merits of two sites, Neil reports: "it's not the Hilton". But the sun is getting low and we have little choice. Most areas we used require some site clearing to accommodate the large tent. Snow has to be shoveled around inside the tent to level out the living area. It's a time consuming tiring process, bent at the waist moving snow around with a short handled shovel. But everyone works away at their self selected tasks and the chores get done.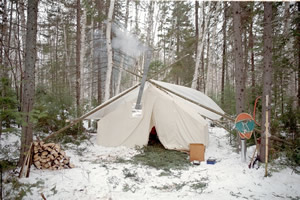 After another hearty pasta dinner with fruit leather desert, everyone settles in. A sat phone call is made to change the pick up vehicles to Kiosk from Canoe Lake. It's only -5C now…we learn a warm spell is on the way with some above 0C temperatures expected over the next few days.