Thurs Feb. 19 (day 11)
It's a foggy warm morning, -5C at 7am. Looks like smoke is hanging over the lakes and hills but just wet humidity. What a change from yesterday's delicate pastel sunset! I doubt we will 'see the light' today. Club Lake is really two lakes connected by a long cedar lined stream. Sticky snow collects under foot, threatening to freeze into hard lumps under the foot of the snowshoes. We cut sticks and bang them against the wood edge of the snowshoes to prevent this clumping. Its doesn't always work, sometimes I have to pry the hard packed snow off with my fingers especially those annoying balls which pack under the toes.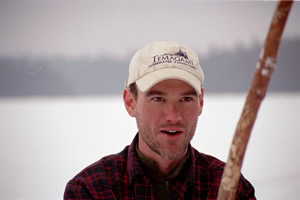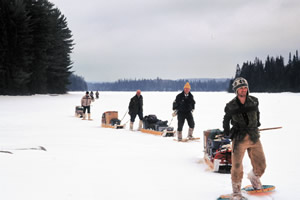 The snow isn't deep here but it's sufficient to pull over the frozen swamp. The going is level, which is always welcome. With this in mind, we follow the frozen creek from Club north towards Waterclear as far as possible. Eventually the willows choke the route and we are forced to rejoining the portage trail. However, its only short distance further and Waterclear appears at the end of the trail.
Waterclear, a lovely name, on a foggy day! No cedars here its completely lined with spruce and few birch. A long narrow lake, it's a natural highway for moose and otter (but they are shy today and we see none). Chickadees flit along low branches by the shore, four or five ravens circle above us. The sleds make a hissing sound as the runners grate over the crusty snow, today they seem to weigh nothing. The hard work is breaking trail with the heavier wet snow and we are cautious to avoid slushy spots on the lake surface.
Lunch is about ½ way down Waterclear. We have eaten so well throughout the trip and even now on day 11….butter melts on toasted bannock, stuffed with ham, cheese and mustard. The damp fog intensifies and at mid day, I'm feeling positively soggy. Dry cold is much preferable to this sodden mess.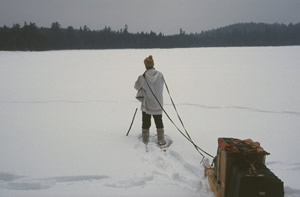 The afternoon is consumed by a short 330m portage (the usual up – terrace – down) into Whitebirch Lake. Its another long linear lake with slush spots, very similar in feel to Waterclear. At the end of Whitebirch, we camp just west of the portage trail. The snow is not very deep and as we level the tent floor, low vegetation, fallen branches and rocks begin to emerge from the ground. The tent goes up quickly but we spend more time than usual excavating the site.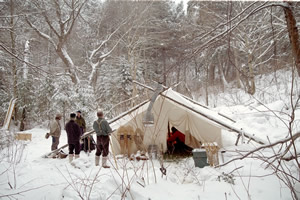 It's a hearty dinner of lentils, split peas, corn with fruit cobbler (my favourite desert) made by Dick. I topple over in carbohydrate overload, falling asleep in my day clothes as the last of desert is licked off the spoon…Ken pokes me awake, and I strip off my coat and damp socks. Psychologically, I know the trip is coming to an end, deep fatigue is starting to creep in.