Awesome Auyuittuq: Akshayuk Pass, April 2009 Baffin Island , Nunavut , Canada
Well, just about everyone thought I was crazy but the lure of two weeks early spring camping on Baffin Island was irresistible. Despite a severe case of pre trip jitters, things went smooth as silk. It was an amazing experience and one I'd repeat in a heartbeat.
The whole trip started with the offer of a free airplane ticket (value $1400) from Ottawa to Iqaluit. Who can resist something free? Especially when 'free' is a flight to the arctic, where flying costs a fortune. The only condition was that it had to be used by end of May. This meant it would be a 'winter' style camping trip – the temperatures in Southern Baffin island at that time of year were still well below freezing during the day and even colder at night. The two weeks at the end of April seems to be the best, as the Weasel River should still be frozen and we would use it as the 'trail'.
As an experienced 'hot' and 'cold' winter camper, I already knew what to expect in terms of the basic camping requirements (ie how to go to drop your drawers for pee at below freezing temperatures), had most of the required clothing (essential wind stopping outer layers), owned a few cold weather stoves and could borrow an ice axe. My sleeping bag was rated –20C. By cobbling together gear from skiing, hiking, canoeing and winter camping, I hoped I had all the bases covered. Unlike some well funded, 'do good' internet broadcast expeditions, this was a bare bones trip with 2 people who just loved to camp, see Canada and test their mettle.
Other factors caused me some anxiety. The big unknown was location – camping above the arctic circle in a remote setting with the potential of wandering polar bears caused more than a few sleepless nights. The sheer number of days camping with out prospect of heat was much longer than I had ever tried before – previous experience was limited to a few long weekend in Southern Ontario (yes, the shelter of trees, a few hours from help and a balmy 43 degrees of latitude). As chief chef, I worried about meals: Patrick, my travel companion was a vegetarian – what the heck was I going to feed him?
Of course, people have lived, trekked, explored the arctic and cold climates under more onerous conditions and with less aids. But hey, not me! And my travel companion was just as inexperienced as I under these conditions. It was eleven unforgettable days...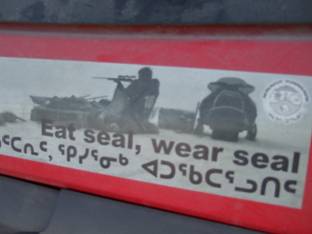 Bumper sticker as seen in Pang