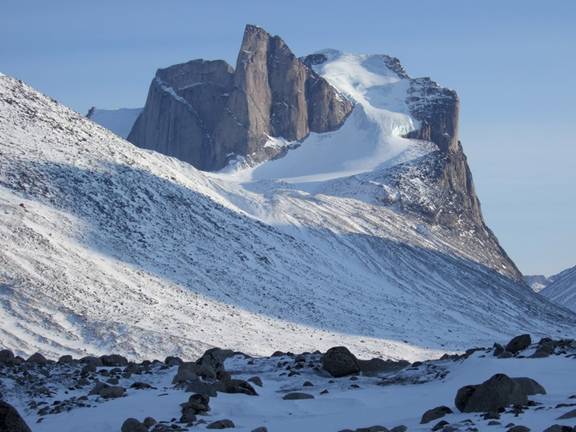 The fantastic weather conditions lasted all day. Returning to camp in late afternoon, we saw peaks revealed that were obscured by yesterday snow. Mount Breidablik with its complex planes, softened by glacier and snow contour, was my favourite peak of many spectacular contenders in this stretch of the Weasel River valley. Not as sheer as Thor, not as high as Odin but the way it caught the light, the complexity of folds and peaks. I could lay back in my tent, with the doors open and look: it doesn't get better than this.
This oatmeal concoction was breakfast for 12 days in a row. It was easy on fuel, simple to make, filled the guts and tasted great. At home, I premixed everything (instant oatmeal, brown sugar, sweet shredded coconut, gobi berries, instant milk powder, sunflower seeds, almond flakes, dehydrated apple rhubarb fruit leather) and packed it into zip lock bags. At camp, cheese, curls of butter and a heaping spoon of protein powder were added to complete the mix. With boiling water, stir and voila, the ultimate breakfast. My tummy never felt better.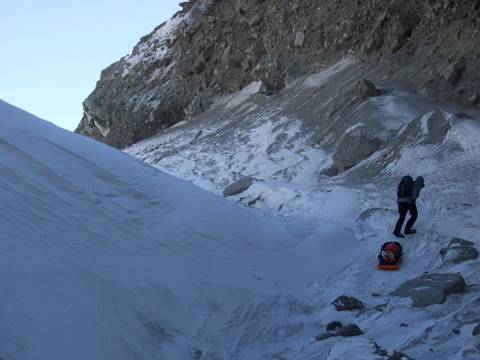 Climbing the frozen Weasel River into Summit Lake. It's a decidedly uphill start to the day, a 100m gain between our camp and Summit Lake. Summit Lake is the highest point of Akshayuk pass at 398 m / 1305 ft. The south end of Summit drains into the Weasel River and the north part of the lake flows into the Owl River. Once again, the ice crampons prove their worth.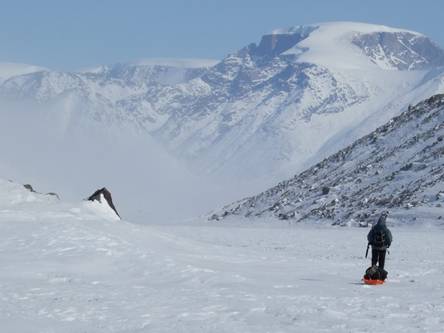 A deceptively calm image. After 60 minutes of grunting, sweating and swearing at tipped toboggans, we made it here, to Summit Lake. For the first time, we encounter a completely snow covered lake. The white haze in the distance gives subtle warning to winds ahead, protected so far by the rocky point on the left.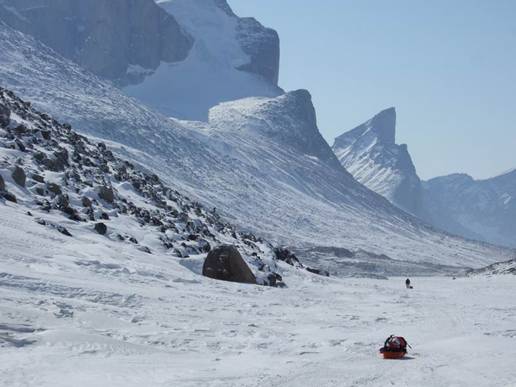 Looking for shelter on Summit Lake. Following the hard packed skidoo trail was effortless compared to trudging through ankle deep fresh powder snow which was annoyingly uneven thus tiring. The real difficulty was the wind. It roared directly into our faces, biting exposed nose tips and worming its way down loose jacket collars. Half way down Summit Lake, the south shore offered nothing in the combination of wind shelter and level. After some deliberation, we decided to retraced our steps. Chilled, we put our backs to the wind and plodded the 4 km to the Summit Lake shelter.