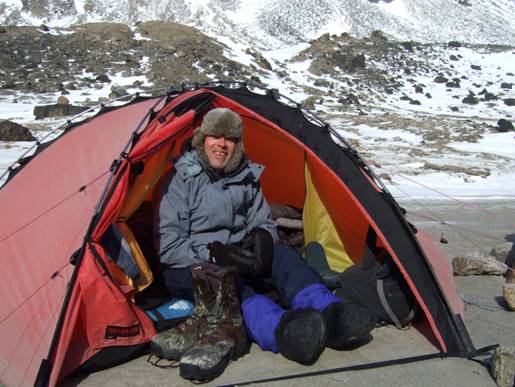 Morning routine: Patrick is wearing his down booties, his day boots frozen and waiting his warm feet to thaw them out. We both took the same foot ware, boots for the day and down booties for camp/sleeping. I wore my down booties inside the sleeping bag every night for happy warm feet. Patrick was fine in just wool socks. Removable nylon over boots protected the down ankle height booties from snags and kept them clean.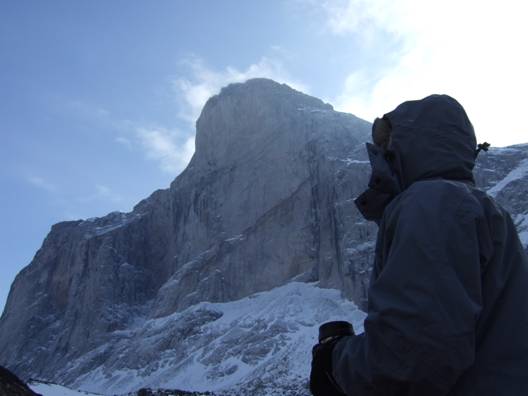 Thor backlit by morning sun. With its sheer vertical face and challenging ambient conditions, Thor (first climbed in 1965) is one of the ultimate 'big wall' destinations coveted by climbers around the world. Apparently, it is not good enough just to climb it, the modern focus is on speed: 'how fast can you get to the top?'. Well, to each their own. I was more than happy to savour Thor's magnificence with my feet firmly planted on the ground.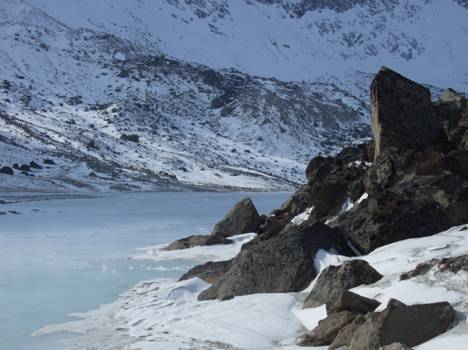 North shore, day 8 camp. Jumbled rocks contrast against the blue smoothness of river ice, washed by early morning light. Once again, the exquisite interplay of light-shadow-shape are a thrill to the eye. There is always something to savour, regardless of conditions. It's all a state of mind coupled with inquisitive eye. I never tire of what might appear to some as 'nothingness'. Of course, morning light like this would satisfy even the hard to please.