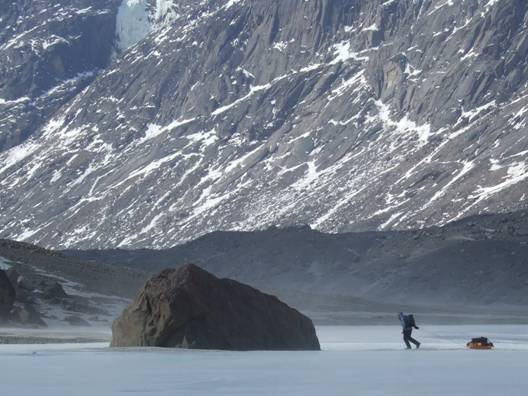 Seeking shelter just above Windy Lake. Dwarfed by this boulder embedded in the river bottom, Patrick takes refuge behind its massive shoulder. Another day of biting cold tail wind. No sun reaches the valley floor, blocked by Tirokwa Peak (1822m / 5978 ft), source of the Bear's Paw glacier.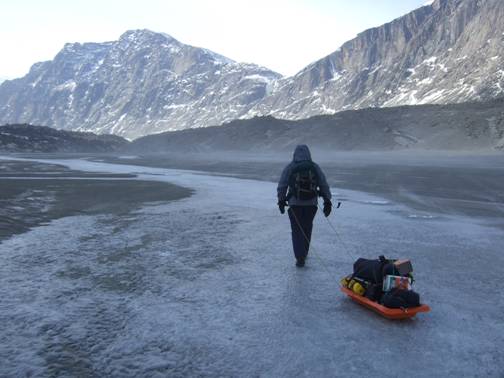 Walking south towards Windy Lake gap. A suspension foot bridge connecting both sides of the Weasel River was washed out by freak summer rains in 2008 and now lies in ruins, high up on the rocky banks. Above, the river ice is being progressively covered by blown sand, reducing our resistance free path. I wonder if this amount of blowing sand was typical pre- 2008.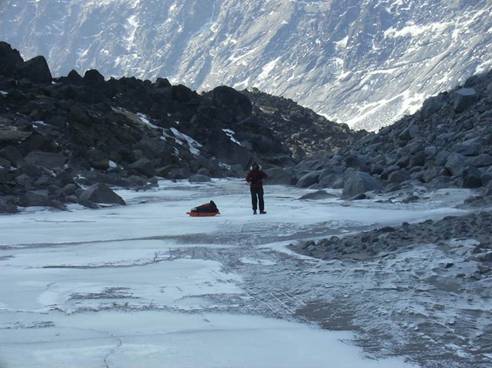 Entering Windy lake rapids. All the Weasel River water gets squeezed through this rocky defile. With strong tail winds, the toboggan is swinging alongside me, I'm struggling to maintain control, fighting both wind and elevation drop. A scenic and challenging portion two kilometer portion of the route is about to commence.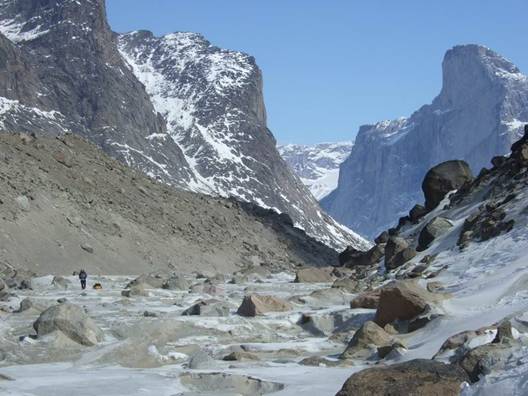 Looking upstream at Windy Rapids with the Windy Lake moraine behind the figure on the left side of the photo. We picked our way through this frozen rock garden. Erosion was active as the slopes had not yet stabilized from 2008 washout. Sand continually dribbled down from the banks on to the river ice. Unmistakable Thor in the background.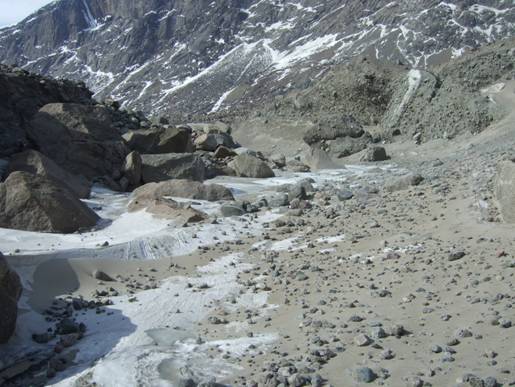 Looking at the erosion from the Windy Lake moraine. Sand is mixed with snow to form an abrasive mixture which ate away the sled bottoms. Fresh rock fall was apparent. Progressive spring thaws will further stir this unsettled brew causing downstream implications.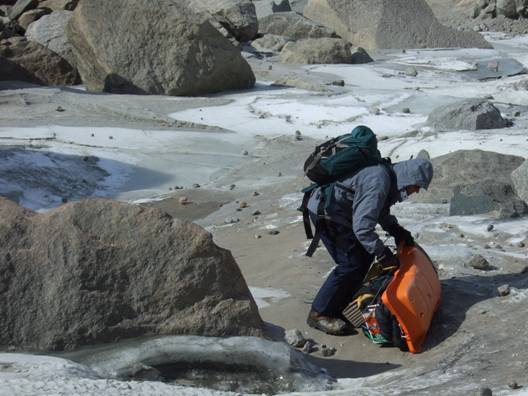 Every so often, the sleds tipped and or rolled over. Fortunately this was an infrequent occurrence but still annoying to stop and right when it happened. They were not particularly top heavy but more so suffered from a short length (48" only). To avoid de-bungying the toboggans during the day, we carried day packs with extra clothing, lunch and water.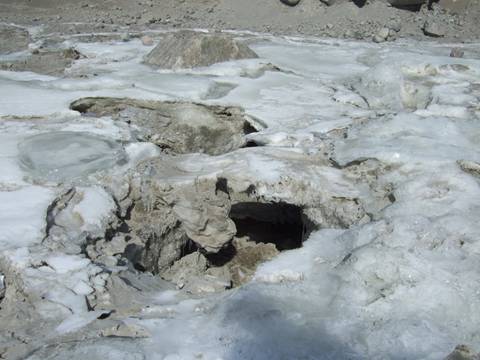 Ice rot on the river. Spring was definitely in the air. Under these large gaping holes the sound of rushing water was quite audible. On closer inspection, what appeared to be thick solid ice was surprisingly thin. I started to be more cautious in these stretches of frozen rapids, picking my way with thought instead of blindly assuming all was uniformly thick. Going through would likely result in a nasty bruise, maybe a twisted ankle, banged shin, a damaged sled but not a drowning.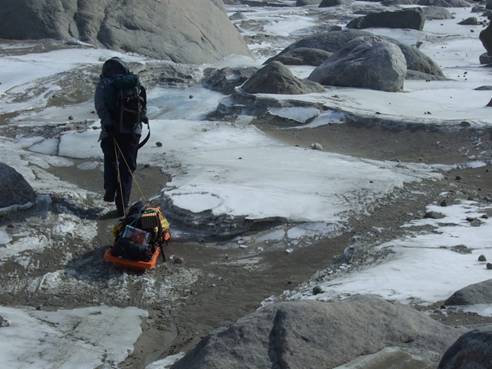 Picking our way through rotting river ice. Maneuvering through these frozen rapid sections were a challenge: sand collected in deep pockets, grinding the toboggan to a halt. Yanking hard to lift them out of the frequent depressions, onto a few meters of ice, they often rolled or tipped over. And when they slid down from the ice to the sand bowls, they sometimes tipped as well. More than a few choice expressions coloured the air.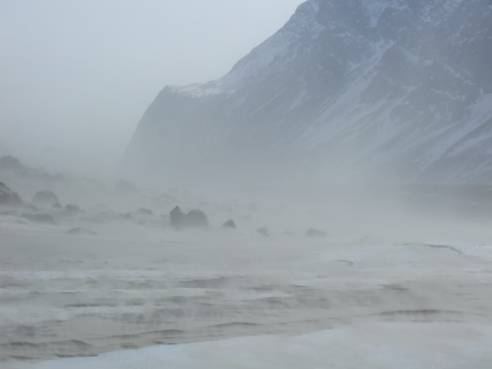 Extreme blowing sands south of Windy Lake. It was more a sand storm than a snow storm! Patrick ahead, is obscured. Even with good quality wind garb, I could feel the bite of the wind. Each time the digital camera was exposed, I was concerned fine air borne grit would choke some delicate opening. Despite crampons which dug into the ice, there were several gusts which almost knocked us to our feet. Incredible power.