Wed July 14: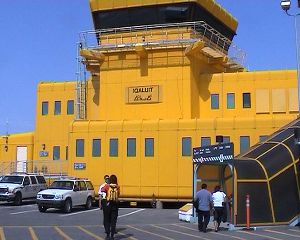 Early morning finds us back at the Ottawa airport: first stop Iqaluit, then Pond Inlet and then hopefully (due to short notice weather alerts) the end of the line, Resolute Bay. Security at First Air is low stress, they barely look at our camping gear, firearm, barrels of food. Barking dogs in pet cages, baby strollers, duct taped rubber maid totes and tattered cardboard cartons demand more attention than two fat assed middle aged white tourists heading north…9am takeoff as expected. My last look at a forest for 9 weeks is obscured by clouds below.
Iqaluit is sunny and unseasonably warm - the low humidity is pleasant after Southern Ontario's too close for comfort stink. I forgot how expensive things are here, its $4.25 for a tepid coffee and soso buttertart. Outside the terminal, where puffing last minute smokers congregate, we meet Francie. She is flying up to Resolute on our flight then off to the summer cook for the NASA space camp. After a few laughs and short tales of bush kitchen survival, we board the plane for the final leg of scheduled plane time.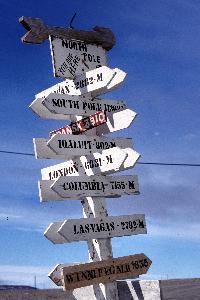 The 2 hrs 20min flight between Iqaluit and Resolute is cloudy again…after being handed an info placard in Ottawa which basically states: if the plane can't land due to weather, too bad, we are not paying for any meals or hotel accommodations, I'm just glad to land in Resolute. It's icy cold, the wind is blowing, the temperature hovers near zero. My body goes in to shock, not believing that its mid July – I should be shorts!
The terminal is buzzing with people coming and going – Raymond, the manager of the Co-op motel, meets us there with a truck. Town is pretty much as I remember it from 1998: bright cheery painted houses on stilts, surrounded by monochromatic dun coloured rock. The Coop hotel is great – it's about 5 years old, clean, tidy and the food is good. We stayed here before and liked it then. The large common room upstairs is a natural meeting area for guests, furnished with TV, computers, books, games and comfortable chairs. A large conference table with a map spurs conversation. We meet the summer NASA contingent, a brainy crew without a doubt, but egos already seem to be protruding. I wonder about how they will get along 6 weeks in a remote camp.
Outside, the huge window gives a great view of the North West passage, still frozen with ice pans jammed tight to shore. It seems to be a late summer this year, July has not yet arrived. Dogs and more dogs, adult females mostly, appear weather weary and moth bitten. They ignore our pleas to 'smile' for the camera, chained to wood shelters. The very young pups stick close to mom while the older, almost weaned pups amble adventurously about, their rolly polly bellies and short stubby legs, a natural camera magnet. We don't dare approach too close, very aware of their sharp white teeth and gleam in their eyes.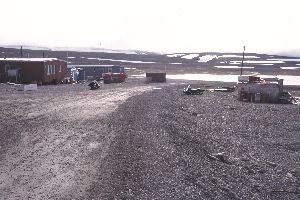 A last few purchases are made: three cans of camp fuel ($165), 12 pack of toilet paper ($9), 1 kg of sugar ($5), 300 gr coffee ($6.39) and 500 gr jam ($8.29). Ouch! Not sure if we saved any money in not flying up all our goods…the wintery blast follows us back to the hotel, 'snow drizzle' a mix of sun and snow, blast at our backs. No wonder the NASA scientists don't believe we are doing this for fun! Not sure what I'm doing here either.