Sunday July 18:
Today we are going further afield…food is packed for 10 days of hiking. The plan is to get up on top of the tablelands and do a short loop towards the Sverdrup Glacier. Our packs feel light compared to Labrador hiking trips as we are leaving the gun-slugs-rubber bullets, animal alarm fence-poles-wires-pegs, flashlight-spare batteries, bear bangers-cartridges all behind, sure that there are no bears 2000' up and 10 km inland. With 1:250,000 top map in hand, we depart under gray sky's, walking out along the gravel runway.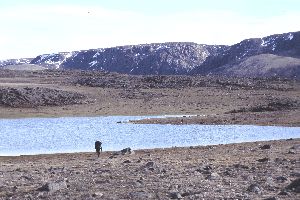 Two groups of muskox, totaling eight animals, contemplate us as we pass by the largest fresh water lake on the Lowlands. They dash off, not stopping or even turning until they are over 1 km away – to me, this energy expenditure far out weighs any potential danger (as we see no wolves or sign of wolf) however their species endures. The lake is still mostly frozen. Tire ruts from some long gone vehicle, ring the shore line, now water filled, mosquito breeding havens. Eventually, the land dries out as we walk further inland and slightly up a small knoll.
At the base of the upland plateau, we stumble across a small unfrozen oasis of verdant green grass and mosses. An old squaw, nesting on the open slope, is startled into flight, a clutch of 4 oval grey-green eggs revealed. Is this her 2nd brood I wonder? It seems late in the season to successfully fledge young birds. There are many broken shell bits in the vicinity but its unclear why. Swimming on the pond are about 50 snow geese, their white plumage glowing against the pond waters. Running pell mell along the shore, three Canada geese, necks outstretched, race for cover from our prying eyes. Five muskox amble from the back side of the knoll, likely part of the same earlier group of eight – this time they approach us and we back off.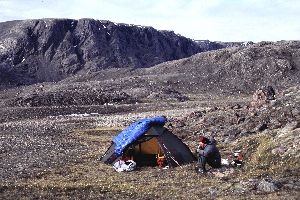 The land continues to rise, valley walls closing in along the Truelove River proper. About 1 km along, a sandy island, dry on the north side is the graveyard to yet another muskox. It's a large mature animal, with a huge boss and enormous skull. The skull is part buried in the sand, I yank hard to for a better view. It weights a ton! Living musk ox on the opposite shore observe our antics, placidly chewing their cud. Its now 4pm, we start to look for a campsite. I'm sick with a headcold (damned plane travel!) and need to sleep more.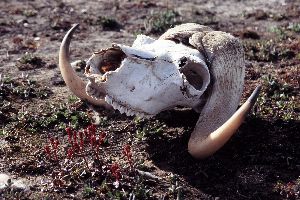 A level site is located in a small depression that offers some wind shelter. Its 0C but 5C inside the tent. I'm glad to be out of the wind and the dampish sea fog which is rolling up the valley. A few rain spits, more ice pellets than wet, tap against the tent fly. It's snug and dry however and my first night out on the land.