Wed July 21:
Weather changed overnight to stormy wintry conditions. We lucked out during yesterday grueling slog with excellent weather – great visibility, no rain, blue sky, light winds, pleasant hiking temperature of 10C, and few mosquitoes.
Inspect my feet more closely this morning: its not a pretty sight: raw patches of skin, blisters and masses of gluey duct tape. The hiking boots are a few seasons past their prime but like an old friend, I don't want to give them up thus now paying the price as the tongue leather is rough and has abraided my skin. Stuffing a thick pad of musk ox wool into snack size Ziploc baggies serves as an emergency field repair but looks like new boots are inevitable.
With the crappy weather and miserable head cold, I'm content to browse through reading material on site. Feeling lazy, I skip quickly over the technical entries (energy transfer between various lichen species etc) to the more understandable topics (hunting patterns of Grise Fiord residents, arctic animals). Alfred tries to film the foxes but they refuse to come out, likely sitting around their hearth, drinking hot toddies as well.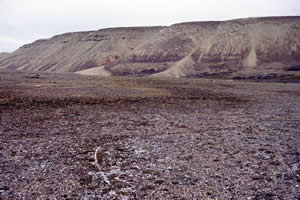 Finally the weather lifts a bit in the afternoon. We stroll slowly toward the Truelove Valley, feet tender but backs straight, burdened only with day packs. 'Wolf Hill' (according to a faded black and white map with penciled names in spidery script) is the highest level in a series of raised beaches ( "... the upper marine limit of Truelove is 76m above sea level, dates to 9450 before present…"). Decayed but still distinctly curved, the arc of a 6 foot whale bone rib is nestled almost flush into the tundra. A snow shoe hare motionless but blazing white against the tundra, watches us, almond eyes glistening, moist, black nose quivering.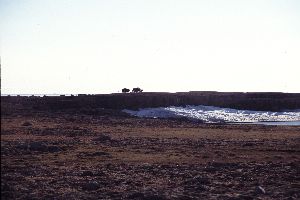 Later, as the weather continues to abate and the light improve, we stroll in the wetland flat in the opposite direction. Sharp calls of the arctic loon contrast with the buttery soft diffuse light. While stalking a black bellied plover over a gravel ridge, I suddenly come face to face with eight musk ox. They dash off, silhouetted and backlight by the sun's glow and ocean ice. They look ghost like, churning legs, rippling fur flying.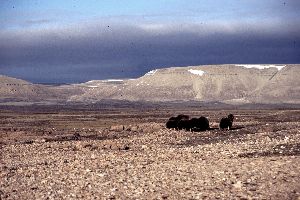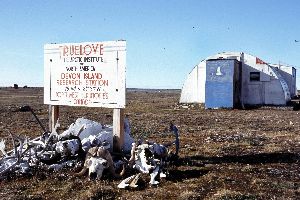 A purple sandpiper, with four chicks on tottery legs, dive for cover in the short grasses. I carefully scoop one up, cupped in the palm of my gloved hand, wondering about the survival odds for this bit of fluff. Mom calls, and I put the chick down, who runs and hides in Mom's breast feathers.
We are hungry by 10pm and return to camp. Alfred films the five fox kits, I write in the diary. Its 0C but feels warmer with little wind and the suns low slung rays.