Bataboro Lodge:
Besides the 4 of us, there are 2 other guests – Dave from Texas and Barbara from Germany. The main two storey sleeping dwelling has several bedrooms but all share bathroom and shower facilities. Ron and I bunk in the Tiguino room on the second floor. The outdoor sink has a great view of the river, showers and toilets down the hall. Perfect, like camping with a roof.

steps to river, main sleeping lodge in background
The first night I use the mosquito netting but there are no mosquitos – apparently they are not found in this part of the Amazon – could be other crawling things however so I take Julio's advice and use the net (although the local guys don't bother). I hate cockroaches and the mere thought of them crawling while I sleep is enough to use the net. The biggest bug I see under the roof is a 'stick insect' which clings to the wall outside the shower.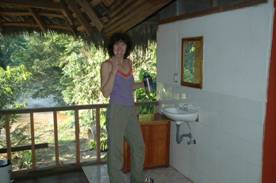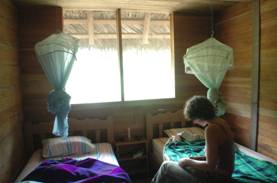 Meals are served under a large thatched open walled raised hut which is connected to the main sleeping building by a raised boardwalk. Not sure why everything is raised – keeping tourist feet off the grass and away from snakes? Flooding? In the dining room, 4 string hammocks swing from ceiling rafters – a great place to write, listen to jungle sounds or just hang out after dinner. Its like our own private paradise! An open field surrounds the lodge area dotted with a few banana and long bean 'guava' trees. Oh, did I say the meals and coffee in particular were great?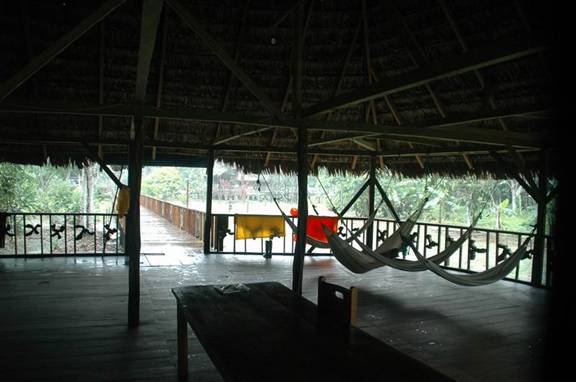 On our first morning, Julio outfits us with rubber boots. We are to wear these when walking in the jungle and then turn them upside down on the porch overnight.
Fausto, a Quecha speaking Indian, accompanies us on the walks. He explains the use of various plants. Born and raised in the jungle, his knowledge of plants and animals is encyclopedic and has passed down through the generations. I wonder if today's youth show as much interest We examine tree bark scraped and used for stroke, nut fruits for eating, tree skin for blow darts, palm leaves for weaving fibers.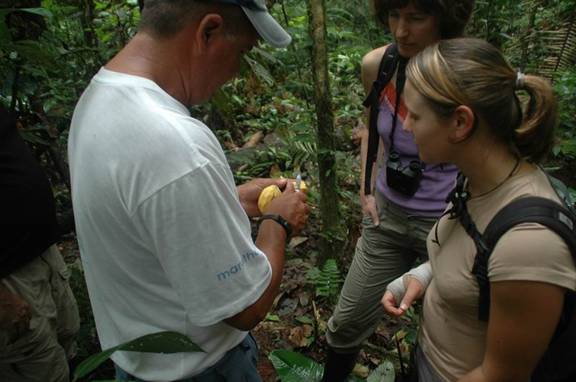 The rubber boots are handy for crossing small streams. Fallen logs act as natural bridges but caution is needed as slippery with moss. Vines hang from most trees, their tough fibers take twisting well and used in the place of string or rope to secure many things together.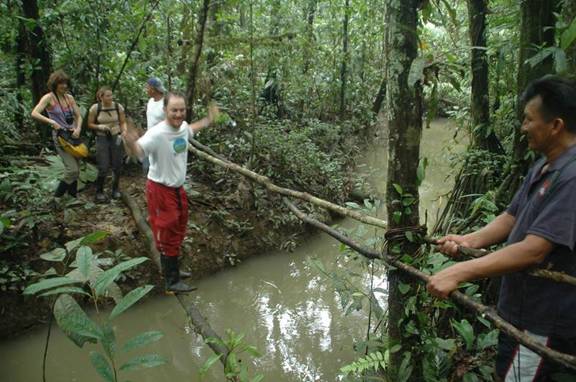 Lemon ants live inside palm frond stems and can be eaten. It takes some convincing for me to try them – instead of licking the palm frond directly, I prefer to have the ants crawl over my palm and then lick my palm, fussy that I am. The feeling of all those little feet pricking my tongue takes some getting used to.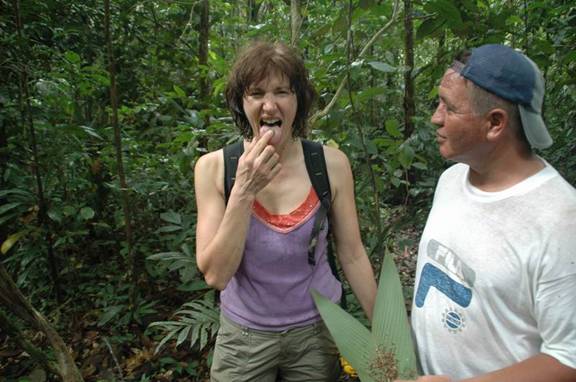 Yes, they do taste like lemon. But more interesting is the symbiotic relationship lemon ants have with a certain species of tree: the ants feed on the tree sap while killing other trees nearby thus providing the tree with some space at the root level in a crowded jungle floor.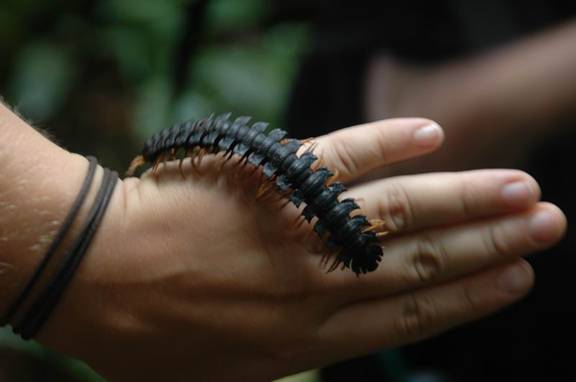 Julio finds a huge black centipede – its segmented armoured body and orange legs make me cringe. When agitated, the insect emits a powerful stink of amaretto and curls up in a roll. Julio delights in putting it in his pocket, then shoving it under my face. Yuk!! I am not impressed and certainly have no intention of letting the thing crawl up my arm.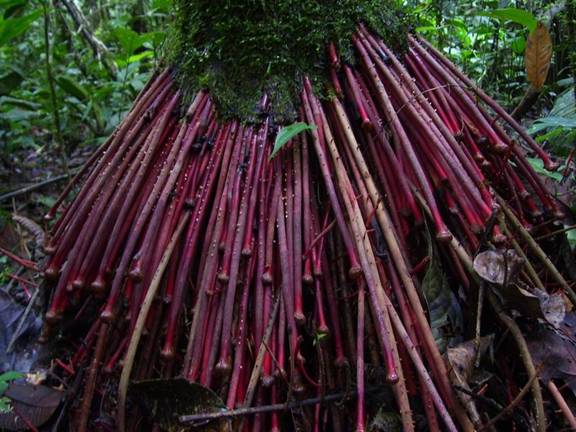 what kind of tree is this?
It has been a full first day of tramping around. Yesterdays excitement and the general heat and humidity have sucked my energy – after a dinner of spinach soup, beans, radish salad, chicken and desert, I retire for the night. Over cast, a light drizzle is muffled by the thatched roof – a rich frog chorus and the vibrant trilling of birds lull me deep into an Amazon sleep.