Departure: Feb 3
The next 48 hours are all about moving. First, the 3 – 4 hour boat shuttle upstream, then the 3 – 4 hour drive to Coca, followed by the flight to Quito, lastly, taxi to the guest house. Early tomorrow, a multi phase journey to rendezvous with our boat in the Galapagos Islands. Connections are tight. The steel canoe which was to be here at 9am is already one hour late. Just like travel in arctic Canada, things happen on their own timetable. I breath deep and try not to get caught up in the 'what if's'.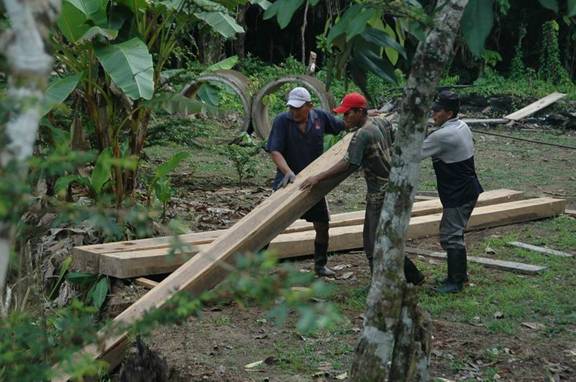 Finally, the boat arrives. Long lengths of smooth fresh cut lumber are first loaded – were these planks trees a few days ago? Are these 'poached' logs?? Cedar? mahogany? I heard no sawing or chopping and wondered where they were cut and dressed to this stage. The low wood benches balance precariously on the uneven plank floor, a few empty plastic fuel drums and propane containers rest against the gunnels. We pile in duffle bags, clamber aboard and wave good by to Fausto and Julio.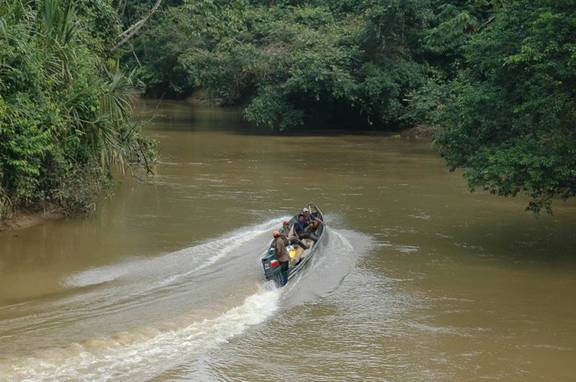 The water level has dropped overnight (no rain in the last 24 hours) exposing dead heads and stumps. Sandbars reach further into the Rio Tiguino, especially on the inside corners where water speed is the slowest. Occasionally, the boat bottoms out, bumping and grinding more paint from the steel hull. It's only 35 to 40 km to the road but the twists and turns mean a snail pace.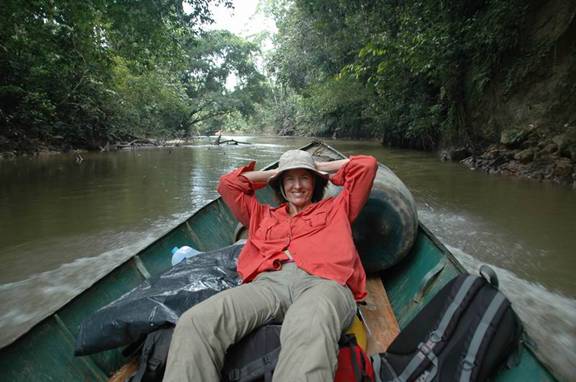 Wildlife viewing is easy from the river compared to the dense rain forest canopy. Coming around a sharp bend, we surprise a capybara mother with 2 infants grazing on riverside grass. These four legged rodents looks like pigs but with long shaggy fur. Interesting that they are the favourite food of the anaconda! They hastily scramble up the slope, swallowed by jungle.
Green and black turtles, sit like warts on fallen logs, splash into the water at our approach. Small caimans continue to sun, not bothered by the roar of the boat engine. Flocks of toucans, easily identifiable with their heavy bills, fly across the river. Vulture type birds soar on thermals, heavy bodies silhouetted against grey sky. Shiny swallows flit, skimming just across the water's surface, darting after insects. A type of 'fishing bat' smaller than an indigo butterfly, cling to dark underside of trees. The repetition of motoring – pause – gun the engine over sunken logs becomes routine, my mind drifts, thinking vague nothingness.
After three plus hours, a gentle bump and we are back at the cross roads of Rio Tiguino and the gravel road. The box lunch (carefully packed at Bataboro in individual Rubbermaid containers) of chicken, rice and peas is hastily consumed. Empty propane tanks are hoisted on top of the open sided van. A young mother with two small infants, one at her breast, watch our activities.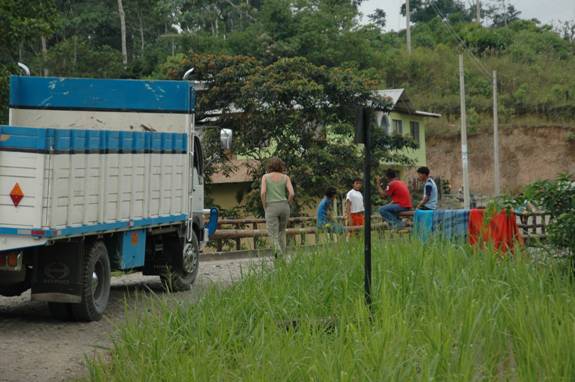 Slightly concerned that we are behind schedule, my anxiety spikes when we come to a long of parked trucks. With a resigned shrug, the driver throws his hands in the air and turns off the engine. What the f…!?!?! it's a road blockade set up by to protest lack of payment by some corporate entity to the local populous. Ralf and Peter have some understanding of Spanish, gleaning the gist of the problem.
Well, I am certainly not content to sit here, further delayed, miss today's flight and perhaps even screw up tomorrows logistics! Walking up to the barrier, I try to assess a course of action. All eyes are on this tall gringo lady who walks unaccompanied as her companions still on their duffs in the van. Grrrrr….suddenly, an older man wearing a yellow hard hat with clip board in hand, thrusts his hand towards me, speaking a mile a minute. Spanish, I guess, but my 'pardon, senor, no hablo español' doesn't seem to register. Taken back for just a second, I grasp his outstretched palm, give it a firm two handed clasp and vigorously nod my head. He breaks into a big smile, yells something to his cohorts and the logs are removed. Our driver has been watching with interest and wastes no time in jumping to the front of the line. With a cheery wave, I speedily hop into our slow moving van, our groups looking at each other. Just as we finish crossing the bridge, the log barricades come down again.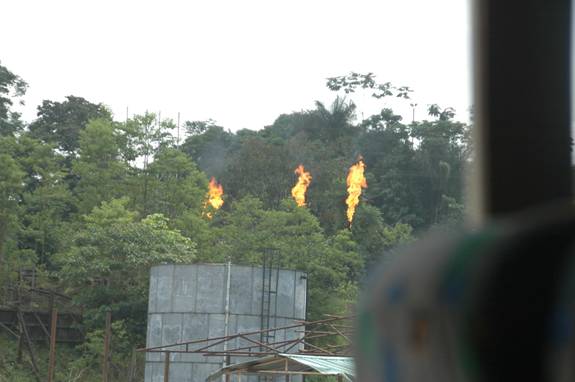 Our driver demonstrates that men are the same all over the world. After 10 minutes past the blockade, he stops on the road to pick up 2 older women, 3 kids and a young girl who appears to be blind in one eye. Within the hour, he stops again, to pick two more women with a baby – they ride in the cab with him for 30 minutes before he drops them off. The next stop is to pick up a pretty girl wearing a poke-a-dot dress. She flashes big teeth in our direction, then climbs into the newly vacated front cab beside the driver, remaining there for the next hour. Just before Coca, at an oil cross road where gas wells flare, she gets off. The driver seems to have a soft spot for the ladies as he pointedly avoids the male hitch hikers!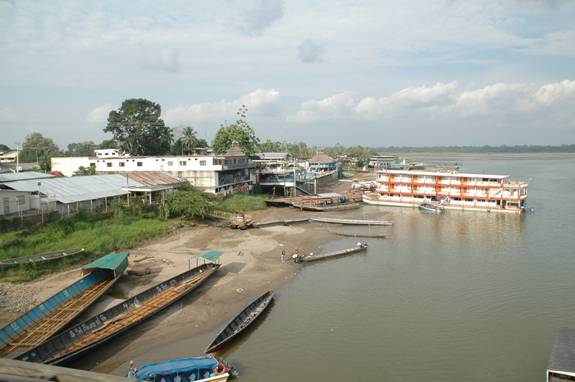 Coca is located on the Napo River – downstream is Brazil and mighty Amazon
With 50 minutes to spare before flight departure, the driver skids into the airport parking lot. With a huge grin, he happily accepts our small tip. Some sketchy driving here: ie passing a bus which was passing a truck which was passing some pedestrians, everyone straining uphill on gravel with the majority of traffic being oncoming dump trucks! Crazy driving – there is much to be said for a loud air horn!
So, without further ado, it's a fast flight back to Quito – jungle spreads below before the foothills of Sierra erupt into genuine snow capped Andean peaks – but then clouds blanket my view until touch down in Quito. Its only 35 minute flight, maybe 250km as the crow flies but Quito and the Amazon are worlds apart. Stunning to be so close yet so far. Happy to have visited and experienced the rain forest but this gal is not a jungle person. Looking forward to a hot shower, some clean(er) clothes and tomorrow's swim in the salty seas.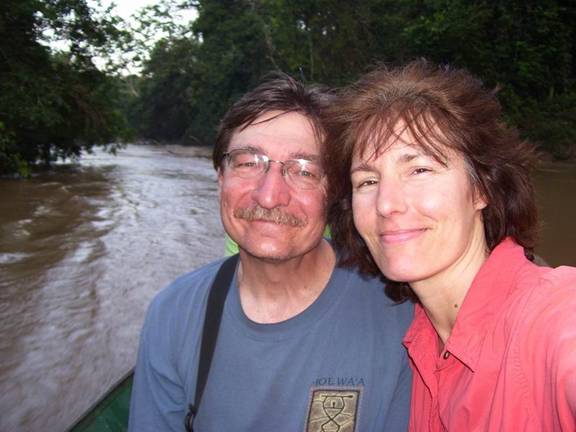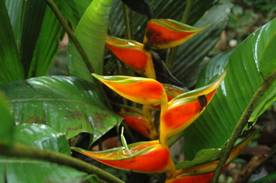 heliconias