A Reality Check
The trip was broken into three parts, each one a test run for the next. The idea was to check our gear (and ourselves), working out any unexpected bugs before undertaking next longer portion. Thus the first baby step was a day hike from Lake Hazen base camp, then a 7 day loop returning to Lake Hazen base camp, and lastly, the most challenging and more isolated 2 week trek to Tanquary Fiord.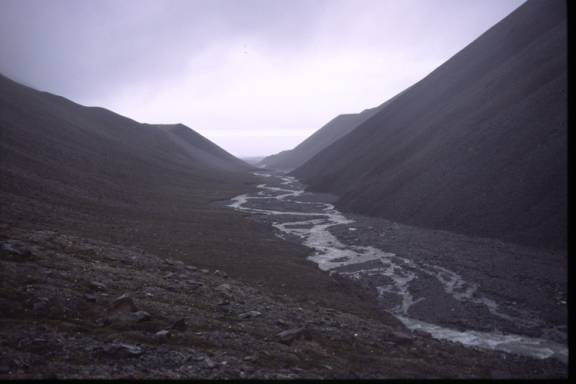 The next morning, we set out a short 15 km day hike around Blister Hill, up Blister Creek, cross a small saddle and coming down into Snow Goose valley before returning into camp again. The initial estimated time was 5 hours…
It was quickly clear that we were not going to make the whole loop. There was just too much interesting stuff to look at along the way: animal tracks, the weather, the terrain underfoot, as well as plain old route finding. Did I mention we miscalculated?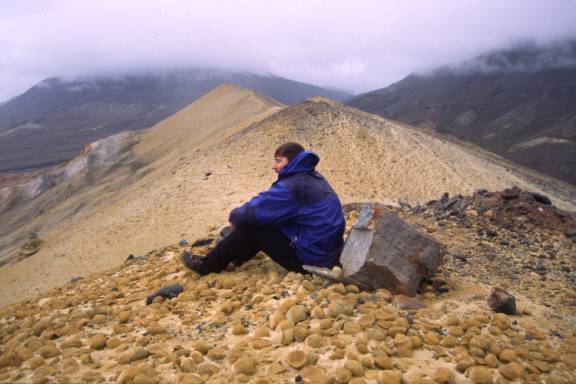 Here, Ron ponders the view from Blister Hill…its about 8C with a light drizzle. What are we in for? A haunting thought: if we didn't come back to camp, got lost, broke a leg, it possible no one would miss up and no one might ever find us. We love the wilderness but respect how easy little mistakes can snow ball in to big mistakes. Carefully, I review lists and more lists in preparation for this journey.
Canoeists know about cooking over fires and more frequently, gas stoves. Above the tree line, there is no wood to burn – all cooking would be done over white gas stoves. Due to weight, we would take only a single stove with no back up. Having used the MSR whisper light on many previous trips, I had confidence in its performance plus my ability to made any emergency field repairs.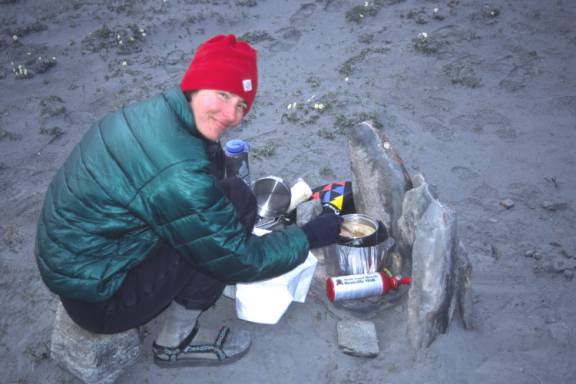 The rock shelter minimizes the wind sucking heat away from the pot. Meals were simple one pot glob, mostly pasta, rice or bean based. I spend hours dehydrating ingredients with the aim of fast cooking as we were on a fuel budget of 150mls a day. Twenty three days of food amounted to over 67 lbs with lunch being the heaviest meal (about 40lbs for the two of us).
Breakfast was one of the hot cereals (red river, oatmeal, cream of wheat, hot granola), occasionally powdered eggs-dehydrated ham-cheese plus coffee. Lunch never changed and was based on Richard Webers 'power lunch': nuts, dried fruit, salami stick. Biscotti, beef jerky, chocolate nanaimo bar, and home made grunt scroggin (thanks to Jan Heaven for that idea). Dinner was an assortment of ready made Lipton's meals, instant noodles or KD but always with an addition of either dried ground beef or dehydrated tuna or dehydrated chicken. We did not loose weight but I couldn't say that I was completely full either. Hiking, I always said, a completely natural (starvation?) diet!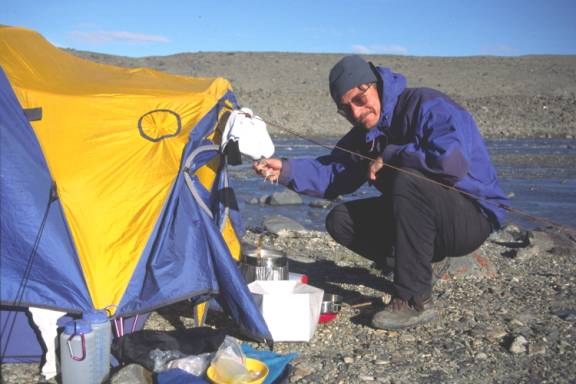 One of the great things about canoeing is that nothing is on your back. As backpackers, your whole life is on your back! A heavy load taxes not only your back but your feet as well. Hiker specific gear that emphasizes light weight was certainly available but just wasn't in the budget. With the exception of a comfortable back pack and hiking boots, everything else was going to be existing canoe gear. A cross country ski pole, instead of paddles, became my third leg.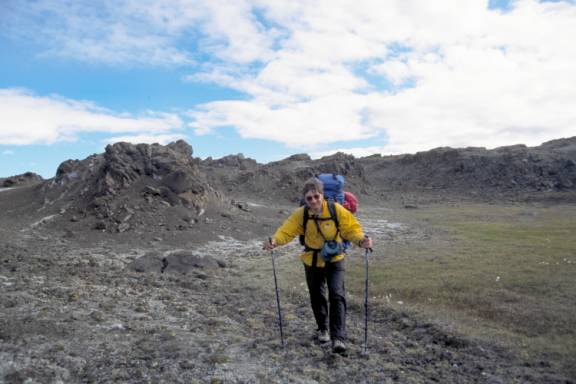 Rethinking straight forward camp skills was necessary. How many hundreds of times before have I set up a tent? Here, with no trees, and the potential for extreme winds, every rope, tie down and guy line was rocked for the night. The time involved to secure 18 ropes plus tent floor was onerous at the end of the day when dog tired but the tent did its job, despite some hurricane force winds (the tent was a used Sierra Design Expedition Dome). The tent front door zipper failed on about day 6, splitting, so the rear door became the only entrance. This was most inconvenient as the door opening was smaller and higher off the ground. By the end of the week trip, the rear zipper was also threatening to fail.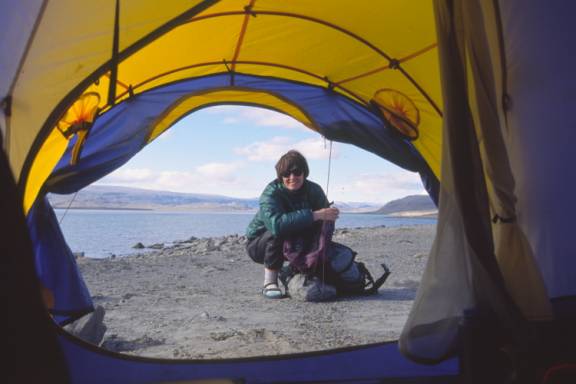 Despite having well broken in hiking boots, the heavy load and the uneven terrain took a toll on our feet. Duct tape proved to be more useful than first aid tape as it stayed on even when wet. After 3 days, I just kept adding more tape as needed. By the end of the trip, all my toes were tapes as well as my heels. Fine sand grit would get into the boots during the day (despite wearing gaiters) and rub the skin raw. Why I wasn't aware of this during the day, I don't know. Stiff boots are mandatory – my metatarsal band shrieked in pain many days during the trip. Although they have since recovered, now when carrying a weighty pack, I only wear a heavy duty boot with a serious sole.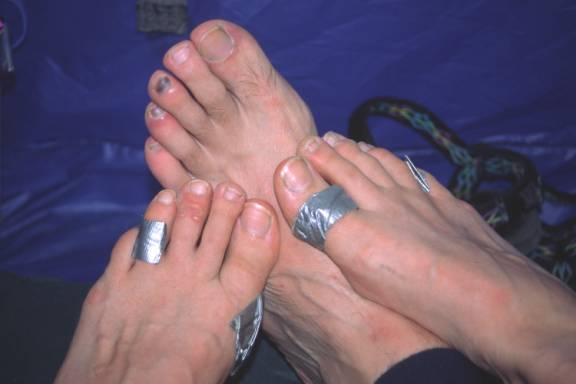 A big unknown to us was glacier and general travel on the ice. Living in Southern Ontario, winter meant groomed ski trails or at worst, the occasional crossing of a frozen flat lake. Glaciers that shed house sized ice blocks, river levels that rose and fell due to the sun's melting, simple things like how to best walk on a glacier with out crampons, ice axes, or ropes was a whole new experience. We opted to leave ice gear behind with already heavy loads – plus our idea was to just avoid crossing glaciers – ha! We learned about glaciers on this trip…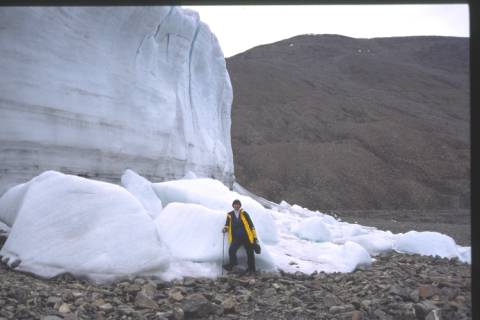 This was a physically challenging trip. The distance traveled (average 13 km per day) and degree of difficulty varied each day. After 5 or 6 hours with a pack on the back, my back had had enough! While on the move during the day, micro breaks (less than 2 minutes) helped and were taken anywhere as needed – say at the top of a hillcrest or pause after crossing a stream or difficult section of boulder field. However, after about 60 minutes of continuously wearing my back pack, I would have to stop, unbuckle and take it off as the top of my thigh would go numb. Going horizontal at the end of the day just felt so darn good!