High water or low water it's always COLD water: the river crossings
On some hikes, your feet stay relatively dry due to a well maintained route with hiker aids such as bridges, stone lined paths, logs that cross wet spots or else the route itself is in dry country, a dry season, or over dry terrain. Before we even got to Ellesmere, I knew it was going to be a 'wet foot' experience: my friend Mary who had hiked there for 10 summers, wore rubber boots. But I would stick with more supportive hiking boots plus bring river sandals with some gortex socks, hoping they would be sufficient for wet conditions.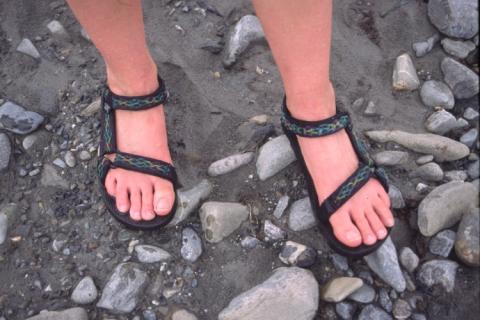 My first Ellesmere Island river crossing….temperature shocked lobster coloured feet after a 5 minutes in the relatively shallow and slow moving Snow Goose River. Next time, I wear the socks!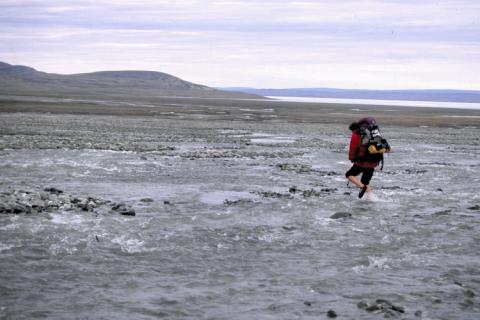 Near the outflow of the Snow Goose River. With pants rolled up, I simply splash across, weaving from rock pile island to rock pile island, stopping for a few seconds to flex my numb toes. They don't really warm up but its reassuring to check that they are still there!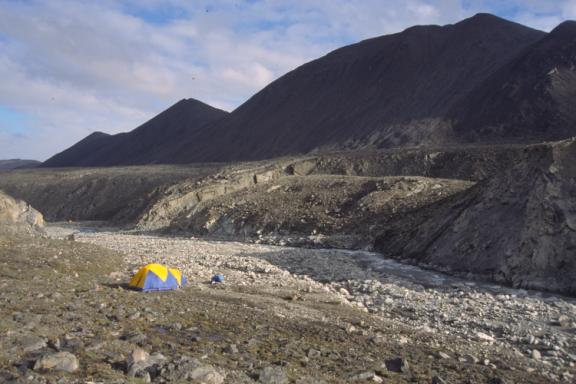 Gorgeous evening light on a delightful campsite. Often, the ground was either wet or rocky or sloped (or all three) and finding a campsite could be a challenge. This tiny rock free platform with a carpet of grass presented itself at the end of the day. Nestled next to the Snow Goose River headwaters, it offered easy access to drinking water as well as protection from the winds. For once, climbing out of the river bed to surrounding slopes was easy.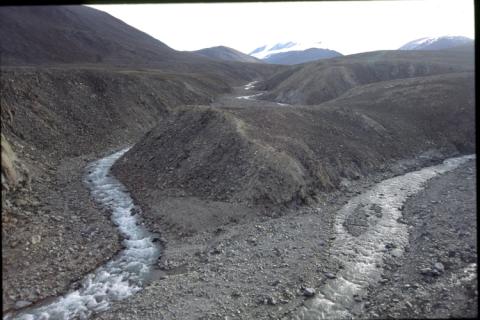 Junction of the Snow Goose and Nesmith Rivers: at the end of the sunny day, the river water was running at peak volume and too high cross. By coincidence, another hiker is on the opposite side of the river. Jack, hiking solo, waves to us as the rushing water drowns out any attempt at communication.
We resort to tossing notes tied to rocks, across the river. If all went well and the river level dropped overnight, we agreed to join up in the morning and hike a few days together. Turned out the three of us got on so well, we hiked the next 18 days together.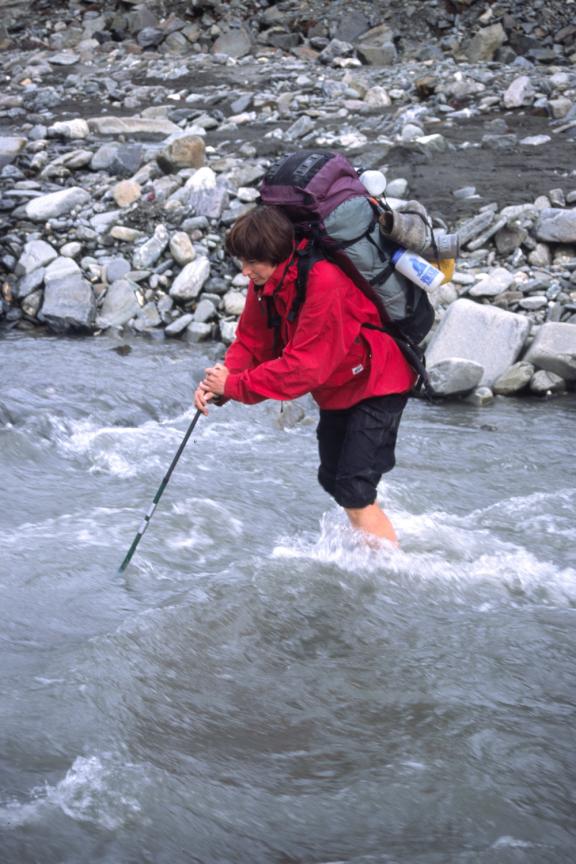 With waist belt undone, cautiously I probe the streambed for big holes. The current is quite strong - two poles would have been better as well as facing upstream a bit more and walking upstream in a sharper angle. The first step was always tough as it was a bit of drop down into the water from the riverbank. I never got used to the temperature shock, going from cozy warm hiking boots into 4C frigid water despite some protection from the gortex socks.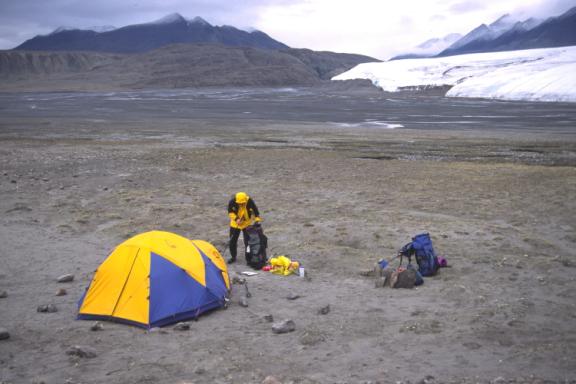 I had heard stories that the most daunting river crossing would be the outflow of the Henrietta Nesmith glacier. Approximately 2km wide, it would be a long time in cold and possibly up to thigh deep water. Skipping breakfast, we started the crossing at 7AM in order to cross at minimal water levels. With fresh snow fall on the slopes last night, at these lower elevations it was still a cold drizzle July morning.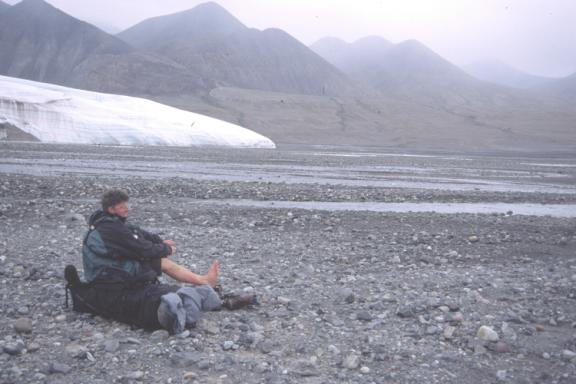 For some reason I still don't understand, despite knowing the icy conditions before hand, neither Ron nor Jack put their gortex socks for this long crossing. After 30 minutes in and out of the water, feet now blocks of ice, they had to stop and to put on the socks. Although water did seep over the top of the socks and pool around the feet, it was gradually warmed up by body heat and was thus warmer than the continually cold water that rushed over naked toes.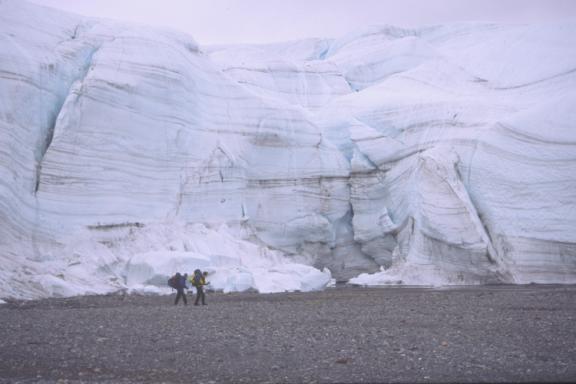 It took 90 minutes to cross the Henrietta Nesmith outflow. The water levels never got higher than knee deep (although they did get noticeably deeper by the time we got to the south side). Despite cold feet and overcast skies, we couldn't resist lingering and oggling the glacier's toe.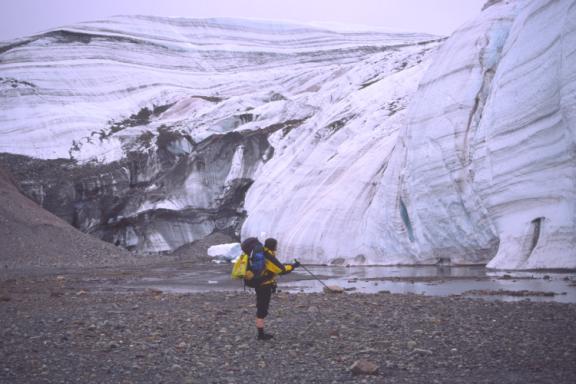 In retrospect, maybe we were lucky again that traveling early in the season, the water levels were low. Or maybe global warming hadn't started the tremendous summer melt off which has accelerated in the last decade. Being so close to this huge glacier was fascinating place and certainly one of the memorable moments of the trip.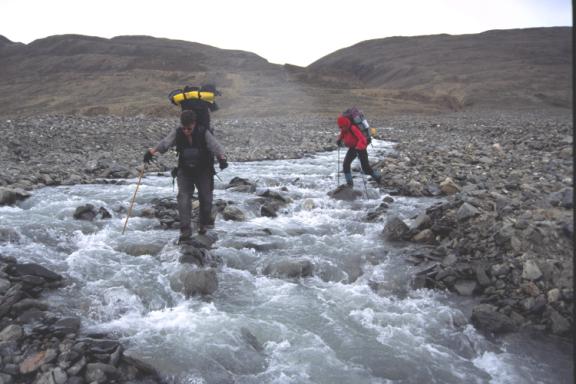 More typical were daily conditions like these: small streams where you could leap from rock to rock and keep your feet dry. Well, its helps to have good balance as the rocks often shifted underfoot. A good set of collapsible poles are highly recommended.
I got lazy and sometimes didn't change from boots into sandals with the predictable sorry results: wet feet! My boots were not gortex lined and after days on the trail with little sun to dry them out, started to rot from the outside in. I think that it was on this trip when the permanent toe fungus set in…
The red colour of the Redrock River was startling after all the grey and variations of grey water thus far. The cause of the colour is upstream, originating in the southern slope.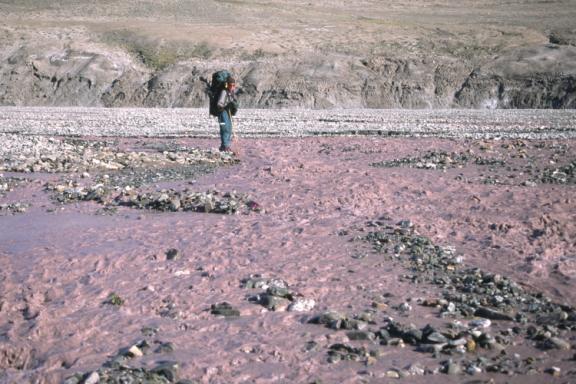 Not all river crossings were cold and nasty. On a warm (t –shirt) blue sky day, I almost enjoyed the water (not having a shower after a few weeks has that effect). On shallower streams, it felt relatively warm (or else I was just getting temperature acclimatized).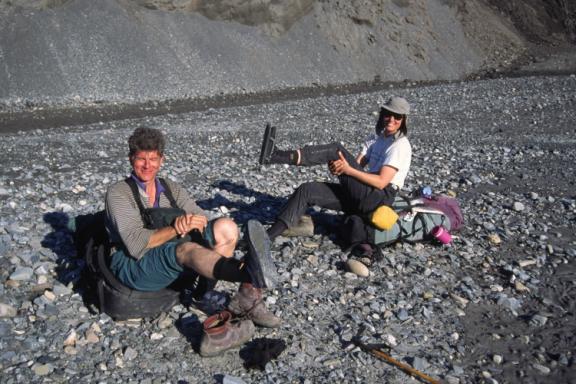 By the end of the trip, we had learned, no matter what the daytime temperature, that water was cold and anything longer than 3 minutes would be unpleasant: feet starting to ache, toes going numb.
Gortex socks also helped protect the sole of the foot from small particles of stone which inevitably got trapped between sandal and foot when crossing. I felt more confident with the sock on, believing (mistakenly) that they would mitigate damage from a possible stubbed toe while in the river. Big smiles as we don footwear before crossing the Macdonald River.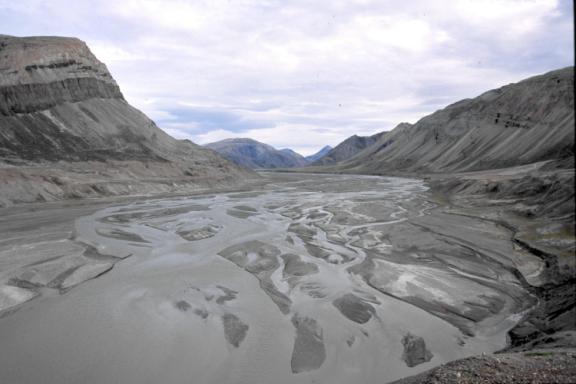 The Macdonald River was by far our toughest crossing. Now mid summer and at the end of week of sunny weather, the river was ripping. With Tanquary base camp only 2 km away, we decided to cross the river later afternoon when on any other day of the trip, we would have waited until morning. Why did we decide that anyhow? Maybe thinking about the chance of hot showers in Tanquary? Ha ha ha…
It took us 3 hours of probing before we found a place that felt safe to crossing. The water, as usual, was murky with glacial silt - visibility for each foot placement was zero. Hiking poles probing for deep holes and boulders on the riverbed, our progress was painstakingly slow. The water was thigh deep in places and if we weren't three big strong experienced (by now) hikers I doubt we would have crossed without a swim. Certainly I wouldn't recommend this for anyone and would not attempt it again myself as it was an unnecessary risk. With a huge sigh of relief, we climbed up on to the opposite bank and sat down for the last change of footwear, welcoming the dry hiking boots.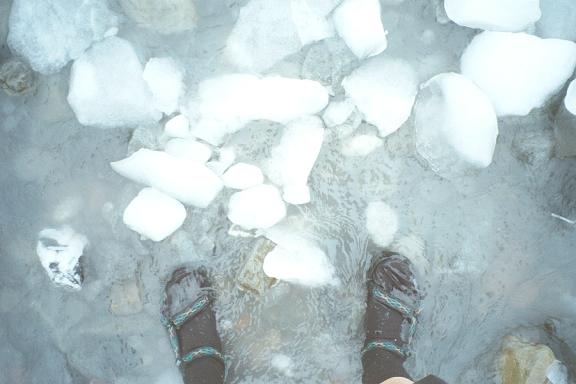 Thus frigid river crossings were part of the Ellesmere Island experience. Most were small and we crossed without giving them a second thought. A few were challenging, the MacDonald was down right scary. Above shows the prudent way to cross a river: toes encased in gortex socks, sturdy rubber sandals protect the bed of the foot – at the outflow of Henrietta Nesmith glacier.