Getting there:
I meet my European friend in Frankfurt, together we make the 1 hour connecting flight to Copenhagen the same day. With the combination of seat sale and air miles, the cost is pretty reasonable (hello Lufthansa). It will be an over night in Copenhagen before an early 'Air Greenland' flight to Kangerlussuaq, and the last leg, a short flight to Ilulissat.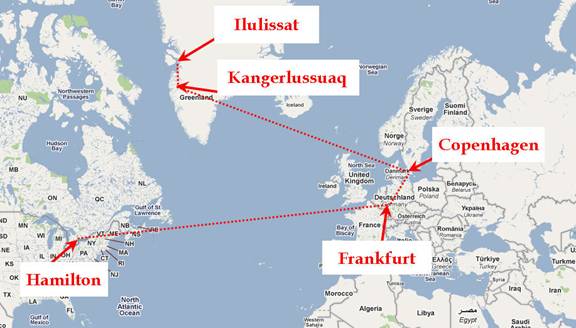 Frankfurt airport is big and confusing but ultimately efficient. Luggage is checked through to Copenhagen, and they don't even charge me for the 2.2kg of overweight baggage. Yes, the good old days of plane travel! Copenhagen airport is beautiful with its strip hardwood floors, well marked zones, mix of cafes, restaurants, and quiet little nooks for weary long haul travelers. What a contrast to the hotel, where everything seems to be square and blocky – but it's clean and the 'red beer' is plentiful. Grateful for the mini bar, I cap the day's journey with a fistful of over priced Pringles and sink back into the mountainous white duvet. How IKEA!
It's a thoroughly Danish breakfast buffet with pickled herring and capers, great coffee, bacon, eggs, yogurt and assortment of cheeses. Airport check in is fast at 8am, but this time they are strict on the weight limits – Alfred get nailed, 10kg over the limit and pays a 88 kroner penalty.
Funny on the map, Greenland looks like a whole lot of white and not much else. With about 56,000 people, Greenland is the least densely populated country in the world. I'm surprised that the plane is so big (airbus 330 with 245 seats) and every one is taken. It's a longish flights by European standards, 5 hours from Copenhagen to Kangerlussuaq – to pass the time, I try 'danish bitters' (a liquor) – not sure if that is a breakfast tradition, or the flight attendents just trying to keep the hordes happy. Souvenir ballpoint pens that write in red, green and blue and a little notebook are given out, a handy tool. Cloud cover obscures the sea below – only parting for an occasional glimpse or waves or tiny islands. Mostly I sleep on the flight, going back in time (only 2 hours difference between Toronto and Ilulissat).
My ears pop – the descent has begun….is that town below? The few detached houses are surrounded by long barrack like buildings…a weak sun struggles to cut through billowing cloud.