Ilulissat
It's bigger (population 4,400) and more spread out than I thought. Roads are largely paved , unlike the towns in the Canadian arctic. Lea from Tourism Greenland, meets us at the airport, and shuttles us to the Hotel Icefiord (highly recommended) where we quickly change in warmer and more appropriate (long underwear, snow boots) clothing.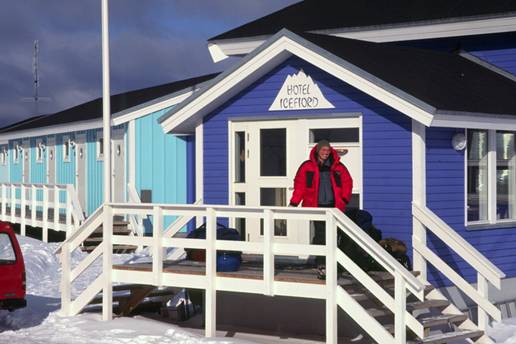 Wild colours, rainbow hued houses cluster along roadways, metal roofed to shed snow. Long barrack style (guessing apartments?) are flat roofed – how is snow load handled? And everywhere, dogs! I've never seen so many in one place. Instead of fences, they are chained to dog houses or posts. Mostly white, they are to be our companions for the next few days. Short wood komatiks with curved up handles like old fashioned horse sleds rest, waiting for dogs and drivers.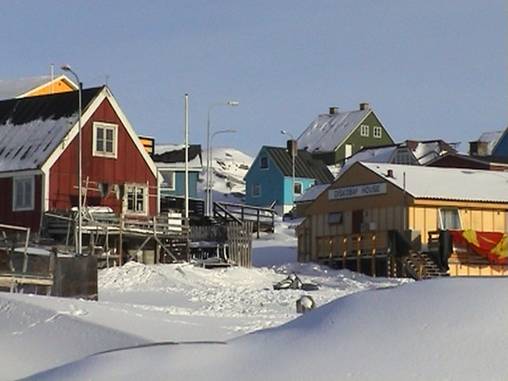 Our dogs sled guides, Kaaleeraq (caaa – lack) and his nephew Oli (oo-lee) discuss with Lea our proposed route for the next days. Luckily, Oli speaks English pretty well (a product of school and TV reinforced) and will be our go between with main guide, Kaaleeraq. I think Kaaleeraq understands a lot of English but is just a bit shy about speaking it. Everyone excited, details for tomorrows departure are sorted out.
I'm starving - off to dinner at Restaurant Hvide Falk (beers, aperitif, appetizer of smoked muskox, reindeer, whale – only the whale meat tastes and looks noticeably different, very dark meat, thinly sliced. Main course is reindeer stew followed by lemon mousse for desert). Guts bursting, I embrace the needed stroll back to our hotel. Just like at home, a laughing, smoking, joking group of teens is hanging out at the corner variety store, with eyes and ears only for themselves.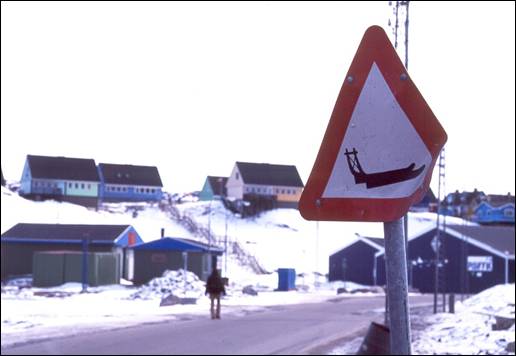 Pinching myself, the view from the hotel room is surreal: the setting sun (about 10pm) pierces black snow clouds on the western horizon, back lit by a yellow – orange – salmon sky…calm waters in the bay below reflect the suns diamond sparkle, punctuated by ice bergs grounded on shallow flats. A grand finale to the day!