Dog Sled Departure:
A very comfy sleep – the room is IKEA like spartan but in great shape and squeaky clean – white linens, fluffy duvets, TV, mini fridge, 3pc bath with shower (water conserving low flush toilet), hot water radiator with temperature adjust knobs, energy saving light bulbs and opening windows. Breakfast is in the main dining room, we are the only guests and help ourselves to plates loaded with breads, cold meats, cheese and great coffee.
At the rental agency, we pick up the tent, sleeping bags and stoves. On the dog sled part of the trip, Kaaleeraq be responsible for keeping us fed. On the hiking portion of our trip, we have to carry our own stove, food and fend for ourselves. Obviously, when schlepping backpacks on snow shoes, the objective is to go as light weight as possible – those big heavy brass kerosene burners the dogsledders haul around are not going to work for us.
Yesterday, there was some debate about what stove Alfred and I should use – not familiar with the trangia, I'm hesitant to take it. It seems to me it would be best for a summer situation as I can't believe the sterno fuel will provide enough heat in a winter camping situation. This rig might be OK in an enclosed tent but outside? We reject the butane canister stove outright, knowing that in sub zero temperatures, these tanks are useless.
After inspecting the rental gear available, I'm starting to regret not bringing our own stuff. Likely adequate for summer use, the sleeping pads, tent, stove (as discovered) are not winter choices. Too late: we will have to make do and hope for the best. Lesson learned: always bring your own stuff, especially for winter. When I talked to the tourism people, they hesitated giving advice on a self guided snow shoe tour as this is not a typical tourist request (at least not out of Ilulissat). Most people just take the packaged dog sled tour, day tripping or sleeping in cabins. We intend to sleep in tents and this is not usual. Should have paid closer attention to the long pauses during those phone conversations…
Mulling over what's to come, we don't waste any time in our beverage selection. Beer in cans is not available (due to lack of recycling) and glass bottles are not an option due jarring on dogsled trip and weight on the snow shoe trip. Luckily, Bailey's liquor and vodka are available in plastic bottles. We waste no time in picking up one of each and then tossing in another for good measure.
The two sleds are loaded with a mountain of soft gear and two wood boxes (canoe like wannigans) carry cans. Sixteen dogs are hitched, fan style to each komatik. I will ride with Kaaleeraq, Alfred with Oli – Kaaleeraq motions me to get on, and before my butt is parked, with a crack of the whip, a shout and a leap, the komatik lurches in to motion. The dogs frantic barking quiets immediately now the sled is in motion.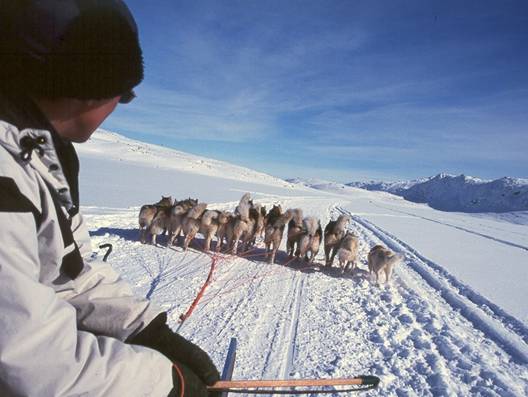 This is my first ever dog sled ride with such a big team. The power is impressive – I sit mesmerized, as 16 pairs of haunches pull in unison, a rhythmic dance pulsed by the sound of even panting, punctuated by the occasional short yip, the rasp of runners on cold snow. Sixteen round, brown, tight butt holes stare right back at me.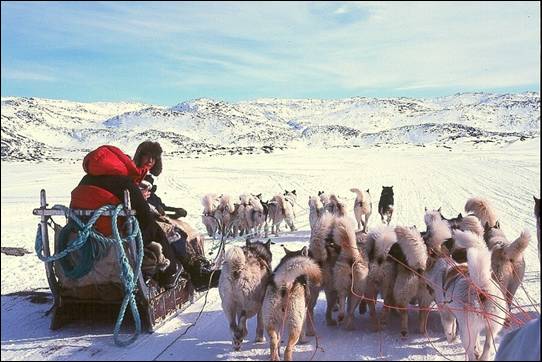 The route we follow is a well traveled one. Ruts from previous sleds have cut grooves in the thin snow layer. Patches of deeper snow lay against rocks, piled and driven by wind. No road markers or signs are needed – the sky is clear, visibility good, temperatures about –10C. Perfect conditions – maybe almost too hot for the dogs. Me, sitting like a sack of potatoes, I'm comfortable bundled up.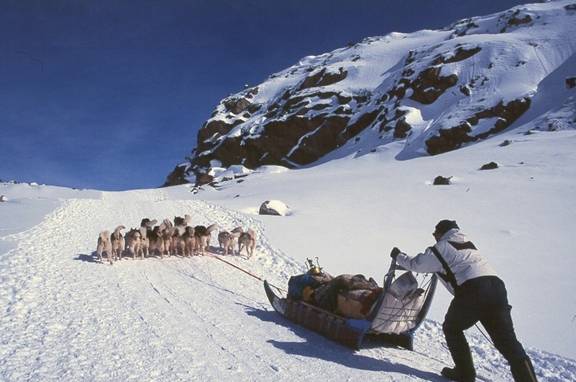 But that changes with the first big slope – Kaaleeraq motions me to get off and help push the komatik up hill. Dogs strain against traces, the sun beats down, we all sweat. Turning west, the view of Ilulissat from the top is great – open ocean, dark grey clouds out to sea. Turning east, a few wispy cirrus clouds streak the blue sky, ahead of us, far in the distance, movement of other dog teams. It's a glorious day. The smokes come out, the layers come off, even the dogs seem to enjoy the break.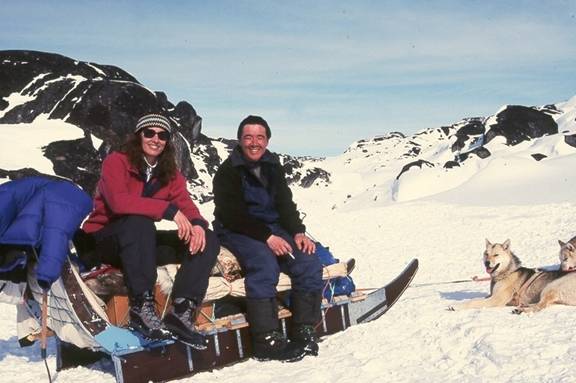 We stop on the trail, meeting another komatik coming towards us. Fazze, a young (maybe 17 year?) Greenlandic man, is out with his own komatik and 9 dogs, returning from the Palerfik. Some arrangement is agreed upon - Fazze turns his sled around and joins our party. The more the merrier! His English is very fluent, and his red hair matches his sunny personality.
Kaaleeraq speaks quietly to his team – they listen, one ear pricked back, the other forward. His commands of 'dee deee DEE' encourage the dogs to speed up or keep the pace steady. The other frequent command is 'you you YOU'. Both volume and cadence rise but commands never end in a shout. Where needed a long braided seal skin whip is used, cracked overhead.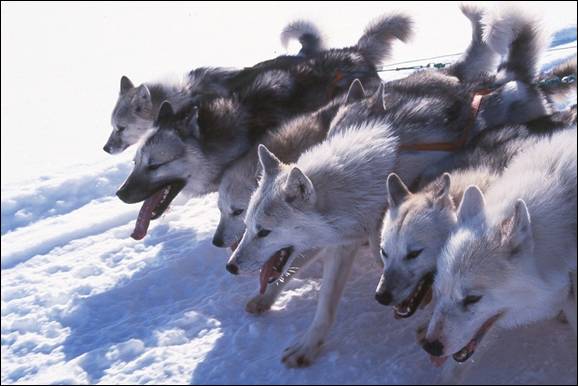 It's a wild down hill, descending to the sea. I hang on to the rope tie downs and flex my legs to absorb a few hard jolts. Exposed rocks are easily avoided but occasionally the runners catch a rock just under the snow's surface and a nasty lurch can result. Alfred was unprepared and got thrown off the komatik, rolling like a snowball, luckily unhurt.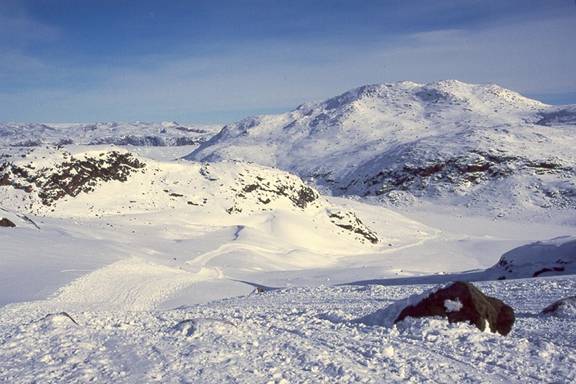 There are different ways to ride the load. I shift from straddling when going downhill, to side saddle on the flat ground. Kaaleeraq hops off and on easily, running along side the sled. Going down hill, Oli ties a rope under the runner, puts the dogs behind the sled and digs in his heels, acting as a brake as well as steering with his weight. Effective and simple.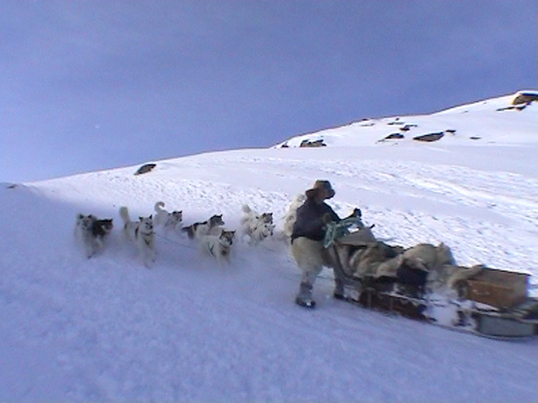 At the foot of the long descent, we stop at a small cabin known as "Aattartup" (or 'Ata' for short). Inside, the sleeping platform has already been staked out for tonight with sleeping bags draped on top. It looks like 10 people will share quarters here. There is a heavy stink of kerosene and I'm glad to exit. Kaaleeraq deposits the drum of heater fuel outside, reties the load and we proceed.
Down at sea level, the snow is heavier, wetter, softer. Deep ruts, repeatedly melted then frozen make for rough going. We bounce along, my stomach churning. Small chunks of frozen blue cubes protrude from the oceans frozen surface. Sikuiuitsoq fiord is about 5 km across – tonight's' camp is on the eastern side where the Palerfik activities are taking place. 'Palerfik' translates into something like 'the sun in your face'.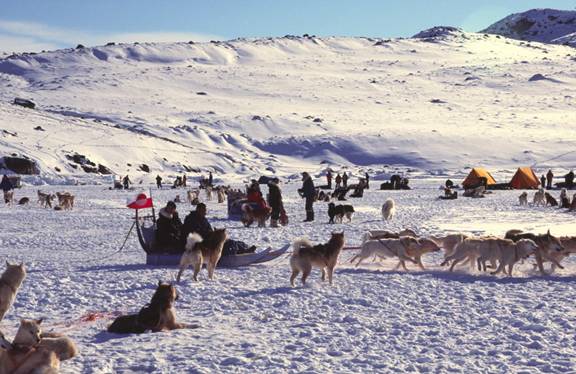 Steep rock cliffs have banished the wind from the camp area. I estimate 50 greenlandic tents, 150 people and 1,000 dogs! It's not a quiet place. There are many family groups with small kids, who gambol about, sparring with each other, like young caribou (or should I say reindeer?). Space is found for our three komatiks and unpacking begins.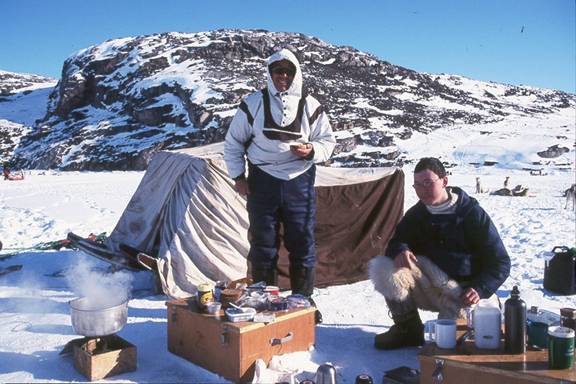 Our summer tent with its nylon walls and aluminum poles goes up quickly. Just as quickly however, the Greenland tent goes up. It's a clever use of materials which have to be carried anyhow so nothing extra is dragged around. Two komatiks are pushed together widthwise, a wood frame of 2 x 2" sticks is lashed together, draped with white canvas tent, reindeer skins tossed on the wood platform and voila, done. Inside, head room is about 3'6 or 1 meter, enough to sit up comfortably.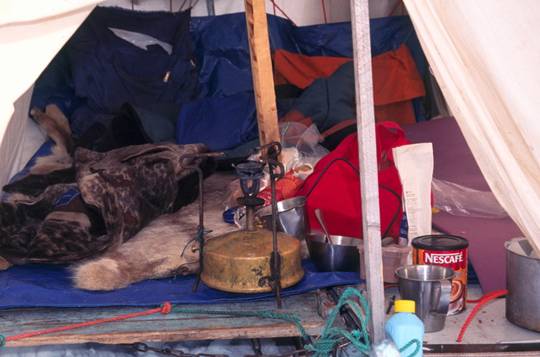 Even more interesting is that the large trangina heater, the same one used for cooking, is brought inside the tent for the night. An edge of the canvas cloth is kept open for ventilation but could be closed in blizzard conditions. There are no sleeping bags, everyone just nests together, like lemmings in a grass burrow. Cozy and practical.
I leave the guides to finish setting up camp to wander and inspect the action. Dog teams are now unhitched, each animal fastened to the sea ice by a chiseled hold toggle. A few teams are staked out in long lines, spaced by metal chain links, which keeps the peace. But it's the people and their dress I find inspiring: the polar bear leggings, the ladies in seal skin jackets, the colourful bibbed seal skin snow pants. What do Green Peacers think of this?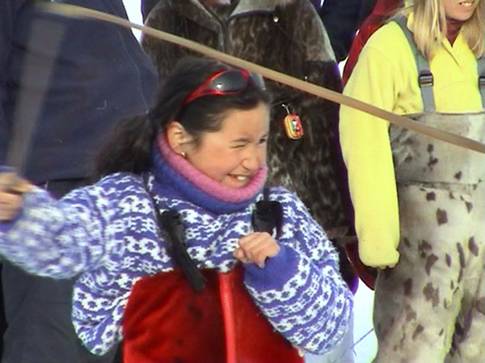 A bunch of games are organized including the potato sack race which has all ages participating including 65 year old men! Big smiles, laugher, everyone having fun. The skills competition is also eagerly watched – participants must knock a stick stuck in the snow over using a whip from 15' or so away. There are 5 sticks, the person who clips 5 sticks in 5 tries is the winner. The accuracy of even the young kids is amazing!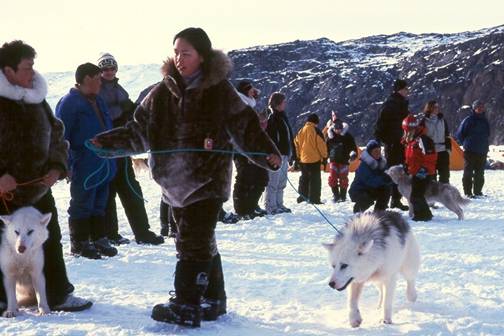 The last competition is a dog show - to me, all the animals look so similar, I wonder what criteria is used to judge. But the crowd oohhhs and ahhhs as various animals are trotted out – eventually a winner is declared. The festivities continue with socializing, a soccer game and sing song (sung in Greenlandic, only 'Amazing Grace' is recognizable to my ears).
To conclude the evening, a series of candles are lit, high on the slopes of the protective rock ridge. Placed inside some kind of wind screen, the flickering flames match the stars overhead.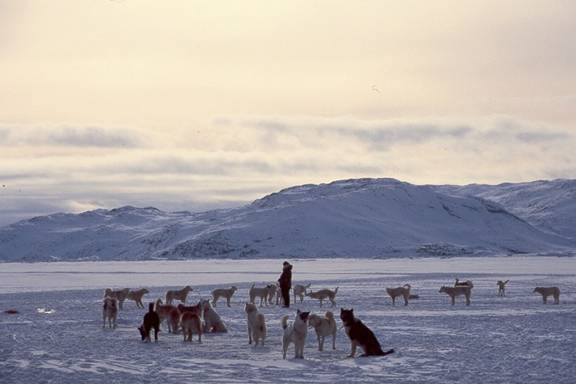 A few locals talk with Kaaleeraq and Oli - they think that we are crazy to snow shoe to Flemming Hut (also known as Himmel hut). They warn of deep snows, possible blizzards, the likelihood of our getting lost. Taking it all in stride, I listen but am still determined to proceed as planned with our snow shoe hike.
By 11pm, I'm ready to sleep, my feet cold from standing on frozen sea ice with thin boot soles, fingers chilled with inadequate gloves. Inside the tent, the 3 season sleeping bag feels woefully thin and the foam pad telegraphs every lump from the ice underneath the tent floor. I toss about, searching for a comfortable position. How irritating to hear Alfred snore in a deep sleep, feet cozy with his down booties. I open my down jacket and lay it across the sleeping bag, zip up and try to find some shut eye. Outside, each of the 1,000 dogs takes a turn at yelping, woofing, fighting, whimpering. It's going to be a long night…