On To Rodebay:
Wake at 5am to a blush pink sunrise - the wind continues to howl, rattling the wood frame cabin walls. When will the wind calm? It's been over 24 hours of gale force blasting. It's an easy choice: the snug comfort of bed vs fighting a strong wind loaded with heavy pack. I roll over for more shut eye.
But by 11am, we have finished the last of the oatmeal, coffee and are ready to roll. We leave the tent in the cabin as tonight we will sleep somewhere in Rodebay. The snow shoes are just a hindrance with so little snow and are left beside the tent. The gear will be picked up at a later date and returned to the rental kiosk in town. The joys of small town living where things can be so easily arranged.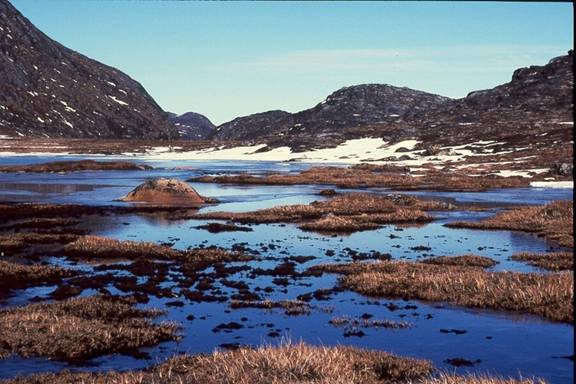 The shining sun puts a bounce in our step. To keep feet dry, we zigzag from grassy hummock to hummock. Still frozen, the ground supports our weight easily. Retracing yesterdays steps, it's a slow process with as much sideways movement as forward. A narrow gap with some big boulders and I'm scrambling on hands and knees over bare rock, fearful of slipping and becoming wedged.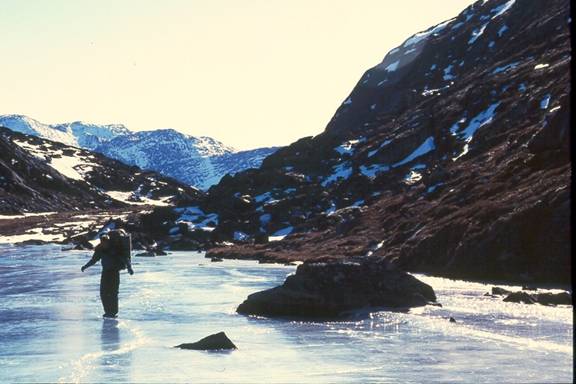 The slopes become too steep to maintain stable footing with our snow boots, so we head across the ice. Yesterday's surface water from snow melt has drained through cracks in the ice so our feet remain dry. Walking like stiff legged penguins, arms outstretched, fighting the wind, moving forward is hard work.
As soon as possible, we clamber back up on to the land. Pausing to admire the view and remove some layers (another +10C with a hot sun), suddenly four dog sled teams appear on the lake ice. Fat tourists, encased in seal skin parkas, boots and jackets sit immobile on sleds. They neither wave nor shout in our direction – do they not see us? Well, we remain motionless, sitting low and watch them go by. They will be hard pressed to find any snow! How do the dogs pull over grassy hummocks? We ponder their fate and feel happy that our sledding tour had such ideal conditions.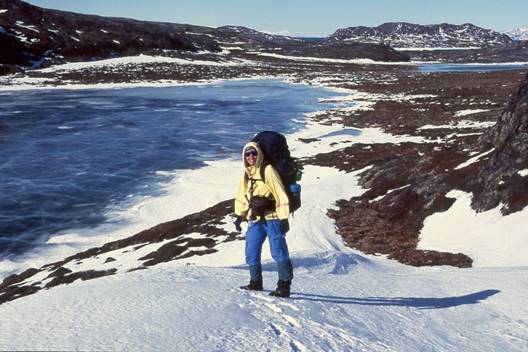 So, we weave our way between gentle slopes, ice covered lake and hummocky bare land. It's a wonderful temperature for walking, the wind has died a bit, the sun is at our back and not shining of the bare ice. Lunch has a picnic atmosphere – we bask in the sun, wiping oily fish can fingers on the wet corn snow.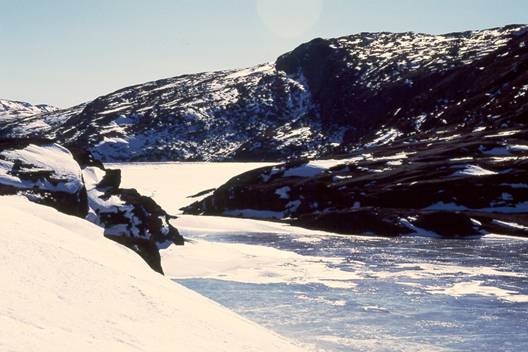 Digging boot heels into the soft snow prevents sliding down the pitched slope. Spring is in the air, the wind balmy, the snow texture like thick oatmeal.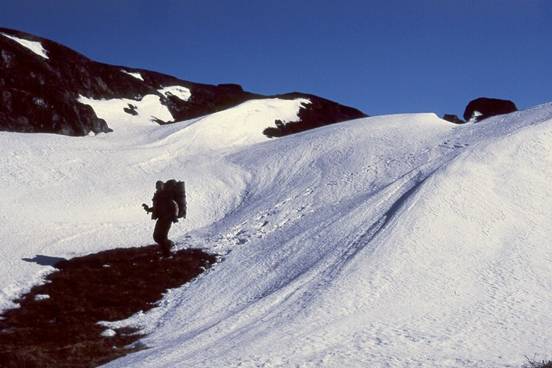 On the map, there is a spot marked 'bog' – frozen now, of course. The only difference I can see is that the willows are 12" tall instead of 6". We walk along the north shore of Kuuttaap Lake – the going is easy, our smiles are big. The bare granite rocks are heat sinks, shedding snow first. Even the leeward drifts are melting fast, water collecting drop by drops in tiny rivulettes which run towards the still frozen lake.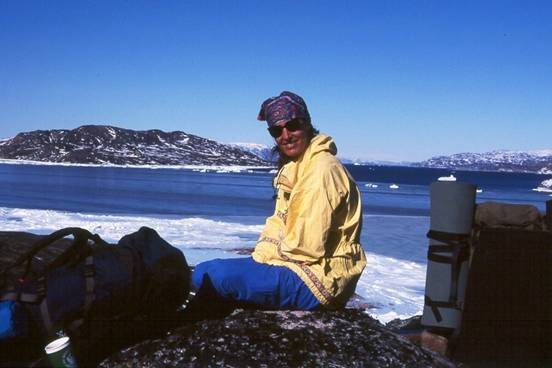 The first good views of the ocean – bergy bits bob in tidal swells, shore fast ice lingers and sea gulls wing their way around. An island, Qeqertaq, protects the hamlet of Rodebay from north-east winds, its steep sides still white with snow.
Only a couple more kilometers to town and the journey suddenly gets difficult. The gentle slope suddenly gets very steep – the combination of bare rock, ice and unstable snow make for treacherous walking. At one point, we take the packs off and slide them down the rock face, as the lichen covered granite is slippery with melting snow waters. The snow boots have poor grip in this kind of condition, their soles not made for rock scrambling.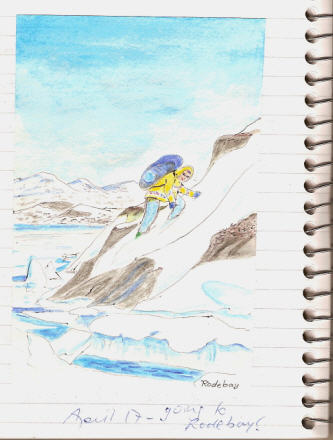 I drop my nalgene bottle, it bounces off the rock and settles below on an ice shelf, just centimeters from the heaving ocean. Alfred carefully, slowly, creeps down on hands and knees to retrieve it. Heck, I would have abandoned it! We decide to work our way up the steep hill – eventually, it flattens out near the crest and the going is easier again.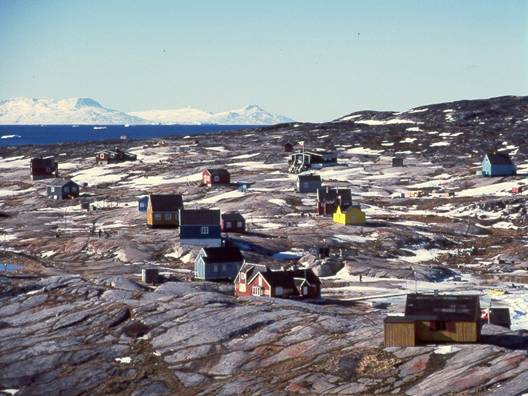 Rodebay, at last! Located on a bare rock peninsula that juts into the sea, it is home to about 40 people. There are more people in the cemetery with its' white picket fence and weathered wood crosses than those breathing. The first person we meet gives us directions to the hotel – it the next building (I find out later that she was a Danish tourist thus why she spoke English).
The red frame board and batten building has a café/ restaurant downstairs and the sleeping area on the second floor. It is like a schoool dorm, with 8 single beds side by side in an large open room. We seem to be the only guests – picking cots, we happily dump our packs and go back downstairs.
Today's hike was only 13 or 14 km but its now 5pm and we are ravenous. Downstairs, in the café, we enjoy beers, cheese and a bread plate. Licking our lips in anticipation of a later dinner, we set out to explore town.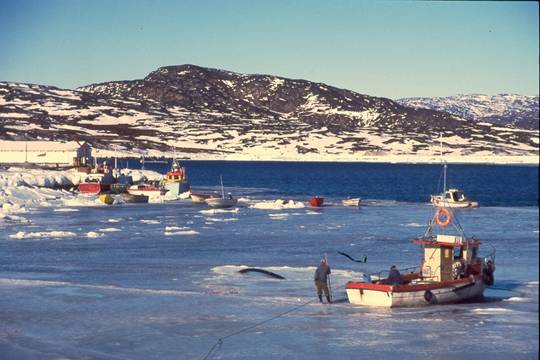 Houses are scattered across the bare rocks. There are no paved roads, the one store is closed for the Easter weekend. The newest building in town seems to be the school…kids enjoy the playground, swinging and juppidooing away. A water treatment plant, food store and energy plant complete main buildings. There are no sewage connections – how is water delivered and waste collected? Dog shit is everywhere. And the dogs are resignedly chained. A woman hangs out laundry, a few men gather and gossip and fiddle at small beached boats. It's a very Norman Rockwell moment, the picture of idylicness.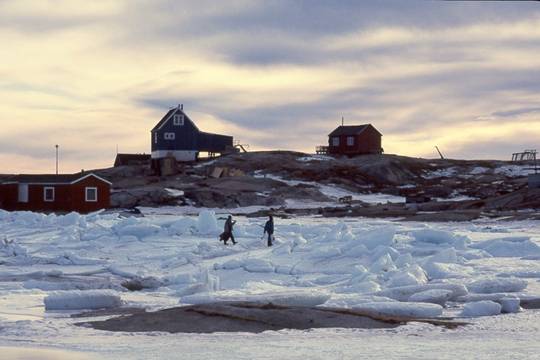 Dinner is interesting. It starts very promising with a nice dill and bok choi salad Then the main course of fin whale (steak style) , Parisian potatoes, gravy, cauliflower, red pickled cabbage. The whale meat was pretty unappetizing, dark flesh with a slightly fishy taste. Not my favourite! Not just the taste but I was having a hard time swallowing down whale, as a whale lover. Apparently Greenland has a quota of 17 fin whales per year – this huge animal was slaughtered in Rodebay last year, with much fanfare as it supplied meat to many families.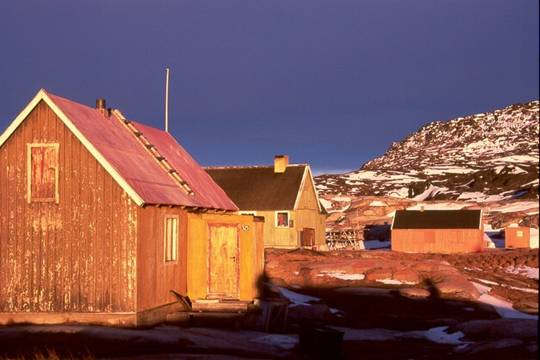 There is an orange – red – yellow sunset which intensifies as the sun sinks lower in the sky. The clouds bounce saturated light rays around, setting buildings, boats, rock aflame in colour. Open sea to the north and south of Rodebay, snow covered rock lines the coast as far as I can see. Even at midnight, a faint glow in the western horizon competes with pinpoint stars above. I'm happy to be in a bed, gazing out at still darkening night.