April 18 - Good Friday
With a jolt, I wake at 5am to Alfred's snoring…roll over, then woken again at 7am by a baby's wail. Finally, I get up to make coffee, camp style (pour it through individual cone filters). Oatmeal, cookies maybe? I scour the food bag hopefully for forgotten food – my appetite has become ravenous with the walking and cold, starving for food especially fat and grease. But the restaurant is still closed so I make do.
9am and town is quiet. I sit with my coffee on the hostel steps, looking to see what's going on. It so quiet, I hear water slosh against the far shore. Church bells chime, three people go inside the steepled building. Otherwise, its only me, myself and I.
Today is a transit day – we are waiting for the tourist shuttle, a boat which runs between Rodebay and Ilulissat at 1:30pm. Until then, time is our own. The weather starts to come down, grey and dull light, uninspiring for either strolling or photography. Alfred gets a beer from the restaurant, I chew on a salami stick, eat a fish can and snack on dried fruit to pass the time. The hostel bill comes to a mere 200 kroner ($40 Canadian), well worth it to sleep under its peaked roof.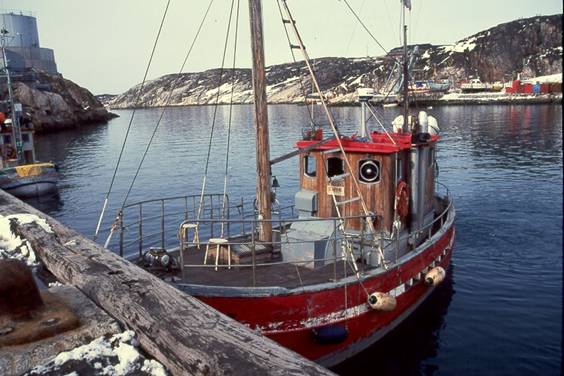 The 'Clare' ferry us to Ilulissat. Built in the 1950's, its sturdy wood hull has encountered a bergy bit or two, pock marked and scraped of paint. We are the only people on board except for captain and his crew of two. Happily, the sea is calm and my guts are not heaving…small wind ripples texture the water surface but the large pans of floating ice dampen any wave chop. The biggest disturbance comes from the wake of the boat, its diesel engines stinking and noisily rattling the peace.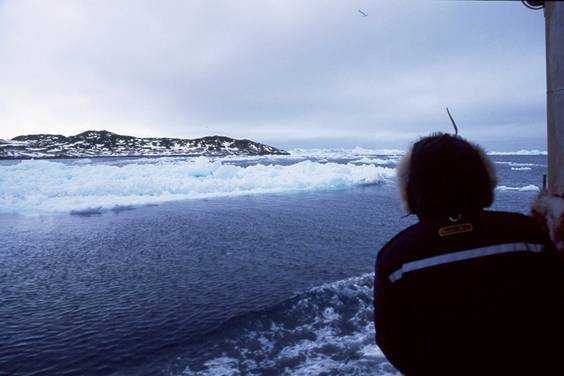 Low rounded hills greet the ocean. Snow lingers only in folds of the rock, otherwise washed or blown away with the warm weather of last few days. On the opposite side of the Atlantic, in southern Labrador, similar weathered granite shores welcome the ocean's caress. I'm impressed by the lack of colour – such a monochromatic palette of blues, mauves and grey. A scant 2 hours and Ilulissat harbour opens before us.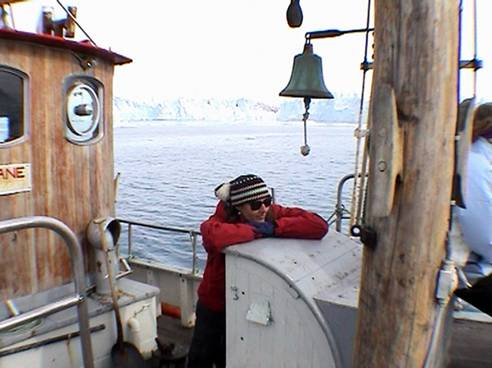 The rest of the afternoon, we wander around town, go to the tourist office, pay for the dogsled tour, buy souvenirs (two seal skin pelts to be sewn into pillows), consider dinner options. We decide to splurge and head over to Hotel Arctic, rated as 4 star dining. It's the best restaurant meal in Greenland (although the large sprawling complex has little charm with fancy lobby, numerous rooms, spas, gym, and so on). At the upstairs brasserie, the catch of the day is some red fish with large white flakey flesh, similar to cod, served on a bed of rice, veggies, coffee, desert, and a few drinks come to about $100 – an excellent satisfying meal with great service.
Snow showers obscure the harbour, the temperature has lingered around –3C most of the day. It's a leisurely 3 km stroll back to our hotel on the other side of town. I'm happy to stretch my legs and roll out again. Town is quiet as all stores are closed due to Easter. A blanket of grey has settled – I wonder what tomorrow will bring?