Helicopter Glacier Tour
It's another grey and overcast day outside – clouds are down to the ground, like wet cement, thick and stationary. Overnight, new snow felt to a depth of 10 cm, which makes everything look fresh and clean. We are in Hotel Ice Fiord again – it nice to have breakfast on site as well as provisions for making hot drinks and extras like our own oatmeal.
The tourist office calls and informs us that a helicopter tour over the glaciers is leaving around 10am, would we be interested? We hem and haw as visibility is limited (although better than 7am this morning). What the heck – we sign up. Two Bell helicopters (which seat 9 people plus 2 pilots) are waiting at the airport. The plan is a 20 minute flight, 30 minutes stop on land and then fly back over the water and icebergs.
The blades start up – while headphones dull the noise, the vibration of the rotating blades adds a physical component. I'm sitting between 2 other passengers but Alfred is right next to the pilot. Still, the windows are large enough and I can easily see our dog sled route below as it twists and snakes up and down the rolling hills west of Ilulissat. There is definitely less snow than last week! Bare rock ridges, like spines, poke out from surrounding white landscape. It's quite beautiful, the stark bareness so completely different from temperate latitudes I'm familiar with. Below, I spot a single tent at the Palerfik site where 7 days ago, hundreds of dogs, people and tents were scattered across the frozen ice.
The chopper swings out across the frozen fiord and over the glacier tongue. Its unimaginably huge, pale green, rumpled as easily as a sheet of tin foil – does this thing actually move? The forces exerted to move this mass is hard to fathom.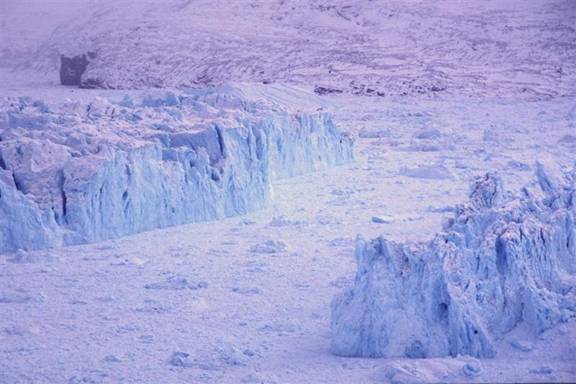 No open water is visible from the air – everything is either land, flat frozen sea (like the Palerfik fiord) or these huge cast off bergs. The outflow is not solid but a river of ice, spawned by the mighty Greenland Ice Cap, upstream. The 'Sermeq Kujalleq' is mere the resulting outflow.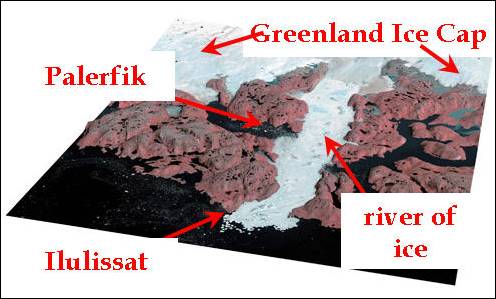 This river of ice is caused by one of the fastest calving glaciers in the world. As a result of global warming, the glacier has retreated some 15 km over 4 years. Scary as this is just the beginning and where will all that melted ice water go?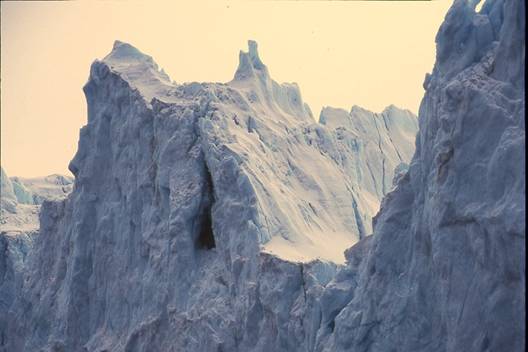 The pilot hovers the chopper over land, rotating blades whisking away last nights fresh snow – a circle of rocks, painted in a rainbow of colours appear, the intended landing zone. Quickly, he sets down and we pile out, eager for a closer inspection of the ice choked fiord.
Size is hard to estimate as there is nothing to judge scale by – how many stories high are these flat topped beauties? Deeply pitted and rotted, their sides are furrowed and slumped. I inspect the terrain more closely – only the stalks of a few dried flowers poke above the snow.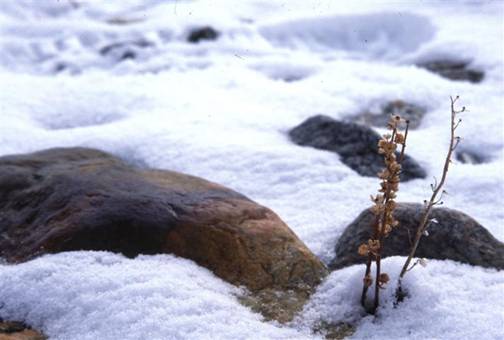 Flying back towards Ilulissat, the pilot returns over the fiord itself – we fly so low, only 100m above sea level, the tops of the ice are above us. I imagine reaching out the window to touch the bergs, they feel so close. It's an exhilarating flight...and surprisingly calm, with no bouncing or sudden lifts due to unexpected air pockets. Seals, in small groups or singly, their cigar shaped bodies dark against ice, raise their heads as we fly overhead. All too soon, Ilulissat appears below, and the heli tour is over.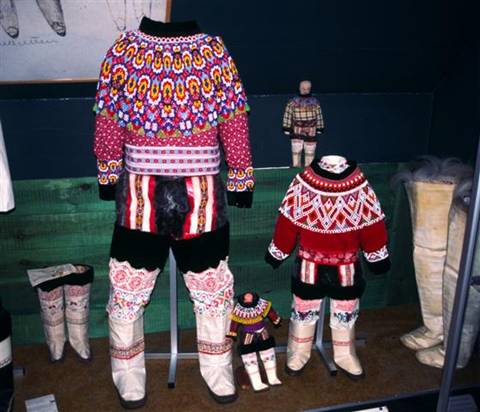 Its time for some culture – at the Knud Rasmussen museum, photos from his 1st and 5th Thule (of particular interest as it took place in Canada's eastern arctic 1921 – 1924) expeditions are on display. The dolls dressed in traditional clothing catch my attention as well as intricate beadwork collars, now recognized as part of Greenlandic women's national costume. Harpoons made of reindeer, other spear chucking devices, 'atlatl' fill glass cases. The traditional way of life still thrives: in the 1980's, men were still hunting whales from kayaks using traditional harpoons! Taxidermied birds (turnstones, cormorants, barnacle geese, short eared owls) live here as well as in Canada.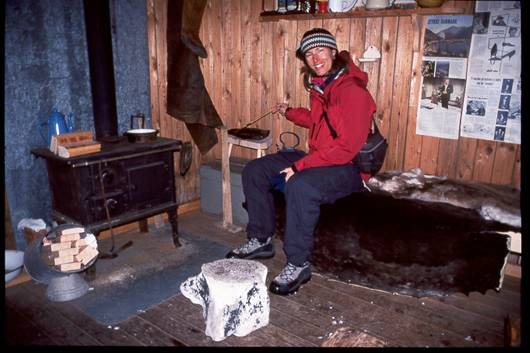 Outside, a model sod house is open for interior inspection. Having read but never seen one of these in Newfoundland and Labrador, I'm surprised at how well furnished it is inside with fur lined sleeping benches, whale vertebrae stool, wood lined interior walls. Apparently, such dwellings were used, especially by seniors (who preferred them to 'modern' houses) until the 1970's. The flat roofs, thick sod walls and wood stove kept the winter chill away – but I wonder what source of wood they had with a treeless environment, especially for burning – driftwood?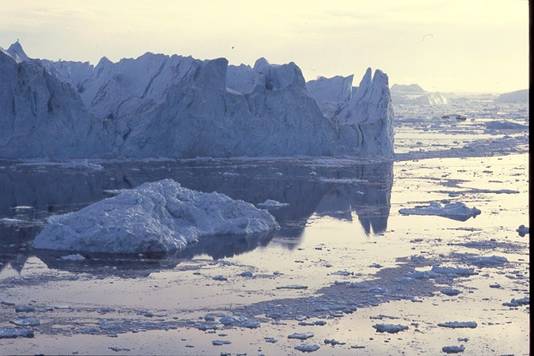 Enough of town. We follow a trail of foot steps past the power plant, along the southern coast to get views of stranded ice bergs. Hummocks and semi frozen tundra are hidden by the snow fall - Alfred gets a wet foot when the semi frozen ice collapses under his weight (but he keeps smiling!). Ice bergs the size of small islands, stuck on the ocean floor until the rising tide can lift them off and carry them out to sea.
As evening starts to come in, the sun starts to break through the low clouds, reflecting light off the calm ocean surface. It's dead calm, the cry of gulls echoes off water, ice, bare rock shore. It's a fabulous mood – alone with Alfred, it feels like we are at the end of the world.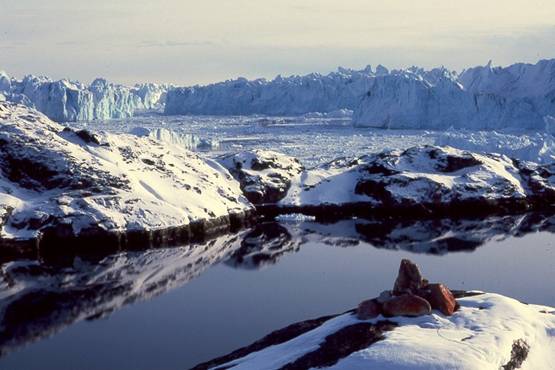 We continue walking, pulled by the views and the setting sun. This shore has been used for over 3500 years: old tent rings, crumbling sod huts, stone markers, bone middens mark past human use. A town, 'Sermermiut', was here between 1400AD and 1741 AD. The fishing and sealing are still excellent, due to the high concentration of oxygen from the melting ice laden waters. Now, everyone has moved into Ilulissat.
We push through a narrow gap for a final view overlooking the fiord. Apparently, at this place, in pre-colonial times, women would commit suicide in times of famine, throwing themselves off the cliffs to reduce the numbers of mouths to feed, thus hoping to ensure the survival of the group. A sad place…low rumbles permeate the air: it's the ice scraping along the ocean floor or else from the bergs them selves as the ice expands and contracts.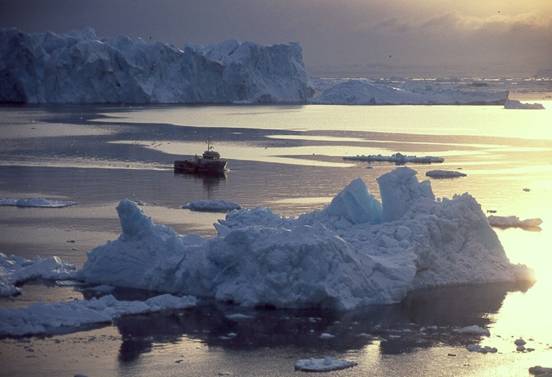 Its time to return – instead of cutting overland, we retrace our foot steps. A fishing boat, trailed by a huge flock of gulls, steams past, heading in to harbour. We wave at each other, they too, enjoying the end of the day and the suns golden rays.