Day 24 ( July 29)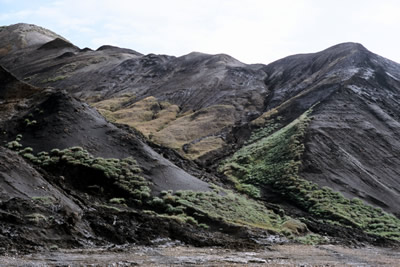 A very late departure, almost noon. Grey and overcast still but warm and humid with little wind. Passing yesterdays smoking vents, we head into unseen territory. Paddling is not a challenge with no swifts and the mid stream gravel islands presenting straightforward route choices. Any trees are far behind. Slopes take on a desert like appearance with dry tough grasses and silver gray wormwood dotting the hills.
The weather looks ominous to the south with huge dark gray clouds. Hopefully our northward movement will take us out of the rain shadow. Single caribou dot the hills, their tracks trailing down seemingly impossible slopes. What are they doing up there anyhow? The river swings easterly and the slight breeze becomes a raging headwind. We stop for lunch, then decide to muscle through the winds – our strategy involves following the opposite shore. After 2 km of aching arms, we enter a big river bend and thankfully, the wind lessens – 2 km later,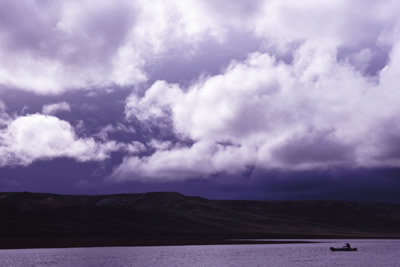 the wind is steadily at our backs and we sail easily downstream.
The rain finally catches up and we paddle for 2 hours in a major dump. Top speed today was 11 kph with wind/current/paddling. Dry level tundra has receded further back from the shore, campsites are slim. Finally a site about 15' above the waterline deep in some bushes looks doable – at this stage, we take what we can find being hungry, tired and damp. Wet clay like mud cakes our feet, weighing each foot heavily. Slippery and heavy! Our pants are stained with mud from the knee down. The tundra tunnel is quickly set up, hot choco enjoyed as we listen to rain drum on the nylon roof. A serious southern thunderstorm with big fat rain drops.