Day 27 (Aug 1)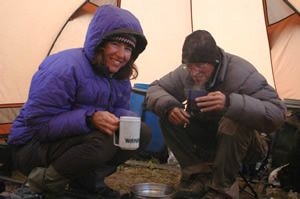 Low thick fog blankets camp – what a change from 7 hours ago! It's a cold damp sea fog – I'm wearing my down jacket inside the tundra tunnel. Glad for bowl of steaming oatmeal to warm the hands. Hopefully, the sun will burn off the fog. Some trips never get to see the coast due to sea fog and I hope we're not going to be one.
For 2 hours, we battle hard as the river swings west and into a headwind. Shallow water means we can only dig the blade in so far before striking bottom. The jarring movement grates on my nerves and more so, reverberates down my body. Finally we gain shelter beside the steep bank as the wind rages over the tundra, 50 feet above.
As we drift and regain arm strength, the same 5 or 6 ravens of yesterday play with each other, demonstrating arial acrobatics. Some small but fat fuzzy animal waddles along the gravel shore before plopping into the Horton, swimming then diving under our canoe. Looks like a beaver but could it be a muskrat? No clear look at the tail, only the dark oily pelt as it glistens in the water.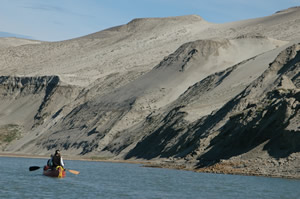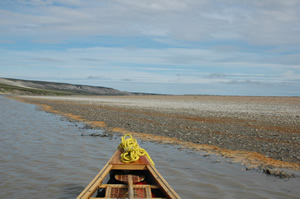 Lunch is at the base of steep cliffs. When stepping out of the canoes and on to shore, the mud is very soft, slippery and deep as Ron finds out. Not a great place to stop but it is sunny and wind sheltered. A tail wind assists us for the rest of the days paddle…the big bend is a mirror image of the previous day, right down to the best camp site location.
Smoking Hills loom before us, deep shadows cast by the afternoon. Sun. An impressive outside corner with bald hills, dry grasses and some prostrate willows. Can't get over the white colour and fine texture on these desert like slopes – no vegetation, no sculpted granite, no boulder-stone-fractured bedrock.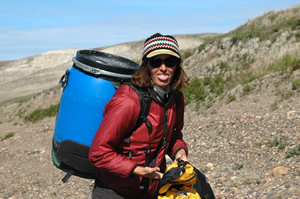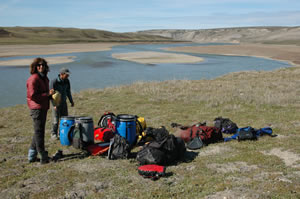 Dump gear in a heap again before striking overland. Although it appears the hike would be a challenge, in fact it is less steep than yesterday and we reach the top of the plateau in 15 minutes of hard uphill, faster than expected. Contour lines are hard to read but looks like about 400' on top. I race across the narrow height of land to see what I can see. In glorious sunshine, sparkling as far as the eye can see, Franklin Bay spreads out before us. I dance a little dance, happy to attain this small sight.

No ice is to be seen. Far in the distance, a hint of land seems to faintly curve towards Paulutak. Rain showers lay to the south and east. A few smoking vents deeper inland and to the east show a smudge of white. To the north, the red delta of the Horton is visible.
A few gulls circle and ducks float below. I strain to see belugas, narwhals, polar bears but nothing swims below today. Far far to the north, the glint of a radar station catches my eye. The plateau soil is soft with lots of siksik dens and the consequent grizzly diggings.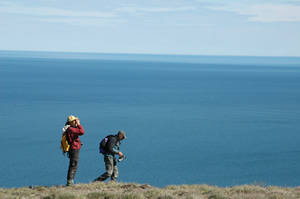 More flowers including yellow butter cups, arnica, blue purple sea pea, white bedstraw? Cuckoo flower? . We wander in both directions for a few hours before returning to camp under a hot hot sun. Spectacular sunset and warm alpen glow on white slopes. Extreme weather day starting with sea fog and down jackets to sweating in t-shirts back to down jackets at midnight. And again, just before turning in, a grizzly comes over the ridge but doesn't come close to the river or our tents….We got to bed and sleep sound, trusting ourselves to deal with him if he later shows up. Hopefully, no white bears wander this far in land!