Aug 13 (day 5)
It's only a short journey on the open ocean between Ramah Bay and Nachvak. Around exposed Gulch Cape we motor then down into the protected waters of 45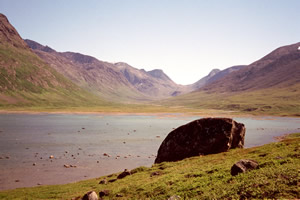 km long Nachvak Fiord. This is a much larger, wider fiord with higher slopes than intimate Ramah Bay. At 1:30pm we reach our drop off point, Ivitak Cove – the tide is out, a breakwater is exposed, the dingy is loaded and we are deposited on the shore. With a backward wave good bye to Willie and John, I watch the 'Sprit of the Torngat' vanish.
Land, sweet land! I shudder, with an inkling of understanding about 6 weeks ocean voyage my European ancestors made immigrating to Canada in the 1920's. No, my stock is definitely farm peasant stock. With a sigh, this landlubber turns to the land and wriggles her toes a little deeper on hummocky but stable mother earth.
I'm glad we shed some extra food weight, gear on the boat. With our small group, every extra ounce counts. Darryl's a big guy but his pack towers over his head. Mary is a minimalist, not surprising given her experience and petite stature. Julie and I reduced our loads as well. However David with his camera gear, tripod, gun, is really loaded. It's often difficult to make that transition from canoeist ('everything but the kitchen sink' mentality) to Appalachian Trail through hiker (weight rules above all, saw off the handle of your toothbrush)…I strive to emulate the hiker model but in reality, fall closer to my canoeist roots.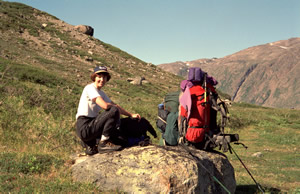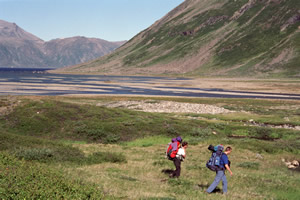 On shore, we follow the curve of Ivitak Bay until it moves away from the river valley. The intended route is up the McCormick River, cross the headwaters, circumvent the Koroc river valley, pick up the thread of Ramah River and follow it out to Ramah Bay for pick up. All this in 9 days! We'd get going…
I become aware that continually evolving circumstances are going to be the norm for this trip. With the acceptance that nothing is going to be the same day to day and the possibility that change will be the only constant, rolls around in my brain, forcing me to focus on the immediate. From the short term (wobbly land legs), to the long term (loaded pack which will lighten as days pass), to the chronic (route finding with no trails, camping under sometimes hostile conditions: wet, wind, bugs), I'm prepared to take what ever comes and go with the flow. This country is full of surprises!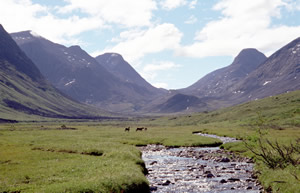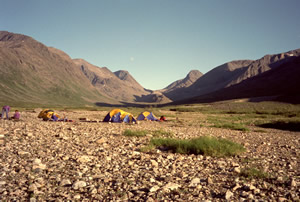 It's easy going this afternoon as we pick our way through the tangle of willows, hopping small creeks, generally bearing south over the multi braided stream. We make camp early in the midst of the river wash out. Caribou approach us, sniff and then bolt. There are some black flies but not too annoying. I go to bed early and fall asleep quickly, listening for the passing of more caribou.