Aug 15 (day 7)
Wake to socked in conditions. No wind but misty fog – what to wear? Gortex is too hot but need a shell for moisture. Deluxe breakfast of pancakes, syrup, butter, coffee…the benefits of hiking in a group once again apparent.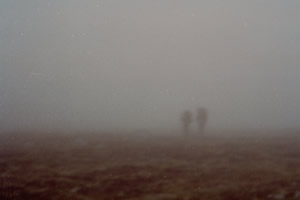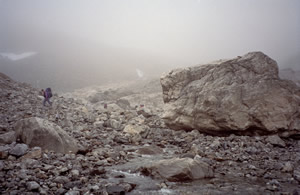 Immediately we begin to gain elevation, weaving our way between large fallen boulders. It's so foggy, Mary and I lose sight of the others. It's a challenging morning between the weather, the elevation gain and the precarious footing. No one wants to slip on the damp rocks and twist an ankle. I'm extra cautious, concentrating on my footing. A series of flat terraces gives relief from the uphill but then I almost get stuck on the downhill. It's steep enough to start small scree slides – Daryl bounds down with his long legs, demonstrating his boot skiing skill. Mary suggests that Julie and I our packs off and slide them down first....I follow her suggestion and safely make it to the bottom. After that, the four of us stick together a little closer.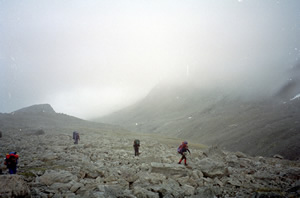 Lunch is somewhat inappropriate given the weather: tabouli, kippers, oysters, bread. Soup is finally hauled out of the pack and I'm grateful, feeling extremely chilled. We shelter behind a huge boulder, hunkered down out of the breeze which has sprung up. The fog has lifted somewhat, teasing us with peek a boo views of what we are blindly passing through. By the time the packs are loaded on our backs again it's 3 pm – the stop was too long, the packs have grown uber heavy and feet are starting to wear.
The elevation change has lessened but the valley is a graveyard of frost shattered rocks, tipped this way and that. Snow patches feed the few stream crossings but they are easy given the amount of rock. It's truly barren up at this elevation (2450 feet). Three small lakes with tiny sluggish outflows indicate we have reached the saddle: waters flow either north into the McCormick or south into the Koroc.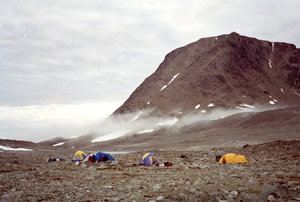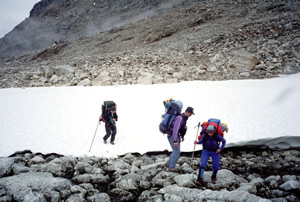 Clouds continue to thin and lift as the wind rises. The tarp is hauled out and set up for the first time, but it can barely shelter our small group. In case the wind really blasts through this ditch, Mary and I rock all the tent guys and floor pegs. How quickly things change! The sun sets flaming red and orange, the big dipper clearly visible. It's still light at 10pm, I sit out and write in the journal without a head lamp. I've never seen such a moon before: its almost full, hanging low in the sky. We are high up, the air is very clear. I study its face with binoculars and swear he winks at me! Definitely time for bed…