Aug 17 (day 9)
Since it's my turn to cook today, I'm the first up at 6:30 am. Cool, clean, pure air. Frost coats the collapsed tarp. Ice crystals line tiny pools of standing water. Can I really see my brea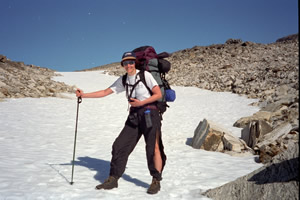 th? It's mid August and the coldest night yet. Breakfast is a slow affair, the dehydrated potatoes taking forever to hydrate and then cook. On the up side, I'm proud that I managed to start the stoves myself.
It's a cloudless blue and the sun shines in my face- we gently descent into a small valley. The going is somewhat easier now, the large uneven rocks have given away to smaller more regular shaped fragments imbedded into mud and thus steady under foot. I borrow some sunscreen from Julie, slather it on my nose, thinking how well prepared these mountain hikers are, ready for all conditions!
There are no trails thus everyone picks what they think is the best route possible. A small lake presents the option of a short cut or slightly longer but level route follows the shoreline. The short cut is somewhat risky as it crosses a steep snowfield that terminates offshore, into the open waters of the lake. Three of us make a safe choice and opt for the longer route. Two take the chancier route and the inevitable happens – one person slips and injures their wrist, scrapes their hand, legs on the icy snow but worse their ego is also damaged. It puts a strain on the group as that person stomps by and doesn't' say a word to anyone. Bad judgment from those who should know better! I'm annoyed because a bad fall could have had consequences that effects everyone on the trip – as a participant, I want to continue the hike and not have to abort due to a preventable medical emergency.
The downhill descent reverses and we have to climb again. More rocks and this time bigger rocks. The sorting process of glaciation is most evident: I walk over it for hours. Suddenly, a vantage point opens to a broad valley below – the view is breathtaking with two small azure lakes nestled close to snow splashed mountain slopes. Soft thick gray mosses invite lingering, we stop for lunch. I can see 180 degrees: a glint of blue from distant glimpse of the Labrador sea in the east, the green headwaters of the Koroc contrast with the golden sands to the south and rolling hills block views to the west.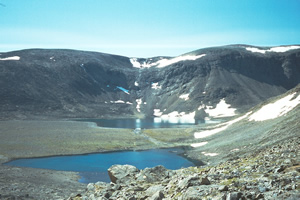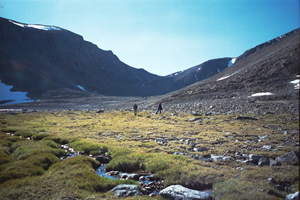 It's a Garden of Eden…three caribou are spotted in the distance, snow buntings flit from rock to rock. At the base of the outcrop, we start searching for a suitable campsite among the broken rock field. Then, I notice some large hard packed oval shaped mud boils - they are big enough for a tent and camp is quickly set up. With plenty of time and energy (!), we day hike back to the valley of jeweled lakes…gorgeous blue colour with cloudless sky overhead makes for picture perfect conditions. Beautiful weathered rock with green and black lichen, steep scree orange rock walls. Vegetation is scarce: a few tufts of grass and the odd gnarled willow root that appears more dead than alive. Garnet crystals cling like barnacles to some rocks, other rocks have almost a greasy feeling. Shale slabs mixed with rounded granite lumps.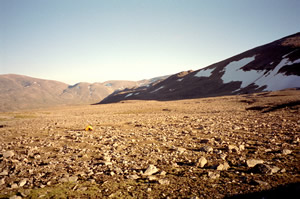 As cook, my final meal of the day is beef stew – even I think it's only so-so. No one is keen on vanilla pudding for desert, I opt to carry it out unmixed - it just wrong to dump this nasty, fake-o, food product in to this pristine environment. I'm bundled in my sleeping bag, rapidly falling asleep when Mary shakes me awake with: "look outside!" – I poke my head out under the tent and the sky is filled with a canopy of light. Great ribbons of white, green and pink arch overhead, wavering and dancing above the tent. We watch until they fade away 15 or 20 minutes later. What a great display of northern lights, given the brightness of the full moon that had also failed to dim the brightness of the constellations. It's a night sky like I've never seen before. Sleep comes slow now, my body vibrating with cosmic energy.