Aug 18 (day 10)
Mary and I are awake by 7am, talking quietly and listening for sounds of breakfast…are they dead over there? Hey, we're hungry! Finally Darryl and Julie get up – the potato pancakes turn into potato hash flakes with bacon but we don't mind. The plan is to overnight at this site for another day and day hike up top of the western plateau.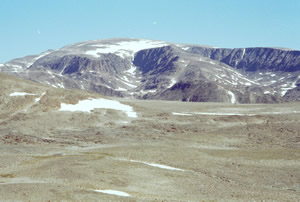 By 10:15am, I'm struggling up a steep scree slope that is sliding down under my feet. With a camera in one hand and water bottle in the other, my balance is compromised. Mary graciously offers to take my stuff in her day pack (I didn't bring one) and although I offer to carry it she says, OK on the way back. Its easier to gain purchase by staying on any kind of green vegetation – at least it's marginally anchored compared to the loose rock which slides away underfoot. It takes about 60 minutes to climb 1 km distance and 1000 feet elevation – the plateau starts to level out at about 3500feet.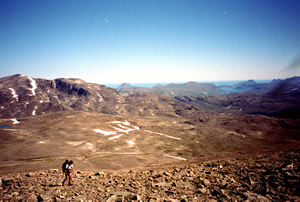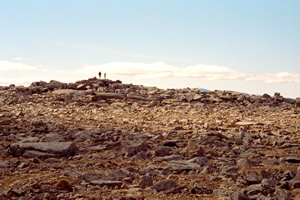 It is acres of broken rubble up top, not the smooth easy walking surface as it appears from the air. I refill my water bottle from a tiny pond ringed by moss. We couldn't have a better day, clear and more endless blue sky. Another 2 km of walking over broken rock and we finally reach what seems to be the summit (4040 feet) although its hard to tell exactly as it's a broad dome. I perch on top of some large fractured boulders and gaze in all directions before pointing the camera to the west and frame a panorama composite with six exposures. It's exhilarating to have everything go so right: great weather, views, pack-free strolling.
After about an hour for lunch and picture taking, we return to camp. The route back is better as we take advantage of a snow patch and slide down. Again, Darryl and Julie make it look easy, well practiced boot skiers. The five of us devour the whole pot of pasta, which was supposed to feed eight. Feeling good, my feet are surviving (or the duct tape merely taped thicker). I look out over our likely route tomorrow. The air is calm and balmy, the bugs minimal and it's silent. I settle into the thermo lounger chair and watch the stars come out, moon light shimmering over the Koroc far below. The northern lights appear without warning, swirling across the sky from west to east. The soft edges of blues and greens bump against each other, melding into the black night sky. It's a short display and more subtle than last night's brilliant dance. My eyes close slowly as I drift away, wooed by Labrador.