Day 2 - Saturday July 8
This morning we pick up our red Ford Taurus....we were hoping for a wagon but it will be a sedan. Still, we can cartop a canoe and fit in the gear. Its to be the 'girls' car with the guys in the truck - everyone is happy with this arrangement, and plans to rotate passengers and drivers are quietly dropped. We pick up a few last minute fresh items to carry over the next few days, finally hitting the road at 4pm....only 629 km to Fort Simpson!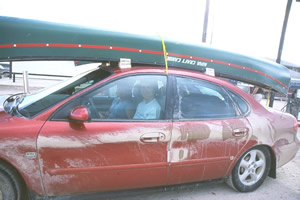 The first 100km out of Yellowknife was wet and slippery - mud quickly coated the car and even the roof top boat. I drove cautiously at about 80 kph, passing flat terrain of spruce and jack pine forest. We were wondering about the large cake sized mounds at the side of the road but didn't slow down to investigate...our questions were answered when we saw our first buffalo, then group of 5 - 7 wandering between the road and forest fringe. Ontario drivers worry about hitting moose or deer at night, no one mentioned the hazards of buffalo! 1.5 hours later, we entered Fort Providence - gas at 85 cents per liter, was 4 cents cheaper here than in Yellowknife...
After stocking up on munchies at the gas station (avoid the butter tarts), we switch drivers and continue on. Our first ferry crossing over the mighty Mackenzie - I am more interested in the ferry boat captains' docking skill as he maneuvers against the steady current, soft sandy river banks. Wildlife continues to stream by....more bison, sandhill cranes, a black bear. We wonder about the road carnage but see no dead animals along the road (scavengers?). Just before midnight, we catch the next ferry across the golden Liard River - a fast flowing, broad and silt laden waterway. Bald eagles line the river. A wildlife cornucopia! And all this before we hit the Nahanni..
Overnight at the Nahanni Inn in Fort Simpson, having been too lazy to set up in the campground just outside town. I regret this later, after paying our $139 bill with no hot water - argh! Typical northern rates, lesson learned. Fatigued by the prior days of travel, driving and building excitement, I drop into a dreamless sleep.