Day 7 - Thursday July 13
Awaken early and lie listening to the thundering of the falls, audible in the quiet morning. Late last night, a wolf came in to the campground and stood silent on the edge of the forest, examining us before loping back to where he came. I wonder what today will bring - plan is to hike up Sunblood Mountain.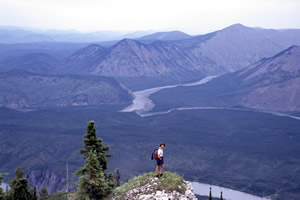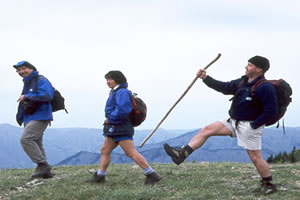 After ferrying across the river, we cache the canoes on rivers edge. The 4 hour climb begins immediately through thick pine forest and wet peaty under story - any bears around? This precaution has been throughly drilled into us by the park rangers. However, we see only us. Huffing and puffing ever upwards (summit elevation is 5298 feet), the vegetation thins and drys out before emerging on to the relatively flat top summit. Yah! Finally here. Gorgeous alpine flowers and what views, both up and downstream. Pika and sic sic try to steal away some lunch crumbs. A bald eagle screams and circles overhead.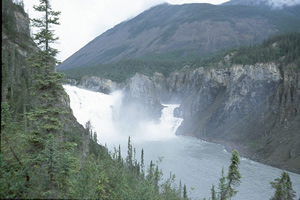 The decent is tough on the knees, trail somewhat slippery. Dall's sheep yearlings make it look easy, frisking around, bounding up and down slopes while their moms graze nearby. The sun is breaking through, warming my chilled bones. The temperature difference is remarkable between the summit and the protected valley. Its getting down right hot! Back at camp, I enjoy a solar shower, scrubbing away 7 days of caked grime then sunbathing on the floating dock. Bliss!