Day 9 - Saturday July 15
Morning sun highlights the under side of puffy clouds, cool morning I can see my breath. We pack, ready to tackle Figure 8...Hong and Alex lead the way....just at the brink of the standing waves by the left cliff face, they go over...in horror, I watch as first one then two heads bob up, the canoe a red log, going around the corner, disappearing from view....shit, we have to get them!!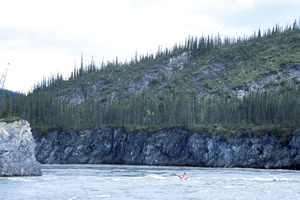 Carefully analyzed plans fall by the wayside, we get in a move, following their path, keeping river left.... my mind blanks when we approach the inside corner and I see the size of the standing waves and unstable rooster tails...somehow, Ron guides us down a narrow strip of calm water but suddenly we are snapped around, pointing upstream....Ron yells "power!" and I dig in with all my strength - 5 strokes later we have paddled upstream using the unstable margin between the boils and moving water, gaining relatively calm water on river left just below the cliffs....
Hong and Alex are hanging on to the boat, we power paddle across the unstable boils before the current can drag them further ahead...picking them up, we just catch the tip of a small cobble beach river right, dropping them off ....the boat however, has floated away, yanked out of their cold hands by the strong current....and the chase begins.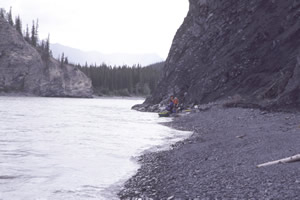 We catch up to the boat but the current is too fast, the boat too loaded and I can't right angle the boat in mid stream....tugboat like, we opt to edge it closer to shore when I can hop out and grab it. We are thinking about Wrigley Whirlpool, wondering how much further it is downstream. At the base of black rocky beach (river right) with steep cliff, we mange to get the canoe close enough to shore so I can hop out and secure their boat while still hanging on to ours. There we empty their canoe of water and take a 5 minute breather.
Our group is spread out along the river with no way to communicate. There is no sign of Desi and Wayne, who we last saw above Figure 8. Hong and Alex are stranded on a cobble beach upstream. We ponder the options. Finally, we decide to ferry their empty their boat across the river and try to work our way back upstream with the 2 canoes. Their gear will remain safe and dry high on the beach. River right is not an option, being too steep and thickly wooded.
We gradually work our way upstream, towing the canoe when the current is too strong to paddle, wading higher up to cross in flowing channels, paddling hard around a small rocky point. We come to a very fast and deep outflow - Wrigley Creek, where we stop due to cliffs and the current. Alex and Hong must have built a small short fire, we can see smoke rising (but not them). As we debate this obstacle, we notice that Wayne and Desi have loaded Hong on the spray deck and Alex hanging on to the stern and are slowly making their way across the river towards us. They just make it, Alex stands up and pushes the boat bow to shore where we are standing. Hurrah! We are all together again.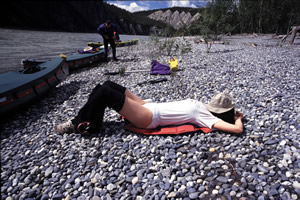 A happy ending after all. Wayne and Desi decided to portage Figure 8, not knowing our fate but also not wanting to be a second boat needing a rescue. They saw the smoke of Alex and Hong's fire, picked them up and met us. Alex and Hong loaded into our empty boat and we slowly paddled downstream where we had cached their boat, then ferried across to pick up their gear. The entire episode cost us 2 to 3 hours of time but more importantly built our confidence in being able to successfully cope with a dump.
The weather which had since been fairly cooperative, took a turn for the worse. Tired after the ordeal, the headwinds pounded us along with a driving rain. The rescuers are just as cranky as the rescuees. We stop at Mary River and camp for the night.