Day 10 - Sunday July 16
Another damp morning...after good intentions to make an early start, the pancake breakfast delays us until 10:30am. In the meantime, I wander around the sandy delta and inspect wolf and moose tracks. Chilly air flow blowing down the Mary River valley does not entice me to underdress.
But the day improves as we enter the Third Canyon...its a cross between the Rocky Mountains and the Grand Canyon...some hills are burned, pink fireweed is edging up the slopes. The current is still swift but no huge standing waves. We are feeling brave and don't use the spray skirts which is Ok as long as we avoid the wave slop from going over the gunnels. We drift toward a big bend, looking shore wards, looking to land and climb up a short hike and view Pulpit Rock.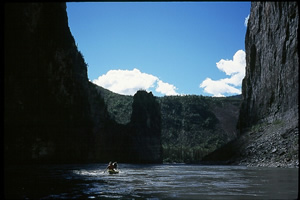 This is really impressive. The walls are dark and sheer, deep shadows add to the drama. We beach the boats and begin the 45 minute scramble up to the top, packing lunch. Fantastic views of the river below, rock and wow even some blue sky! We watch another group pass below, their boats just tiny slivers on the glittering water.
The water as is passes between this narrows is surprisingly smooth although the current is obviously powerful....we stay river left, dwarfed by the cliffs and enjoy the ride through. Downstream, the sun shines brightly in contrast to the gap...I personally think it should be renamed called Heaven's Gate, instead of The Gate and Pulpit Rock. Our necks get sore from looking skyward. Finally, I can pull out the camera and take some photos while on the river.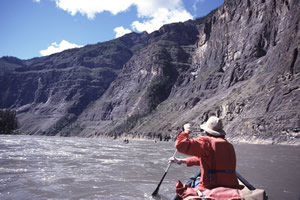 Our campsite is on the east side of Big Bend....we check for a campsite on the west side as it is prominently marked on the map and guide books but find nothing to our liking. Instead a small clearing is home surrounded by tightly furrowed aven heads. Alex goes for a swim while Wayne and Desi prepare a dinner of rice, dahl with appetizers of mussels, octopus and crackers, cheesecake desert then espresso. The sun goes behind a mountain, the temperature drops instantly. It's a luxury to sit out and not be pestered by mosquitos. I'm the last to bed.