Day 11 - Monday July 17
For the first time, its hot in the tent at 7am....sunshine! Breakfast is quickly downed as all are eager to hit the water. Its going to be a hot one - the sun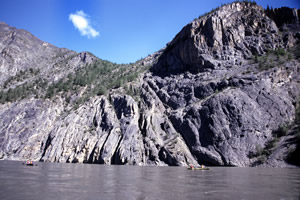 brilliantly illuminates the Headless Range far down river. Big Bend is the start of the Second Canyon,more burnt hillsides with fire weed but the real star are the canyon walls with odd stripes, bands and pinnacles.
Paddling is easy and mostly we drift along, just avoiding the worst of the splashing waves. The water speed doesn't seem to vary much along the river and the hiss under the bow from particles suspended in the water remains constant. The cameras comes and we cavort, playfully posing taking pictures of one another. The last huge exit mountain is spectacular yellow, gold and grey - we point the canoe upstream and drift backwards to fully enjoy the view.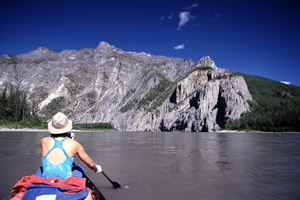 The country opens ups at Deadmen Valley. The mountains are further back from rivers edge which becomes sandy banks instead of rocky crust. Paddling becomes interesting with lots of gravel swifts, braided islands and shallow river bottom to avoid! We pull out at the Deadman Valley warden station, scrambling up the steep bank with the aid of a ladder. The cabin itself is unremarkable until you enter the interior. There, paddlers (private, commercial and park wardens too) have left behind small wood paddles, tiny canoes and even a wood grizzly bear foot. Most have been inscribed with names, place of origin (every where you can think of in the world) and date - some give details ("50 days solo"). Its fun to see these creative memorabilia and bragging "I done it too"...Alex brought our own 'flag' to leave, carefully inscribed with our canoe club name (Wilderness Adventurers of Ontario) and web site. However, he has a unique idea....he takes a Polaroid photo of our group and attaches it to the paddle. A first!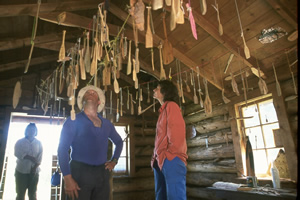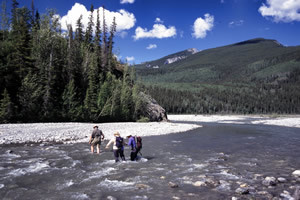 After lunch (the olives and sweet gerhkins have lasted quite well) we ferry across the river and explore the huge white cobble stone gravel fan of Prairie Creek. Our intent is to hike up Prairie Creek but after 1 hour of walking over dry savannah type scrub, we can't seem to find an easy route. Besides, its such a hot day, the clear waters are very enticing to splash around, cooling off.
Just 1 km downstream on river left, we make camp at the mouth of Dry Canyon Creek. Its a well used site, judging by the stacked wood, picnic table, small litter we find. It is to be home for the next 2 nights. Spaghetti dinner tonight by yours truly enhanced by left over salami and Monterey jack cheese sauce. The first mosquitos at this campsite - must be the heat and humidity. A beaver is splashing around. Its dark enough to need the head lamp inside the tent although a full moon reflects on the water 2:30am.