Day 12 - Tuesday July 18
Wonderful relaxed oatmeal breakfast with fabulous Hawaiian Kona coffee. Some people will stay in camp, others plan to hike into Dry Canyon Creek. The alluvial fan is pretty short and after 3/4 km we are at the mouth of the canyon - steep walls rise straight up from the river bed and their cool shadows (another hot day!) provide relief.
Slowly, I pick my way between the jumble of large and small boulders....up, down and around is the theme. Rocks are polishedsmooth by water....tiny stagnant pools hint at potential flo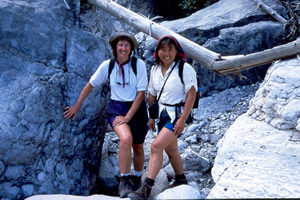 od torrents. Oddly enough, we find the remnants of what looks like a plastic yellow rain coat wrapped around some rocks mid stream. As the canyon narrows, it gets more scenic...the sky is brilliant blue, framed by canyon walls. It feels like we are at the bottom of a huge ditch! Echos bounce around. Looking for a view, we scramble up and out of the main water course through dense burn and scrub, eating raspberries as we go. Not inspiring due to heat haze and shimmer. We return to the canyon and back to camp.
On the way back, just outside the entrance of the canyon and before our campsite, a black bear rolls across the alluvial fan. He stops and looks at us...we are about 250m away....we stop, grouping together. He doesn't give us a second look but continues on his way, paralleling the river. The three who stayed in camp were disappointed to miss this sighting but are hoping maybe he'll come by tonight! Peaceful sunset, one of the few campsites where we can watch the sun go down and not be blocked by mountains. Mosquitoes bomb the tent, nighthawks dive and chickadees and nuthatches flit between the trees, calling softly in the dusk.