Day 13 - Wednesday July 19
After breakfast, we examine the river....looks like water levels have dropped slightly...its that possible? We shove off and head for George's Riffle - a few large standing waves - by staying left of the island, we ride a few waves, then punch through a pronounced eddy line to rejoin the main current. First Canyon is again different...very dark in colour as well as being the deepest canyon. Although I find it most interesting to paddle as close to the canyon walls as possible, after one close call, we keep a more respectful distance away from the unstable water near the rivers edge.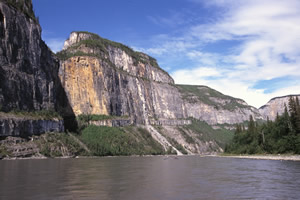 White Spray creek is worth a stop just to fill the water bottles. It was a treat to drink the clear cold water - no sediment and no filtering needed! Alex fills an old wine bladder taking full advantage of the amenities.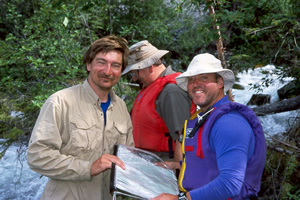 Lafferty's Rapid is a bit of a bust...before we know it, we are heading along river left and basically have past the fast water...too bad as it looked like a fun ride! But no one is that motivated to haul the boats back upstream for a joy ride. Besides, Kraus' Hotspring are calling and we move on leaving canyon country for the last time. Now, it feels like leaving a familiar loved one - the colourful sheer or steep walls, fast silty waters, stumpy treed slopes.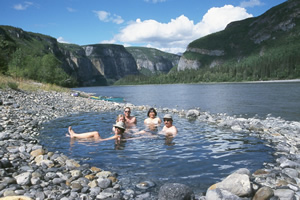 Kraus' Hot Springs is one of the few places where we actually run into another trip....it is a commercial group of about 12 who are having lunch and in the river side hot springs. The noisy group feels intrusive to the quiet I have grown used to and I am annoyed that they blindly trample through the yellow parsnips, mustard greens, purple vetch lawn. After our lunch, they depart and we have the hot springs to ourselves. After a short dip in the pool, all those little tiny cracks and cuts sting from the sulfur waters. I become aware that I don't care much for the springs - the strong sulfur smell on this hot day is more offensive than the hot water soothing....well, I don't much care for hot water anyhow. I'm satisfied to watch the others become prunes while I relax in the shade of an over hanging river bank.
After a serious group discussion about the next few days on the trip, we move on instead of camping here. I am glad, wanting to get to more unsullied surroundings. The valley continues to broaden out and the vegetation changes with more willows, aspens lining the banks and fewer evergreen trees. The banks become steeper and sandy or muddy. River itself changes character significantly with deadhead, gravel bars, shallow pans, undercut bank, more floating debris, multiple braided channels. Finally we locate a small beach with minimal vegetation (mosquitos have found us) for camp.
Dinner is a quiet affair. I sense that a trip is ending and that always makes me sad. Or it could be the tense words at Kraus' or the day hot sun or general fatigue from the days long paddle or the light dinner or the bugs. I can't sleep at 11pm, lie in the tent listening to whine of mosquitos as the setting sun sets the bottoms of low clouds on fire. A wolf howls, faint in the distance.