Day 14 - Thursday July 20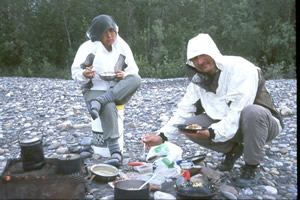 No one linger over breakfast its the first time we are wearing bug jackets. The sky is not encouraging with hazy grey overcast and an unnatural calm. The sullen atmosphere of last night lingers. We're on the water about 10am, passing log jams immediately. Masses of wood are stacked at river bend, deposited high by spring runoff. Aptly named "The Splits" due to the many little island. I admire the mauve reflections on pockets of calm water, reflected off the overhead clouds. We exit the park boundary this morning - sitting high on the stern deck, I wave goodbye to the Nahanni...Nahanni Butte shows up about noon - we stop at the general store for a few small treats. Best feature is the view of Nahanni Butte mountain across the river...the floating dock is also interesting, especially the amount of play in the mooring to compensate for variable water levels.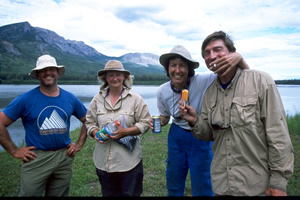 We stop at the Liard river junction (bathroom break after all that pop!). The mud flats present a challenge getting to shore without sinking knee deep into the mud. The confluence is calm, barely a ripple just like the air. We are searching for potential campsites....at 6pm, Swan Point looks appealing with its level sandy flats and ample driftwood. There are lots of buffalo tracks and dung but no buffalo! Its still pretty hot but the bugs are minimal so supper is started. Somehow, we end up on the river again, paddling or should I say drifting downstream, now rafted together. I feel energetic, espresso powered - Alex and I paddle from the outside sterns.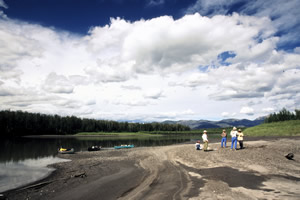 The river continues to widen....a light wind picks up, at our backs...the tarp comes out and by standing on the gunnels, I find it makes an acceptable sail. However it's a delicate job, balancing wind strength with leaning back so as not to go for a sudden swim when the gust dies. With help from the 'sailing crew', the canoes leave a respectable wake when I manage to fill the sail! This continues until we spot the cabins of Blackstone Territorial Park in the distance. The tarp sail comes down and we paddle right up to the park's dirt ramp.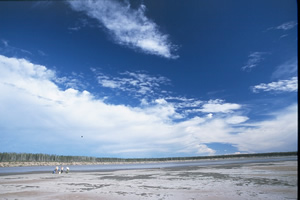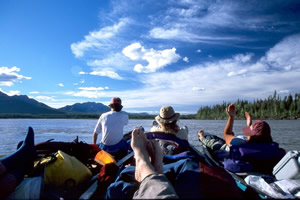 A tremendous last day, some 87 km. Everyone is happy and smiling knowing we have successfully complete the journey and memories are being formulated. Its late, Fred at the visitor centre greets us, we check in and set up tents and crash.