Patagonia Hiking Jan 9-17, 2005
Torres Del Paine, Chile: the Jewel of the Crown
The name "Patagonia" had long conjured up images of a mysterious, empty landscape: isolated, filled with naked mountain rock, slopes shrouded in mist, beaten by cold winds. When holiday time became available in January, I was immediately keen to go. Seeing this southern 'lands end' would satisfy one of those inexplicable geographic urges based on no rational sense but are ultimately soul satisfying.
However, our original plan for weeks of hiking changed…an unexpected opportunity last minute opportunity to join an Antarctic cruise came up which we couldn't pass it up thus our original hiking vacation got pared down time wise. We opted to visit Torres Del Paine being the closest 'great' Andean range park (there are others like Tierra del Fuego just outside Ushuaia which we visited, and further away from Ushuaia, Pertito Moreno, Los Glaciares). The logistics of getting to Torres del Paine were simple: get in the car and drive 918 km over gravel (and sometimes paved road), cross the Chile-Argentine border a few times. And it was straightforward – it just took 2 days.
A park since 1959 and declared a World Biosphere Reserve by UNESCO in 1978, Torres Del Paine is located on the Chilean side of the southern Andes. There are many established hiking routes - we elected to follow the most popular "W" circuit along the southern base of the granite massifs, from east to west, over 5 or 6 days, covering about 60 kilometers.
January 9
Me driving the rental car, Ron in the jump seat, Alfred navigating from the rear …it was cozy with all our stuff. Not only was the back hatch stuffed but if it wasn't for the roof top box, we never would have got everything in. Gasoline cost 1.33 Argentine pesos per liter or about 30 US cents per liter. Alfred noted that gasoline ( 'benzina' or 'naptha' as it was called was more expensive in Buneos Aires at 1.99/ litre).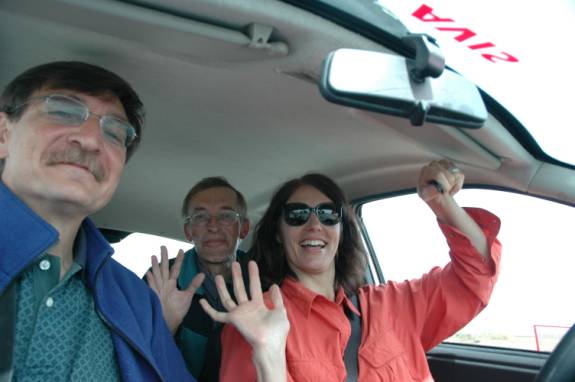 Aside from the occasional transport truck (that always slowed down and sometimes even pulled over the side of the road, completely unexpected! thus no stone chipped windshield on the rental car), there were very few private vehicles on the road. Kilometers would go by with nary a car, road sign or dwelling. The occasional wire fence would parallel the road before melting in to the distance, leaving us to drown in our own dust clouds. Dry pampas grass clumps punctuated the otherwise flat terrain.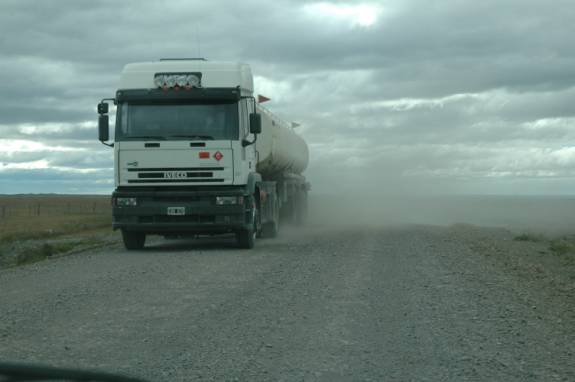 It was a long first day from Ushuaia to the north side of the Straits of Magellan. After hours of driving, being a passenger on a ferry had a certain appeal and was enhanced by the river dolphins which accompanied us across the Straight, riding the ferry's bow wave. Magellanic penguins, like plump black and white apple seeds, squirted out above the gray waters before disappearing under its gray chop.
I was tired and grumpy when we finally found some accommodation on this lonely stretch of road. The hostess was surprised when three gringos pulled up to her establishment late that night – the only room available was an old shed attached to the back of the kitchen, where, I guessed, the hired gauchos would sleep. Unheated, I was glad for my down sleeping bag as the thin walls did little to keep out the night chill.