January 10
Driving west on Hwy 255, the early morning light bounced off watery Straights of Magellan and into the car. The abandoned remains of Estancia San Gregorio line the road while across the pavement, two rusting boat hulks lie long washed up, hulls rotted by salt waters and decorated by the offerings of a few night herons and white ibis. The kilometers fly by…a left turn heading north on Hwy 9, the empty grasslands are sparsely occupied by the ostrich like wild rhea and chicks or matted balls of sheep accompanied by cowboy rider.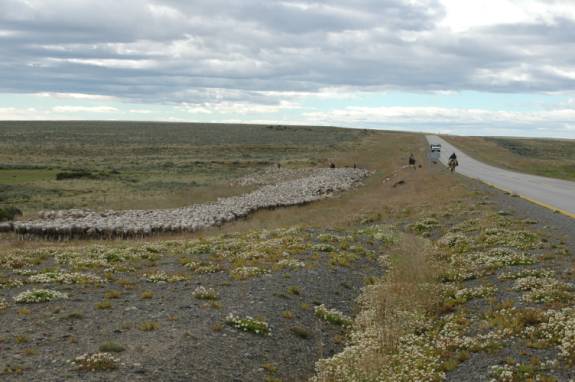 A short stop in Puerto Natales for groceries and lunch before we push the last 165 km to the park entrance. No reason to linger in town: it feels like a grubby frontier town, with the low ramshackle street front buildings, pedestrians squinting their eyes alternatively from dusty winds and the glare of a mid day sun. A condor, the first one we see, effortlessly rides the thermal currents that buffet dry slopes near Cerro Castillo. A good omen, I think.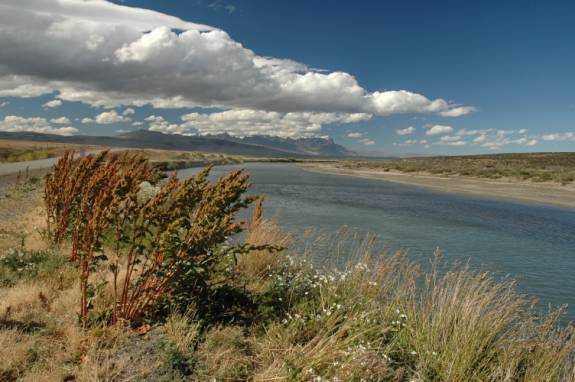 The great open sky and vast country mirrors that of Southern Alberta…not surprising, considering both are on the lee side of a continental mountain spine. Guanacos, indigenous and llama like, in herds of up to 50 animals, their long elegant necks decorated with free flowing manes, strut unencumbered over the dry plains. Similar to Alberta antelopes, the grazers of the grasslands, I wonder if they are soul mates of the steppes. Just visible in the far distance, the Andes erupt suddenly from the ranch lands. Again similar to our Canadian Rockies…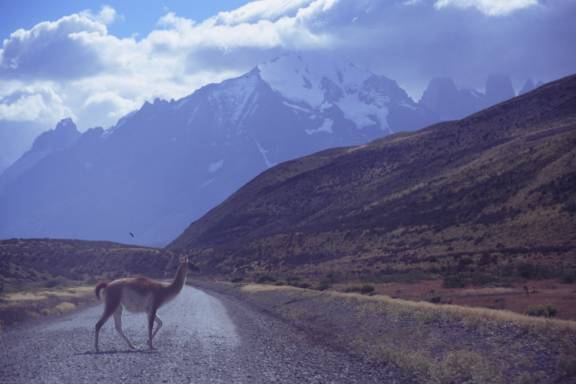 It's 6pm by the time we cross a narrow, single lane, steel frame wood boarded bridge that spans the Rio Paine, where a park guardhouse marks the eastern entrance of the park. The surroundings are almost surreal, inky purple mountains silhouetted by approaching twilight, broad river almost over flowing spring melt banks, the gravel road with no one but us on it, the sudden appearance of a building in a land otherwise devoid of human markings.
Seeking wind shelter, we pitch the tents in a clearing, fringed by trees that harbour all kinds of chirping finches. All loose articles, clothing, kitchen ware, even vehicle doors become lethal missiles with the wind. Horses wander freely across the campground, nibbling an already well cropped ground. Horse buns/cakes, another hazard around which to navigate! Both refugio (basic accommodations favoured by budget travelers) and hotel (very upscale Hosteria Las Torres with spa faculties) offers meals, showers and lodging but I prefer to camp: ironically, the outdoors seems more private and quiet than the busy, crowded heated environments. Breathing deep, it feels good to stretch my land legs...wiggling my toes, I look up into the night sky and search for the southern cross.