January 11
(3 – 4 hours walk, 9 km, 429m elevation gain): Hosteria Las Torres to Campamento Torres
A new day has dawned and weather conditions have changed – for the worse. Rain drizzle sets in, no one is keen to hustle out and make the coffee. I roll over and pretend to sleep, listening to rain tap on the tent fly. Finally, someone gets up and breakfast is started. A sugar dusting of snow coats the high peaks – we grab camera bags, don rain gear and set out to explore despite the inclement conditions. After squeezing between barbed wire strands (were people to be kept 'in' or 'out'?), we climb grassy knolls to better inspect our surroundings. Uninspired by the weather, still heavy headed from 2 days of driving, we return to the tents, linger and loll and debate our next course of action.
But mountain weather is happily changeable and the clouds start to tear apart just before noon. We hurriedly pack up and depart for Albergue Y Camping Chileno, about 2 hrs walk up the Valley Ascencio. The packs seems heavy with tents, sleeping bags, thermorests, food, stoves, clothing…but I've been living the life of luxury over the last 3 weeks on board a cruise ship – my back and feet protest with the weight (which in fact is pretty modest, perhaps 40 lbs?).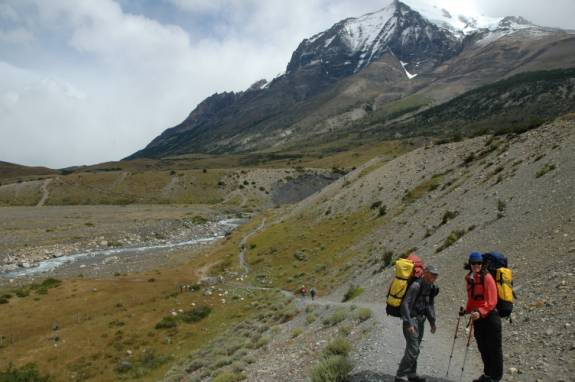 There is no problem route finding…the trail is well worn, wood sign posts indicate the official turnoffs. Handy maps indicate approximate times between campsites plus the usual information about elevation and peak names (but don't indicate distance which I estimate using a piece of dental floss and map scale). Horse back riders also use this trail - we are quickly passed by an outfitter leading four saddled animals. There are other hikers around but most seem to be traveling independently like us, in pairs or small groups. Comradery builds as along the way, people smile and we exchange greetings, regardless of language.
Up the valley we climb, gaining elevation at a steady rate. A cobble stone creek rushes out a deep gulch, lined with black till sides. The wind is more noticeable the higher we go, pushing and tugging our exposed loads. The weather is becomes worse again in the valley proper, on goes the rain gear. Hmm, gortex, is not really that breathable when energy output (breathing hard due to climb with pack) exceeds its moisture breathability, regardless of what the marketers want you to think!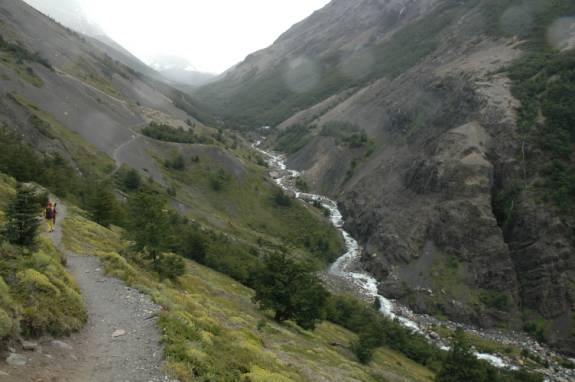 The refugios are a pleasant surprise. Not only is the food pretty decent in quality and price, much to my delight, they also sell beer and wine. No need to carry the 2 litres of red wine around, we can indulge and replace it nightly. Yippee! Chile is such a civilized country! After stopping for a coffee, we inspect the campsite area – it's tiny sliver of beaten dirt tract squeezed behind the refugio and sloping hill sides. After the open spaciousness of last night, we take one look and say 'forget it' – its like sardines in a can. Little did we know that this was typical for campgrounds in this park. We opt to hike 1 hour deeper into the valley, to Campamento Torres for hopefully a less busy site.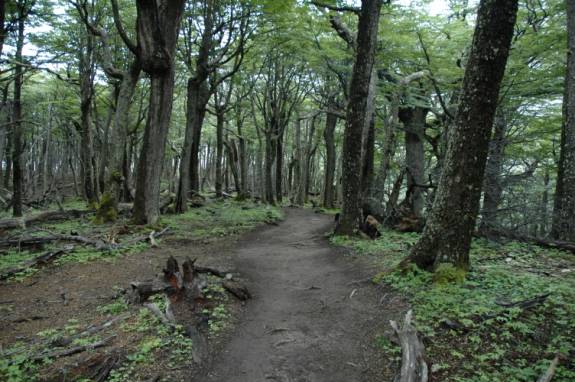 The scenery has changed dramatically during the day's trail. The mornings camp site was largely open, grassed gentle slopes. Trees became more prolific at the valley entrance, stunted conifers mixed with tough brush lined the path. Further along, Refugio Chilano was nestled amongst a forest of lenga trees. And now, the trail to Campamento Torres winds around mature trees which towered over our heads, providing shelter from the winds and some protection from the rain (which started again – ah that mountain weather).
A pair of torrent ducks play effortlessly amongst the rocks of the fast flowing mountain stream, dipping and diving, water beading off their feathered backs.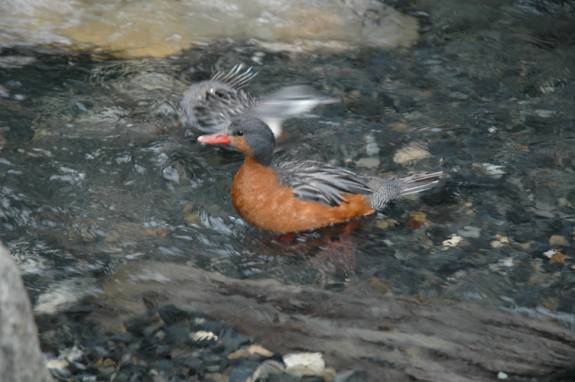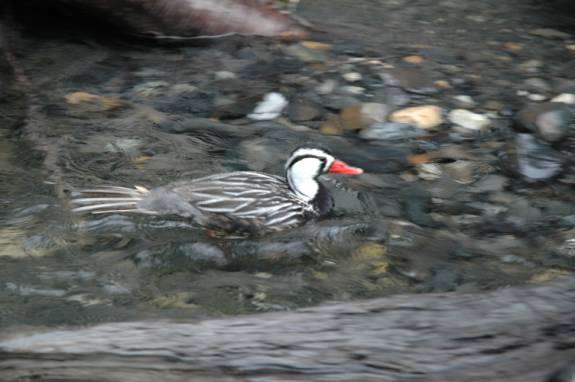 After a very long hour, a fork in the trail, an arrow painted on a board and a crude wood hut with plastic roof (park warden's hut), scary looking outhouse, indicate we have arrived at our nights destination, Campamento Torres, an 'unserviced' campground. The earth is beaten down, there is virtually no understory so its easy to find two level spots for our tents. The camp ground seems empty, we see only two other tents tucked under the tree branches. Quickly the gas stove is fired up and three hungry hikers wait for the water to boil. It has been a long day and I'm ready to retire.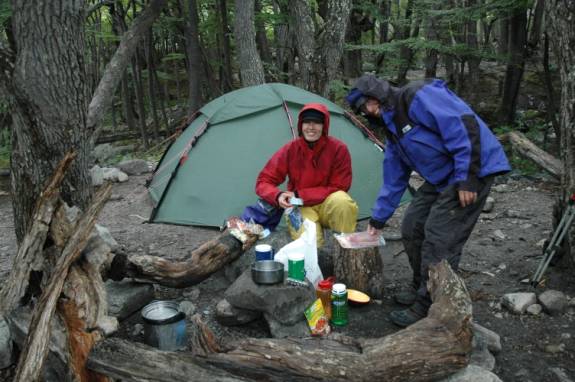 Rain continues to drip from the trees but I'm dry inside the tent. The wind picks up in the late evening, howling like a 747 taking off. Occasionally, a tree branch creaks and moans, heavy limbs swaying in the gale. Later I read in the park guide that winds are most extreme between Dec and Feb, and can gust to 100 kph…a fitful sleep for all of us tonight.