January 13
Los Cuernos to Campamento Italiano
(2 hours, 5 km, 100m elevation gain)
The wind roars all night long, magnified by the low tree branches and small leaves of the lenga tree. Compounded by the busyness of the site (sound of people walking close by the tent during the night), I don't feel rested. We breakfast at the Albergue, enjoying hot thin crepes with apricot (?) jam, eggs, juice, toast and coffee for 3500 pesos (about $7 US) then return to the tents for a short nap until 10am. Sluggish, we pack and head towards Campamento Italiano in the Valle del Frances...the air feels hot and humid, an odd combination, given the wind.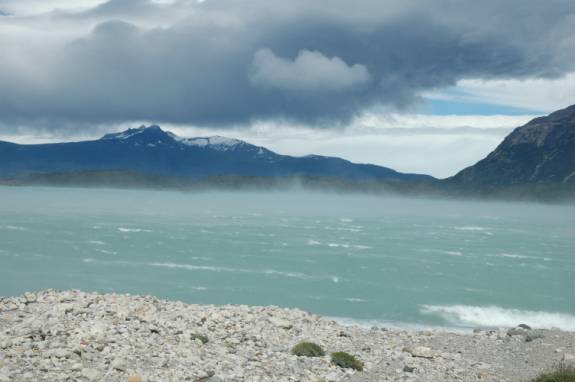 The winds are unbelievably strong! The lake surface looks like its boiling, the wind picking up moisture from the tops of waves and spinning them into water spouts. Ron, a strong 6' tall, 200lb hiker plus back pack, struggles to maintain his footing as the trail winds along a cobbled beach section along Lago Nordenskjold. Alfred and I hunch over and run between gusts, clinging to tree trunks when it blows. The air gets sucked out of our lungs. Lenticular clouds scrap the roof of the sky. It's a relief when the trails swings north, into the welcoming shelter of a forest.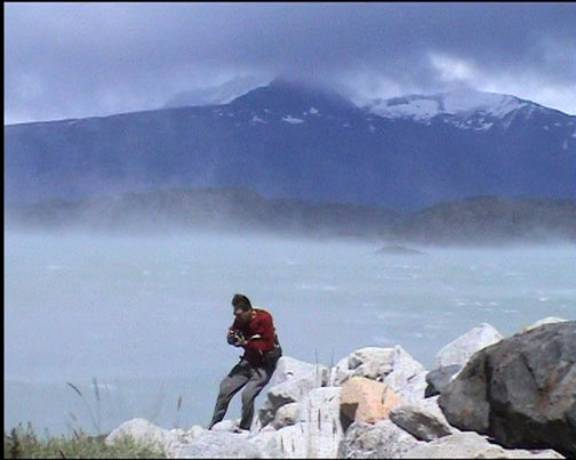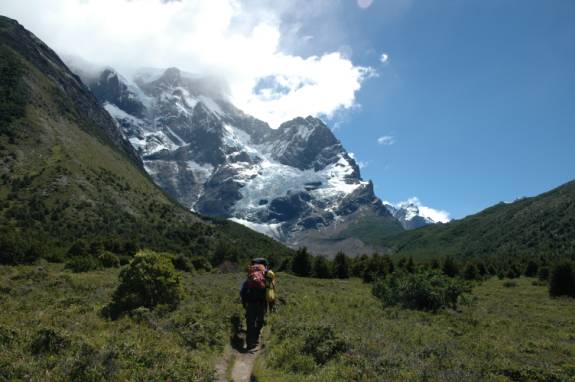 The intense sun can't warm the air chilled wind. The views of Cuernos del Paine are spectacular, their spiked peaks piercing racing clouds. Its about a 2 hours walk to Campamento Italiano (from Camping Los Cuernos).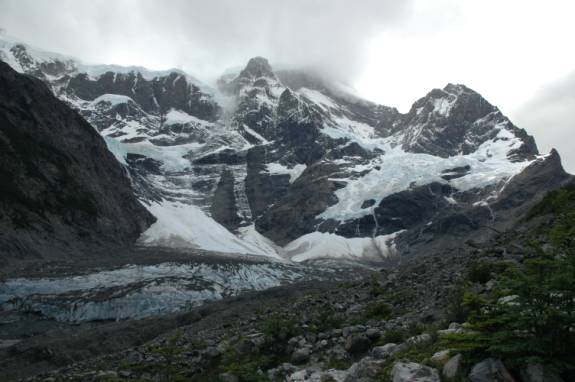 Although valley views of glaciers are majestic and spine chillingly beautiful, I prefer the more distant view looking out of the valley, south across Lago Nordenskjold where the cale and scope/breadth can be appreciated from a distance. Mountain valleys are just too close and personal for my liking!
Setting up at Campamento Italiano: Typical camp site along the 'W' route…you just hope the guy next doesn't snore! Blue plastic pipe carries water. After setting up the tents, a hasty lunch, only day packs are needed as we continue up the trail towards Campamento Britanico, 2 hrs away. The grey beech forest thins, revealing views of Glaciar del Frances and Paine Grande…we watch blocks of ice calve from the glacier del Frances and crash below to the rocky valley. Small avalanches of ice chips and snow cascade down, feeding the river.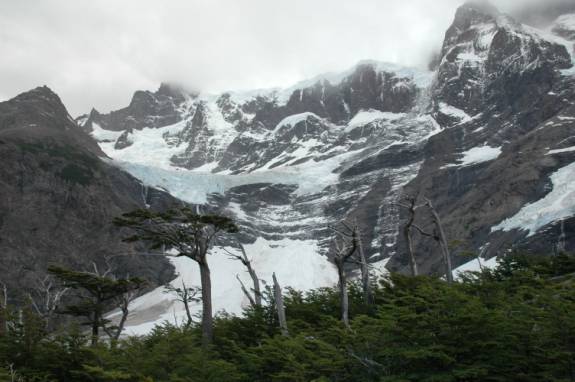 The weather takes a serious turn for the worse, clouds sinking lower down the mountain slopes, bringing rain drizzle. Views turn from long range to the immediate, brilliant pink/reds of fuschia bushes and lime green mistle toe clumps colour an otherwise dull palette. We return to camp by 7pm under ever increasing rain spits and slate grey skys.