January 14: Campamento Italiano to Campamento Grey
(6 hour walk, 9 km to Campemento Pehoe, another 10 km to Campamento Grey, elevation loss 216m)
Almost immediately from departing camp, we come to a bouncy suspension bridge. Wire cables provide a small element of safety, keeping the hiker on the bridge, a precaution from the severe wind gusts that regularily blast down the valley. A second elevated wood bridge provides passage over a boulder strewn river bed.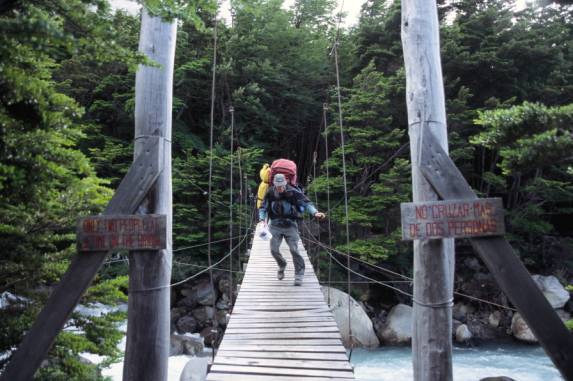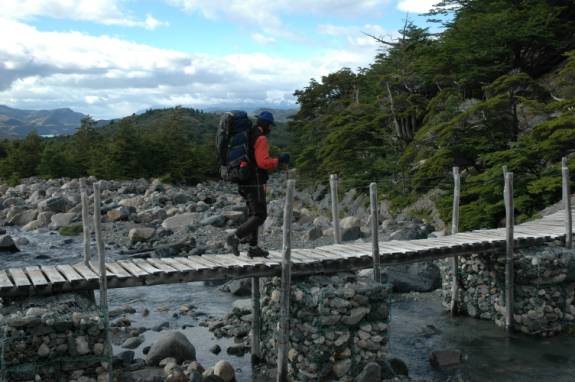 Walking varies from a well rutted trail across open grassland to surprisingly dense forest. We linger, enjoying peak a boo views of Torres towers, the departing Cuernos del Paine, trailside flowers (pink fox glove). Lago Pehoe, impossibly turquoise, tickles the eye, newish Albergue Pehoe, anchored to the far end. After stopping there for sandwiches and a beer, tending some blisters, the trail turns in the direction of Glaciar Grey and tonight's destination, Campamento Grey, a further 4 hours walk.
The black fingers of condor wing tips stretch against the blue sky, peaks dressed in powder snow, whipped by gale force wind.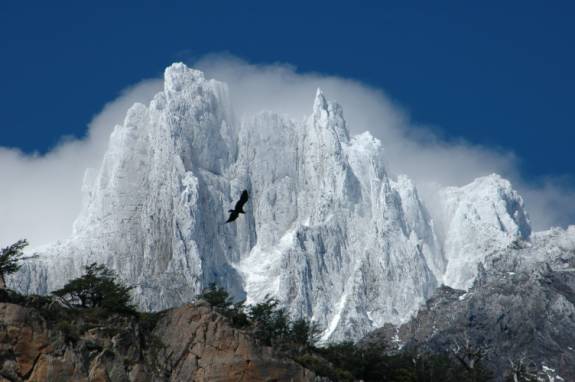 Summiting the last mini hill, the massive foot of Grey Glacier comes in the view, filling the valley with its broad expanse. It looks deceivingly close! We guesstimate how much futher and are surprised still another hour to go.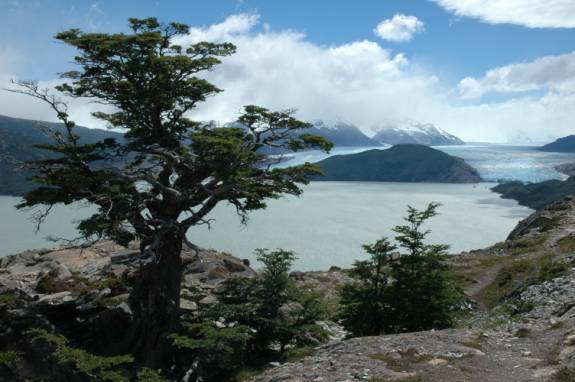 Toes protest, banged and bruised, and stubbed yet again, we ogle the view, not watching our step on this rocky path. The beauty is almost painful. Up and down the last slope, finally the turn off from the main trail into the refugio area. It's late afternoon so camp is set up without delay. It a crowded place, perhaps the most crowded camping area so far. Robins sing in the background, ignoring the din of exhilarated backpackers, on rocky mountain highs.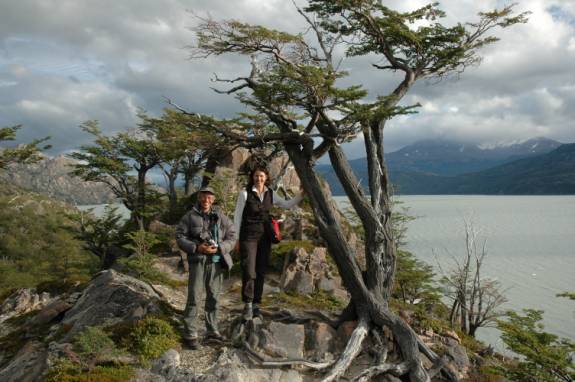 Despite tired feet and sore backs, warm rays of a spring sun tease us out for another look The moraine trail weaves in and out among wind stunted bonsi trees. Low angles of the sun exaggerate the ridges and folds of the glacier's surface. Bergy bits mix with larger floating iceberg islands. No one else is about and we are only 45 minutes away from the most popular campsite in the park! I breath in and out, sucking up the very essence of geological creation.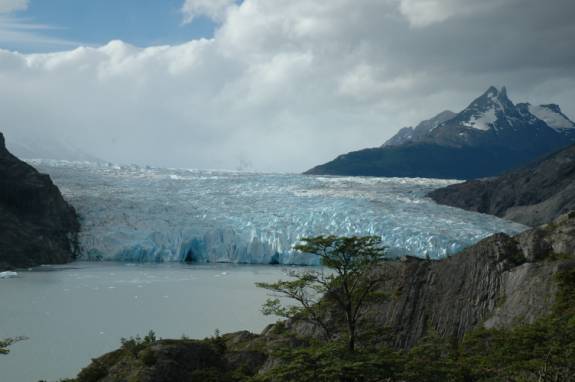 The electric blue glacier appears lit from within, entertaining my eye. The stark setting kindles stirs some discomfort in the belly, unlike warm fuzzies generated by pastoral green farmlands. Jarring and jagged, it what this place is all about. Prodded by a light drizzle, we return to camp, refueling our tired bodies with pasta and red wine. Hey, at $4 a litre box, we couldn't resist (that's for the wine, not the pasta!).