January 15: (day hike from Campamento Grey, approx 13 km)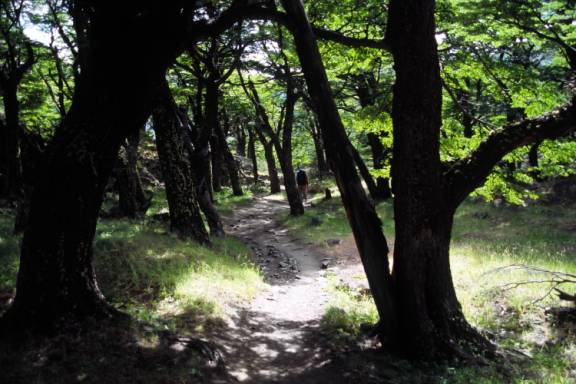 After a hasty breakfast, with only day packs (loaded with rain gear, extra camera film, water and snacks), we strike out up the valley towards Campamento Paso approximentaly 6 hours walk. We intend to go only as far as the mood strikes – it's a hikers holiday day, traveling so light. Dappled light filters through the mature beech forest, its warm and humid…lovely to walk through! So quiet, no yap yap yap of other travelers, nor any tap tap tap of the Magellanic wood pecker.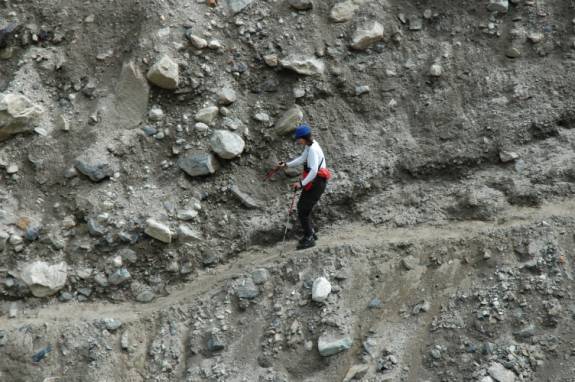 This part of the "W" trail is the most challenging so far. Two exposed gulches with a narrow mud (ie slippery) foot path makes my heart quicken. Mini avalanches of scree or mud trickle down the loose slopes, just like the glacier below. No guard rail and no second chances as it's a long bone bruising slide to the bottom. I'm glad for no pack and the two hiking poles. Mostly, the trail is over hard packed dirt or bare rock. There are many opportunities to deek off the trail for views overlooking the glacier.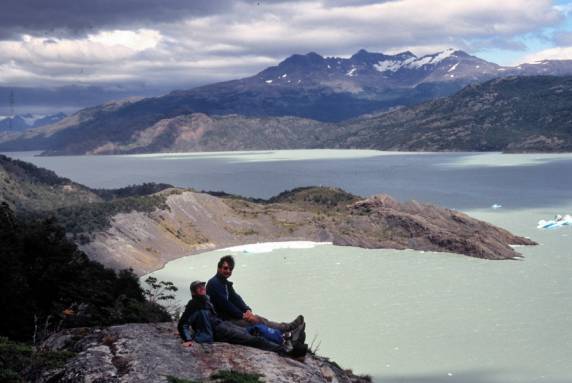 The unpredictable and highly changeable weather plays a significant roll in the underlying vibration/energy of the place. It's a giant kaleidoscope, with light, the agent of change. Diaphanous cloud meld with ethereal glacier, edges blending and blurring so the eye is unable to detect where land and sky end. Molecules of water, some of the heavens, some of the earth, flood the valley as far as the eye can see.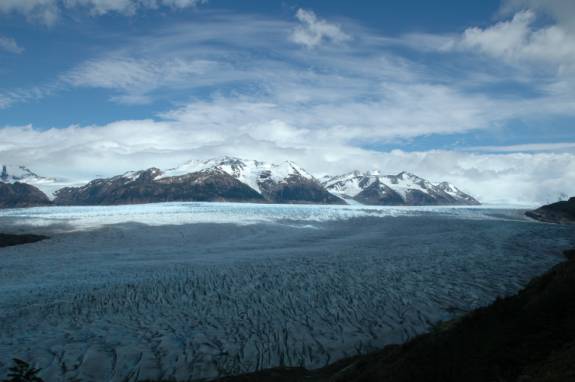 It's a most enjoyable day, with outstanding views and varied terraine to challenge the feet. We return to camp mid afternoon, snack, snooze and then head out again for another look at the glacier toe. Temperatures have moderated, a cool breeze (coming off the ice?) picks up speed, and it looks like drizzle for the evening.
A carpet of red crowberries catches my eye. Not yet ripe, these berries appear to be the same as those that grow in the arctic. I sample a few, the same yellow seed and same sour taste furrows my tongue. The calafate bushes are dripping with green hard unripe blue berries but wicked thorns ensures that only the most determined pickers are successful. Legend says those who sample the berries are smitten and destined to always return…I nibble a few and cross my fingers.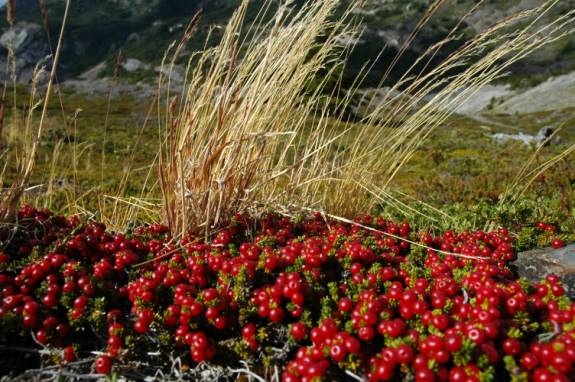 To mark the immenent conclusion of the trip to Torres and also Patagonia, we opt to eat dinner at the refugio, scarfing down a three course meal of soup, salad, lamb chops and desert. By 8pm, the next shift of hikers is eating. We retreat to the tents, make journal notes or review digital photos from the day. In the growing gloom, a huge blue black glacier chunk has calved, and silently drifts down Lago Grey.