July 18 – day 10 - caribou
Another hot and sweltering morning: same incessant blackflies. I thought they were supposed to die in the heat but these seem to be increasing in numbers. 7am and too hot for more than one coffee and small piece of bannock. The light headwind does nothing but push the bugs behind my head where they can cling (the perfect launch site for attacking ears when bug jacket is unzipped). We are off.
Flat terrain with low sand banks line the river. It's a straight road ahead for the next 7 or 8 km. Not terribly inspiring and nothing moves in the hot sun. But the current is strong enough so little paddling effort is needed. I conserve energy, keeping a 'stroke – drift -play with camera – another stroke – stroke – fumble with camera again' rhythm.
The river makes a sharp turn to the east. A substantial snow bank still rests, the remains of winter drift. Spring flood waters lapped away the base of the snow and now, the summer sun eats away at what's left. The snow mass is large enough to generate its own cool breeze, and I enjoy the wash across my hot face.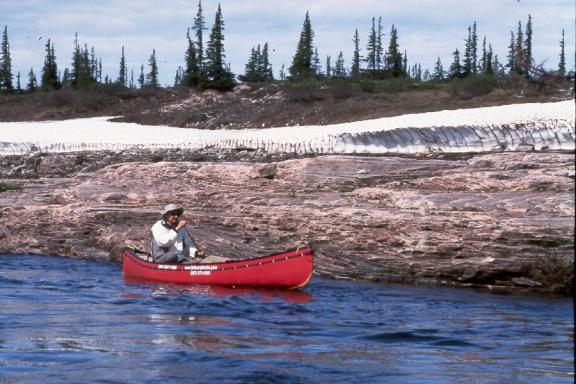 A sudden explosion from the bushes, two caribou, sprint along the shoreline, apparently trying to escape the bugs. Just as suddenly, they stop, four legs planted, and shake their heads furiously, snorting. Another caribou dashes out from the bushes, just ahead of our canoes. Paddling are dropped, cameras in hand , we wait to see what unfolds.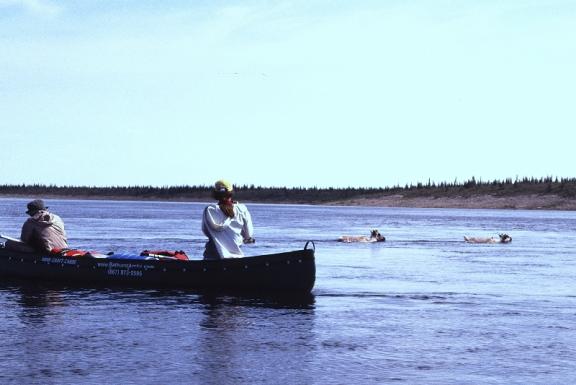 Three other animals join the original three, all quivering and prancing on the beach. Two females with young dash from the bush and unhesitatingly plunge into the water. Canoes drift unaided….badly, I want to reach out and touch the caribou as they swim.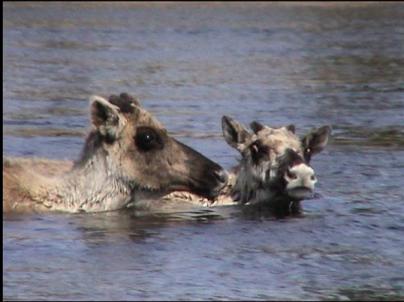 Their obviously already distressed state keeps my hands in my pockets, simply watching, as they swim across the bows. Hollow fur keeps them buoyant and they easily dog paddle across this section of broad river.
A s the first animals climb out on shore, they shake quickly, water droplets flying from fur. Wasting little time, they head back into the cover of the bushes. While this is going on, more caribou have started to swim across. The long thin line of life weaves, gently avoiding us in our canoes. Continuing to drift downstream, individual animals are scattered on small snow patches, swimming or standing in the bushes, for us to clear out.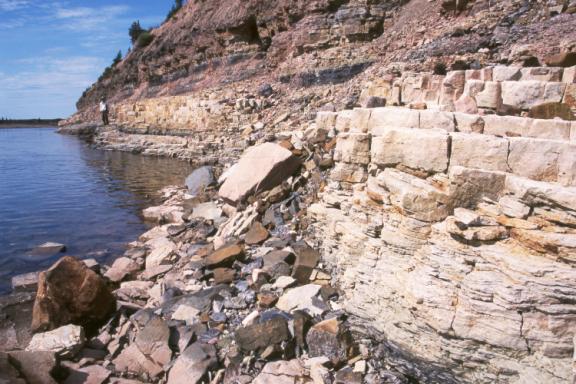 The current picks up to a grade 1 set of swifts before ending in calm pools at the base of these sedimentary cliffs. Fossils of ancient sea plants mix in the red, black and white layers.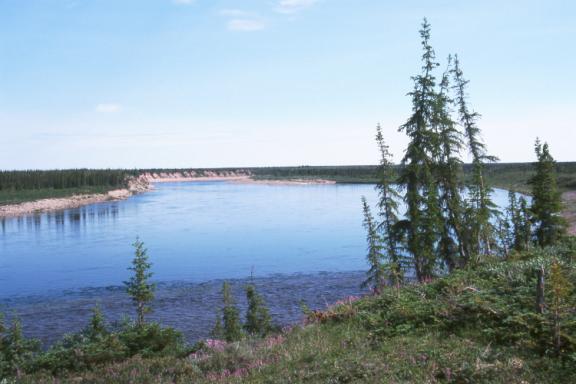 We stop to check this recommended camp site. On the ground, a red plastic wheel from a kids toy truck lays startling bright its round regularity. Steps away, a willow filled creek bed promises to be a bird (and bug) haven. Despite the enticing up and down stream views, we are not inspired to pitch our tents.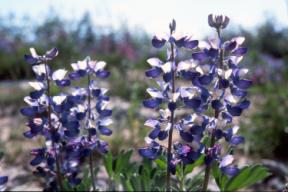 Pushing on a bit further, in the still air, a strong scent pulls our canoes to shore. Purple lupines and pink spikes of Indian Paintbrush perfume the still air. The entire bank is covered in blossoms! Lovely.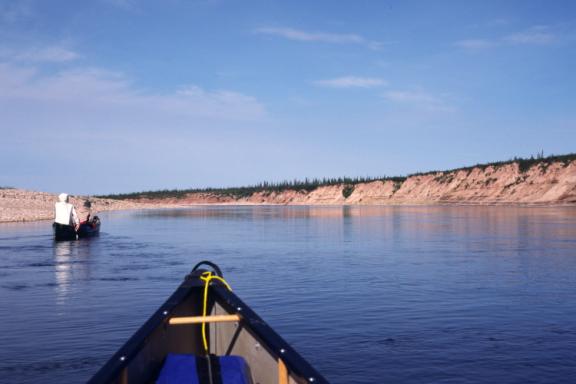 The banks are steep and its difficult to climb the outside corner. Still looking for a campsite, the north shore (river left ) looks more promising. Another bald eagle languidly gives us the eye before cruising upstream. Infrequent but violent little dust devils, are kicked up by sudden powerful gusts. A misleading photo as it looks completely calm.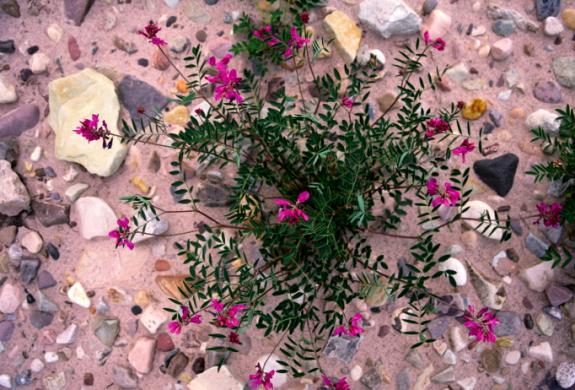 Just beyond this curve in the river, a level terrace just above waters edge is located for tonight's camp. It's a view site (aren't they all?), looking up and down stream. Across the river, sandy cliffs glow red with the evening sun.
Vetch, a member of the pea family, grows in profusion on the sandy beach. I loved the mix of fine pink sand between rock rubble, dotted with fine green leaves and magenta flowers. A freshly dug fox hole surrounded by well chewed caribou bones, overlaid with musk ox foot prints complete the tundra tapestry.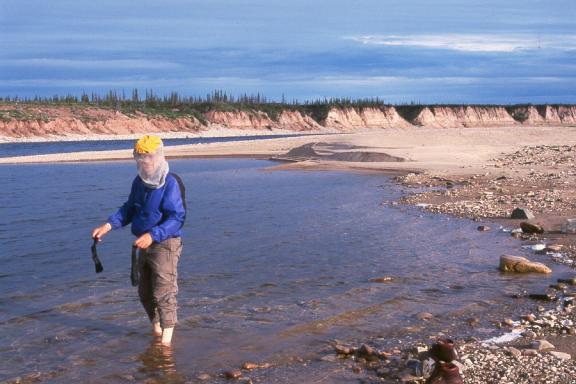 Ron rinsing gortex socks. Blackflies couldn't bit through the socks, but they really started to stink after a while. Everyone had their own favourite bug deterrent methods but 'barrier' methods were generally preferred to chemical offensive Deet. Gortex socks worn inside river shoes were a preferred foot option.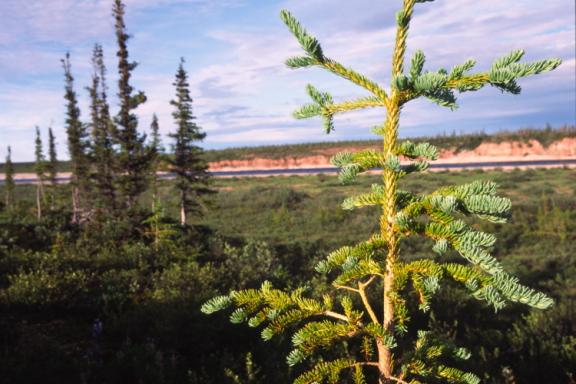 The temperature drops about 10pm with the arrival of a large black cloud. I'm ready for a a change of weather: the oppressive heat is sucking the energy out of everyone.
Later: be careful what you wish for! 2am wind storm slams into camp – Ron dashes outside to check the kitchen tent, canoes, sleeping tents. All secure as tent pegs hold well in peaty tundra. Heavy down pour lulls me asleep.
Sunset: 1045 pm
Sunrise: 3:13 am
Estimated paddling distance: 30km
Time on the water: 6 hours