July 19 – day 11 – rain layover
Not sure if we planned this day to be a layover or we were feeling lazy and didn't want to pack camp in the rain…by 10am, after breakfast, the decision was made to stay another night here. Great, time to explore the countryside!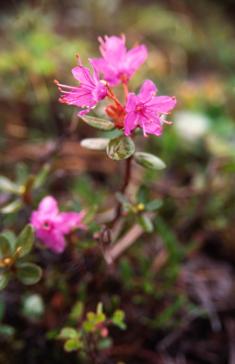 Ensconced in rain jacket, bug head net and rubber boots, I'm ready to poke around. First stop is a small pond surrounded by peat. Actually it's a huge sponge after last nights rain! And soft and deep enough to slop over top of boots, water trickles down, wetting socks.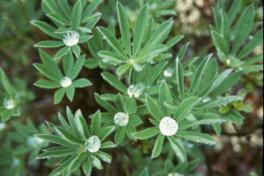 I turn upstream, seeking drier and firmer ground. A low ridge is lined with spruce. The flower guide comes out: Indian paintbrush, white heather, Lapland rosebay, dwarf raspberry, lupine, butterworts, arctic lousewort, licorice root, colts foot, yellow arnica, wild sweet pea, Richardsons milk vetch, thrift, dwarf fireweed, large flowered winter green. And the list grows. It's an enjoyable way to spend the day.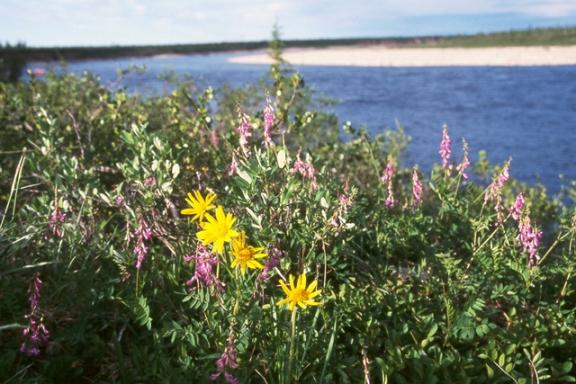 By later afternoon, the sun has come out. I roam along the beach, finding fresh muskox tracks (but no animals)…our first siksik of the trip dashes between the willows, scolding (or warning) us to keep our distance.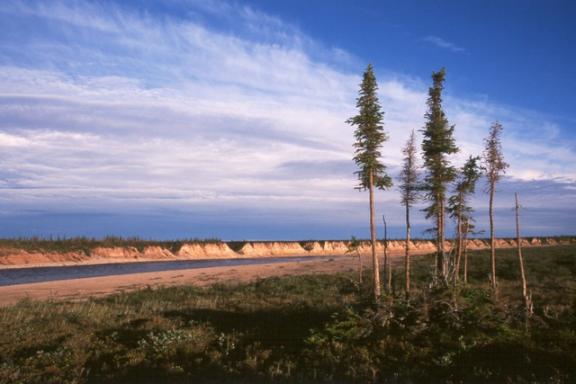 Ron and Alfred turn their attention to a canoe for some seat adjustments. I continue to wander, observing the thinning cloud and blue sky. A group of four canoes pass by at 7pm, determinedly paddling: we wave to them from our camp on top of the bank. The temperature is dropping – lingering over bedtime tea, I savour the velvety silent night.