July 22 – day 14 – Lookout Point
The mornings are becoming ridiculously predictable….the same hot dead calm weather. By 6am, its unbearable inside the sleeping tent and not much better in the tundra tunnel. The bugs have escalated to a roar, swarming us as we go about breaking camp.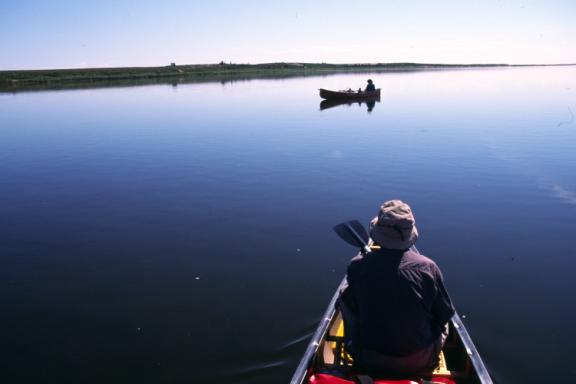 It's glass calm on the river. With less weight in the bow, Ron's canoe spins around slowly, the bow pointing upstream. No one wants to paddle, its too hot. On the red mud shores, flies buzz excitedly around dead caribou, ribs bare to the bone, head gnawed, fur clumps amongst rocks. We don't look closer.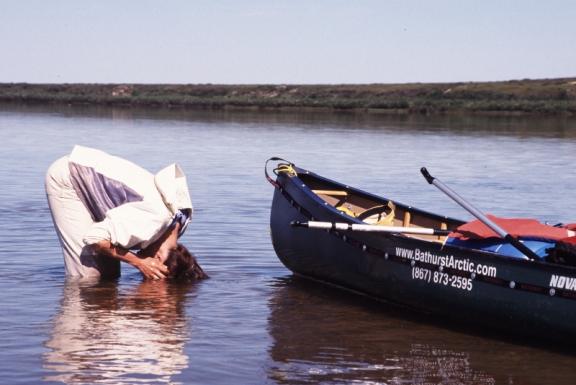 The current is weak, the water some what muddy as rivulettes drain the saturated tundra over the banks. I hop out and dunk my head in the tepid water. Its pleasantly cool to my super heated scalp. Soon, the canoes drift empty as everyone immerses themselves, a Ganges style purification.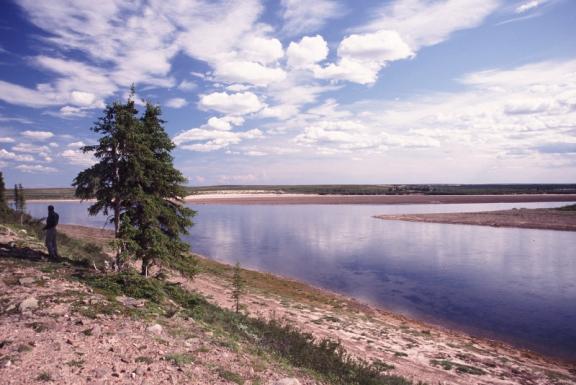 Too buggy to land, it's a floating lunch, passing salami, bread, cheese on paddles. At 3 kph, the pace is in keeping with the heat. Camp tonight is Looking Point, another well known site at the junction of the Thelon and Finnie Rivers. Scrambling up the steep bank, from the shade of a tree, Alfred contemplates where to pitch the tent.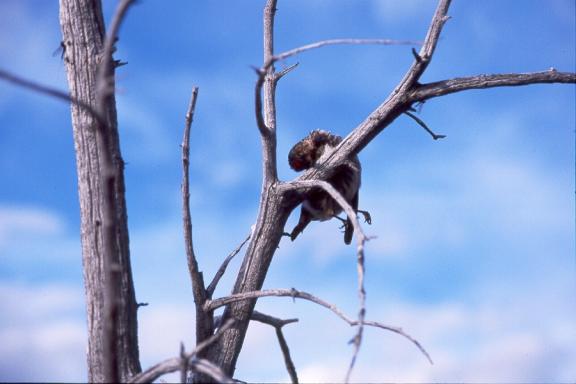 The heat is too oppressive: setting up the tents with no breeze is pointless. Instead, we slowly stroll around, exploring. A hoary redpoll has been impaled on a spruce by some predator, a storehouse for future consumption. Looking south, thunder clouds pile high in the sky, brewing a fearsome looking pile. Sadly, the clouds dissipate with not a drop of water.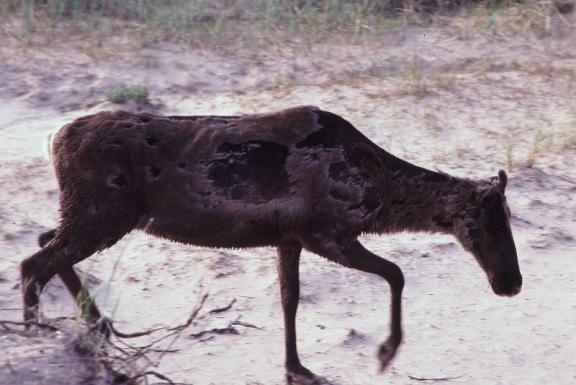 A shaggy caribou, head hanging low, suffering in the heat, blindly dashes towards Ron, swerving just at the last minute. Tall marram grasses anchor the sand, interspersed with fox tracks. Just across the river, at the tip of a sandy island, a moose wades chest deep into the water, long ears flopping, head shaking, water droplets flying. A large racked caribou prances by, oblivious to our stink. All are seeking heat relief and no one is finding it.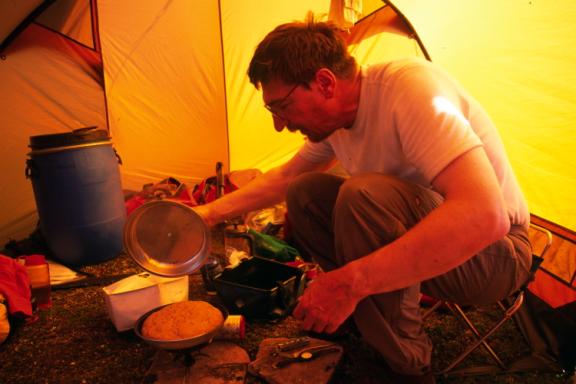 Its 10pm before the sun's burning rays start to fade. As the bull flies and mosquitos depart, the blackflies take over for the night shift. Inside the tundra tunnel, we attend to dinner. The sun sets at 10:28pm to rise again in five short hours.