The Search for Torngak's Lair
Exploratory hiking in Nachvak – Trout Trap – Komaktorvik fiords Labrador (late July to early September 2000)
The Inspiration:
Sometimes you don't know why you feel compelled, drawn inexplicably to a place…for me, that place seems to be northern Labrador. Never before has the thirst to return again and again to a specific geographic place been so insatiable. Instead of being bored or feeling satisfied that I've 'seen it all' there, the opposite is true: the more I go, the more I want to go.
A smudge on a well fingered 1938 map titled "Torngak's Lair" aroused my curiosity. In 1931, Dr. Alexander Forbes had initially planned a summer vacation cruise up the Labrador coast. With support and direction from the American Geographical Society and Mr. O. M. Miller (head of AGS Surveying Department), the vacation developed into a serious air mapping expedition complete with two aircraft and support boat (a 97' foot schooner renamed the "Ramah"). I imagined myself carrying on Forbes' explorations but from a ground perspective: I'd hike the last hidden unmapped corner, filling in the dots myself. Who knows what I'd encounter along the way? That was motivation enough.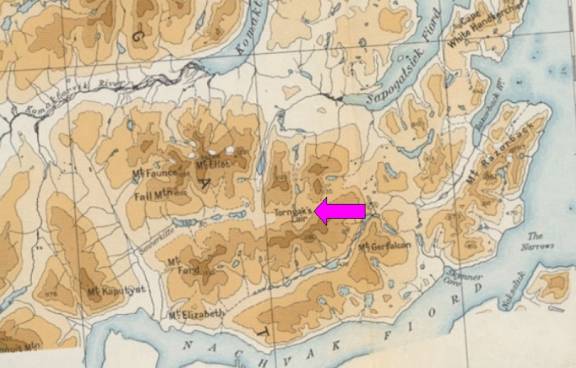 Getting there: Goose Bay delays - Clyde takes control
"Ah, one has to be flexible" I consol myself. Like the best made plans, when one is in a hurry to get somewhere, something back fires – literally, this time. Alfred had already flown up to Nachvak Fiord, I was to meet him there. But my hired helicopter had been commandeered by the Newfoundland government to be part of its emergency forest fighting team. A worthy cause of course but heck, how long could spruce scrub burn? A long time, apparently as it had been a record dry summer and there was a chance it could swing towards Goose Bay. I hear Alfred's frustration – he calls on the sat phone to say: "send in the chopper, my tent is on fire!" ha ha, nothing like a little dry humour to ease the annoyance of waiting. It's been 3.5 days and the only thing moving is a black fly, determinedly aiming for my inner ear.
On the 4th day I'm grounded in Goose Bay, Clyde decides to take matters into his own hands. An experienced bush pilot who had flown clients in his own aircraft to his own fish camps for years, I completely trust his skills. By 2pm, the Cessna 180 is fueled and ready to depart Otter Creek…compared to a twin otter, it feels like a tiny plane. The back two seats have been removed to make room for cargo. I occupy the seat on the right: hmmm, I seem to have overlooked getting my co-pilot license.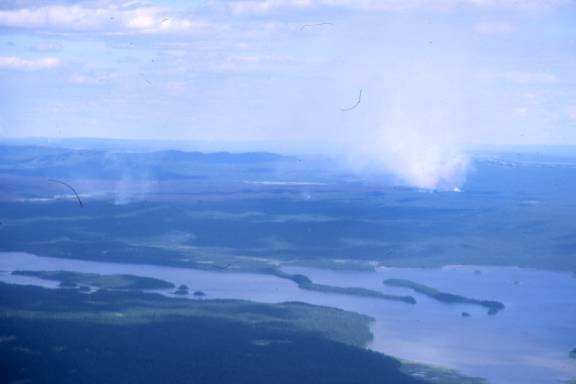 But the weather is calm with blue skies and puffy clouds. Being prone to air sickness (and sea sickness), I swallow a Gravol pill as a precaution, not wanting to splatter the inside of the windshield. Clyde maneuvers the float plane (oh yes, its not on wheels) between the pleasure boats, seadoos, dingies and like, and slowly taxis out to the open arm of Hamilton Inlet. Take off is smooth, we lift up into the sky. Yahoo, finally I'm on my way!
At the edge of the horizon, the white smoke from forest fires rises straight up, forming towering stacks. No flames are visible but we keep well away from the action. Wouldn't want to get commandeered into service, after all.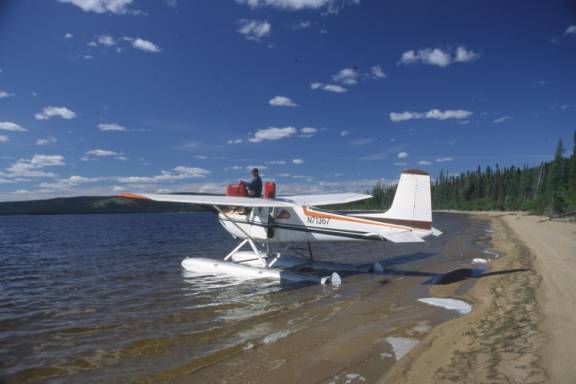 After about 60 minutes, we stop at a small lake, gliding gently to a stop on a sand beach. Clyde disappears in to the bush and returns with two small drums of fuel. I help him lift them up to the wings where he refuels. Another 45 minutes to the north, we stop in Nain where I pick up a few late items. Below, landmarks crawl slowly by: broad Saglek Bay with its many islands, unnamed peaks and valleys. With only 60 minutes further of flying time, my anticipation grows as finally, Nachvak and the start of my summer!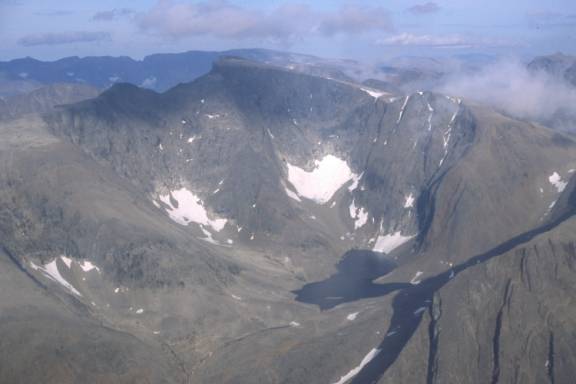 All goes well until the last 10minutes of flight, when the smooth flight hits a snag. Suddenly, the little light plane is sharply bounced up then drops down. My stomach is still at the other end of the ride and not happy with this interruption. I yelp and clutch at the door. The whole event last about 3 seconds – Clyde turns to me, smiling, says, 'yes you have to watch out for those hot weather pops'. Yikes! One last stomach turning moment as Clyde steeply banks the plane. It a bumpy landing, as cross winds clutch at the small craft, but we are safely down. As the wind pushes us towards the gravel beach, Alfred grabs the outstretched wing to stop the plane's hard drift. An economy of words are exchanged. Clyde is eager to depart, as already it 7:30pm and a long flight back to Goose Bay before dark. Finally, I'm here.