Up the Sennerkitte Valley
The weather changes abruptly in the early morning hours - short strong gusts of wind hammered the tent, peppering the fly with rain bullets. At 7am, mottled grey clouds are racing high over head and the rain has stopped. I'm glad it is not socked into the ground. The temperature is a more pleasant 18C, perfect for backpacking. An added bonus: the winds keep the mosquitoes away.
Walking is easy now as yesterday was the big climb up from sea level. The valley floor rises gently, contour lines relatively flat. To the north, Mt Eliot (4553') is obscured. Seven mergansers and three loons hurriedly swim to the opposite side of a small lake, avoiding us. The well chewed bones of a caribou skeleton are strewn at my feet. The wind picks up from the north west, and despite it being at my back, I put on my gortex coat to ward off a growing chill. We are heading eastward, to the end of the valley where clouds, mist and perhaps even sea fog, build and swirl. The mood some what eerie, in the low light conditions. There is no sound from waves lapping a beach or stream waters over rocks or twittering song birds.
The rain starts quickly, a sudden down pour without warning. With our bulky oversized loads, the backpack covers are not big enough to cover our packs from the rain. Despite the early time, we decide to call it a day, quickly set up the tent, tossing gear under the fly and us, inside. The rain lasts for only 30 minutes, just enough time for a well deserved soup to warm our guts.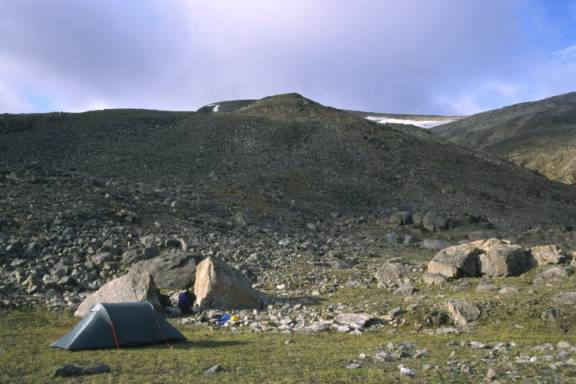 Liberated from our loads, camp established, we head out to explore more the valley. The slopes are largely bare of vegetation, in the first stages of plant colonization, with lichens mixed with mountain sorrel and a few tough grasses. The higher we climb, the more desolate the terrain: broken unsorted rock emerges from last years still lingering snow patches. Occasionally, small green terraces hold pockets of life: soft mosses, dwarf willow, a fallen caribou antler. Yellow orange sulpher rocks crumble at the touch, colourful punctuation in a gray land and sky.
There is no hope for clearing today. But I don't mind, as the display of cloud formation from this vantage point is mesmerizing. Tendrils stream into the valley below, pushed by conflicting directions, they are thin and wispy, veils that build from the ground up and tower into the sky. On the small lake below, white caps beat against rocky shores. Snug and dry inside my plastic layers, I'm merely a spectator, not a player.