Day 1: May 29th (Hattie Cove to Fish Harbour, 28 km) :
Like all red blooded canoeists, we draw straws to see who will have to paddle the kayak. Unfortunately for me, it's me! Gingerly, I crawl into the cockpit trying to keep my feet dry while getting the butt planted. I don't have neoprene booties, only surf socks which I use windsurfing but they are adequate to protect against the stony beach. Luckily, Hattie Cove is protected – Ron and Dave laugh and launch themselves, while making encouraging noises. However, I take heart as we will rotate paddling the kayak on a daily basis, and I'm just first in line.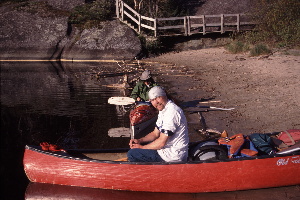 Thus far, my grand total of sea kayak experience has been 4 hours of sheltered sea paddling near Tofino, Vancouver Islands. It takes some fiddling to get the grip twist arranged as well as the paddling rings so water doesn't run down the shaft and soak my hands (too warm for poggies this morning). The borrowed paddling jacket with rubber neck gasket helps keep my back dry but somehow its getting wet anyhow. Cold water feels like its trickling down my back. Is it from overhead paddle drip?? Try to ignore this early annoyance…
Out we go, out into the open waters of Lake Superior. It's a thrill to be so low to the water and I easily keep up with the tandem canoe. The weather is sunny with only a slight breeze. I relish the freedom of being a solo paddler, having to answer to the whim of my blade alone.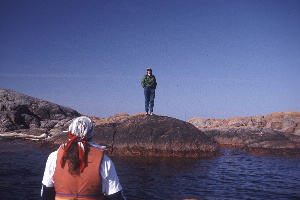 After about 2 hours and perhaps 6 kms, we pass by the mouth of the White River, a nondescript interruption in the shoreline, hidden between the trees. I need to take a break and wiggle the kayak into a tiny slip, large enough for only me. Carefully, I extract myself from the cockpit, stretching my legs on shore. The boys beach the canoe and follow suit. It feels good to bend the knees again! We scamper over weather worn white boulders, eager for some views. Moderate cliffs line the cove and give windward protection. Lush fern grown in the cool cracks at the base of the rocks, soaking up latent moisture.
What a surprise when we exit the cove to find ourselves facing a headwind! When did this come up? However, I discover that it is not difficult to manouver the kayak as I can see and anticipate the wave action. After a while, I begin to enjoy the up an down motion of the waves: they are not yet breaking and I like to paddle hard, climb up the wave, stall and hesitate on the summit before sliding down into the trough.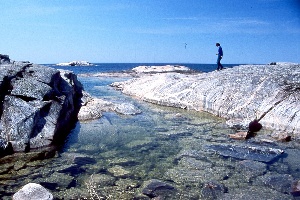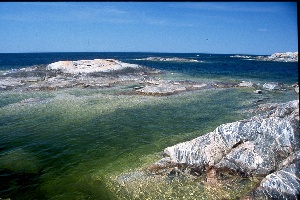 The12:30 lunch stop just past Willow Creek is most welcome – with the early (8am?) start, I'm famished. Food comes out of tiny compartments and is quickly eaten. Seems Ron and Dave have also built up healthy appetites during this first few hours! The shore is heavily forested with low sloping beaches…as we paddle southward, appealing narrow passages between the mainland near Shot Watch Cove and Morrison Island beckon. I relish the intimacy of these 'inside passages' that exposed lakeside paddling doesn't offer.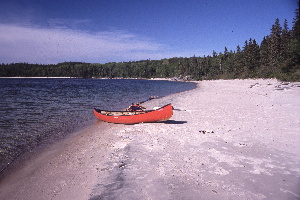 Tonights destination is Fish Harbour…picture perfect, it's a sweeping sheltered cove with a long white sandy beach, large drift wood logs…and other people! Yes, this is the only day where we will camp with others – but the site is ample and after token greetings we keep to ourselves. The mood is oddly similar to that of a tropical paradise, particularily with the flaming sunset illuminating the secluded beach.