Day 2: May 30th (Fish Harbour to White Gravel Beach, 25 km)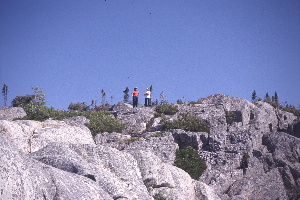 It's a calm departure in the morning. The most annoying thing about kayaking is, well, two things: one, getting launched and two, stuffing all your gear through tiny port holes in the bow or stern deck. So much easier with a canoe! Just toss (waterproofed) bags between the gunnels, hop in and go. Some how, in spite of my protests, I end up in the kayak again: neither Dave nor Ron can be parted from their single blade paddles…I don't like how this is going…we find some small logs on the beach and they launch me into the water. This time, my feet stay dry (important with no insulated booties and icy cold water temperatures transfer through the shell of the boat where my heels rest on the bottom).
Oiseau Bay is flat and uninspiring…we paddle across the wide opening and don't bother to investigate the shores. Islands, large and small, are sprinkled inside the bay. The hiking trail follows the coast here but we see no hikers.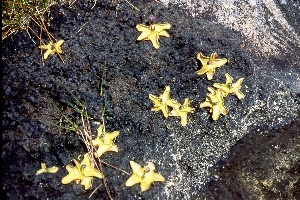 Paddling is more interesting once past Oiseau Point. We stick closer to shore, weaving in and out between small rocks. Lunch in a small rock divot just beyond an unnamed (on my map) river. 'One Lake Island' – the names are so descriptive, unlike the modern custom of naming features after long dead (or soon to be dead or the living dead) politicians. Star shaped and bright yellow, butterworts glow in contrast to their chosen bed of dark earth.
The wind is starting to blow harder although the sky is clear. Looks like camp will be early, about 3:30, in the White Gravel River area which my map shows as having a developed camping area. I wonder at this: does a boom box or outhouse define 'developed'? what would power dependent car campers think of this? What would my mother think of this?? She doesn't understand why I'm not at the cottage...
Landing is a bit tricky as the beach is cobbled and rather steep for my beginner kayak skill. Huge drift wood logs have been tossed up high on the smooth sand above the water line, inviting monster bonfires. Ron and Dave simply ram the ABS boat ashore, Dave nimbly hops out to stead her while Ron clambers to the front. Me, I float off shore, waiting for one of them to drag up a log so I can ride a wave and park the bow kind of on shore before attempting a quick removal of the spray skirt. This is only partly successful, my timing is poor and I get a lap full of cold water.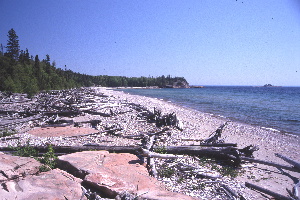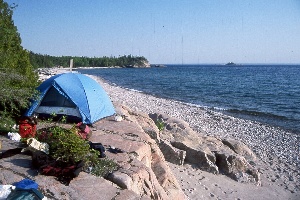 We find three possible locations and pick the tent area closest to White Gravel River. Brave Dave pitches his tent on a level rock slab with fabulous views but directly in the path of the west wind. With some regret, we instead go for shelter behind some sickly spruce trees, with a peek a boo view of the lake and rather annoying bevy of black flies.
With lots of time to explore, I wander off to the south end of the cove. The shore sweeps in a gentle curve, the crystal clear waters magnify ripples on the lake bottom that form ever changing sculptures. Wolf tracks appear relatively fresh in damp sand. Caribou are in the area, we've seen tracks but no animals.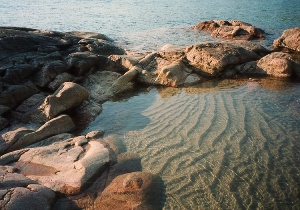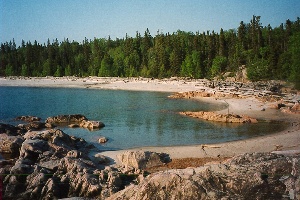 Someone does dinner (not me!) finally and we are treated to another spectacular setting sun. Getting in to the groove of moving, paddling, camping again. Waves roll in, all is quiet except for the sounds of water.