Day 4: June 1st (North Swallow River to Bonamie Cove, 38 km)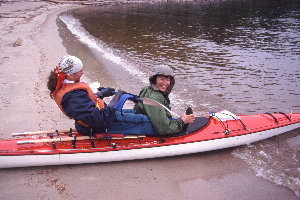 Cold gusty winds this morning, temperature must be about 5C, similar to the lake. Pack up and on the water by 9am, wanting to make up some miles after yesterdays short paddle. The guide book says not to cut across Newmans Bay but we do anyhow as the offshore wind keeps the waves low. We keep inside the two islands across from Grandma Stevens Pond, where the waters are very calm, almost greasy like. The kilometers fly by, paddling is effortless, the shore scenic in a wild tumultous riot of rocks, trees and water.
Within 2 hours, Cascade Falls comes in to view. White water booms in three separate falls, 'cascading' directly into Lake Superior. A powerful stirring sight, reminiscent of Bill Mason and his well known painting "Cascades" at this location – in his film "Waterwalker", he crumples and tosses his sketch into the fire here on the beach! We pull up on the beach, start a small fire to dry out soggy hats and paddling gloves while nibbling on an early lunch. How drearily conventional we are in contrast…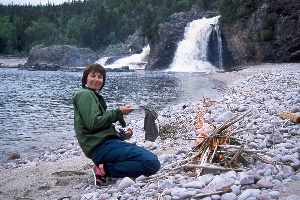 Otter Island is visible across the horizon – we consider circumnavigating the island but with our limited time and so far calm paddling conditions, decide to stay the course and stick to the mainland shore. The lighthouse is visible as are two channel markers (one red the other green), obviously marking the way for power/sail boats. We skim by Otter Head and Deep Harbour, deeply indented shoreline that beckons further exploration. Next time!
Fantastic cliffs line the shore around Tagouche creek. Weather is really on our side, although overcast, the water is very calm easing any latent qualms I have. My biggest fear of course is not predatory bears but accidental upset: being unskilled in self rescue and not wearing a dry suit, with the water being a chilly 4C, I figure I'd be in for a bad case of hypothermia (or worse) before Dave and Ron could haul me out of the water. If they dumped, it would be unthinkable. This thought flits across my mind while paddling 1 km offshore during an occasional turbulent gust of wind.
The guide book mentions a possible campsite on Richardsons Island, we stop to inspect it but are disappointed. It's mostly a bush site, over grown with lots of white man's cast off junk. The rotting dock piers underwater add to the abandon feeling. We opt to move on, paddling into Bonamie Cove.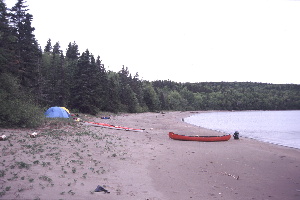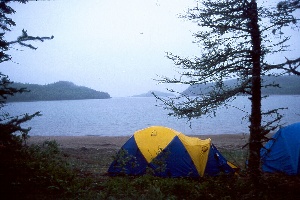 There, we are not disappointed. Its another protected cove with ample camping possibilities. First we inspect the smaller more northerly coast but find nothing appealing. The larger eastern cove offers better shelter, views lakeward and level grassy (not sandy) sites. Caribou tracks criss cross the sandy beach. A steady drizzle commences. Home for the night!