Day 5: June 2nd (Bonamie Cover to Ganley Harbour, 28 km)
Another overcast morning but at least the rain has stopped. Up by 6:30am and paddling in a light mist by 8:30am. It's calm in Bonamie Cove but hard to judge Lake Superior conditions until out on the lake…again, we are in luck as the waters are placid. Out around Pointe LaCanadienne we could be exposed to waves from the south, west or southeast – but nothing! We cut across Imogene Cove (against guide book recommendations) as the water is perfectly calm. Two mergansers float close to shore, double deadmen poke above the water, just visible in these calm waters.
The coast is magnificent here. Rock cliffs invite scrambling mixed with shore gentle enough for exploration. I'm content to admire the scenery from the comfort of my armchair. A gentle tail wind is building, pushing us along to the official end of the park, the Pukaskwa River.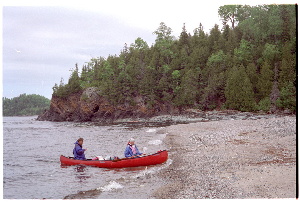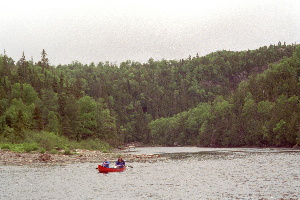 Ron paddle the Puk in 1991, and now, it was like a reunion of two long lost buddies. He and Dave take off paddling upstream to have a look at Schist Falls. I'm content to loll on the beach. Fire time again! It's so easy with ample driftwood and I admit, I am a bit of a fire bug. Ninety minutes pass by quickly, when Dave and Ron return, the wind has noticeably picked up. On the good side, the sky is also clearing for the first time in 2 days.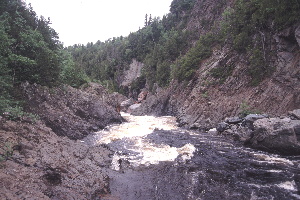 We round the headland immediately to the south of the park boundary and are confronted with a wicked southwest wind. I can barely make headway in the sideways chop. The kayak rolls disconcerted between heavy swells, lumbering like a drunken new years reveler. What's going on?? I yell to Dave and Ron, who are not exactly amused either. They are shipping water sideways over the lake side gunnel. We quickly decide to make for land and aim for the closest dry ground. This turns out to be at the base of the headland on a high rolling cobble stone beach. I'm committed however and follow Dave and Ron on shore. My landing technique, adrenalin powered, was flawless as I scampered out of the boat lickety split and hauled her up on shore with only wet feet.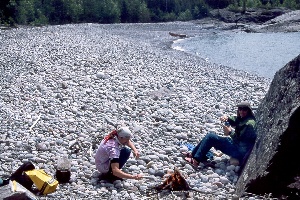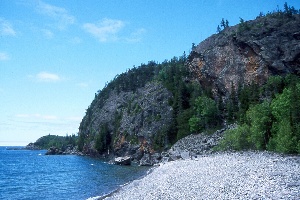 White caps are howling as far as the eye can see. It's only noon and the wind is building rather than abating: it obvious we are going to be here for a while. However, the sun has come out and the scenery is great. There are worse place to be stuck. A peregrine falcon screeches at us as we wander around the beach. Dave comes across a green plastic pop bottle with a piece of paper stuck inside: the proverbial message in a bottle! It has been written by a kid on the American side who tossed the bottle in to Lake Huron in 1993…how it managed to work its way upstream is a mystery.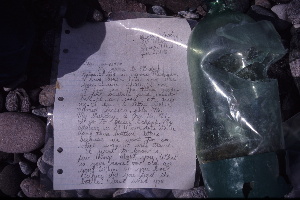 The hours pass…2, 3, 4, 5 hours later, we are still parked here. It's early summer and the daylight hours are long. Dinner is set up at the south end of the beach between two huge boulders. I hope we don't have to camp in this cove and more so, I hope we are not wind bound for another day! with no satellite phone, no radio and no trip plan filed with anyone, common sense is our guide to a safe return. Thus, another cup of tea is brewed as we practice the art of patience and waiting.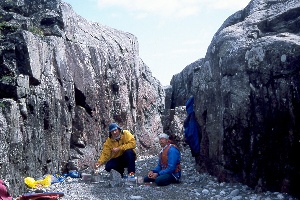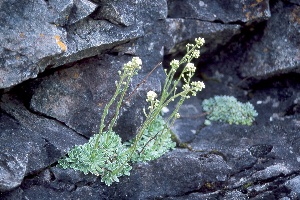 By 7pm, the wind has noticeably diminished the result of having blown itself out or the usual evening quiet setting in. Dinner dishes are quickly washed and stowed. We launch the watercraft into long gentle swells but once we are pointed southward along the shoreline, they are at our backs. I'm not crazy about following seas but they are not breaking and very regular thus predictable and easy to brace-paddle-surf, depending on size.
The kilometers fly by as we pass named landmarks on the map: Chimney Point, the Wheat Bin with its reputed good fine sand beach (consider stopping to camp but the going is so good we opt to continue), Crane Island. Silvery water shines in the setting sun, a magical gray shimmer that baths us in late evening light. Some weird wave action is going on: large swells from behind mixed with tiny surface ripples in a light head wind. How can there be waves coming from two directions at once? The stronger following waves push the boat but the headwinds gust occasionally strong and I lean into the paddle.
Its getting late, I estimate the light will last about another 30 minutes. We hustle into False Ganley Harbour, looking for the primitive campsite, suggested in the guide book. We can find nothing suitable and somewhat desperate, paddle another kilometer or so into Ganley Harbour Provincial Wilderness Area. A small red and white triangular beacon on a tiny island at the mouth of the harbour guides us in….a moose and porcupine glance at us and calmly walk/waddle into the forest. An omen, somehow. With no other options and dark quickly falling, we manufacture two sort of level sites on the tiny sliver of sand beach. No need to eat dinner anyhow…I'm physically pooped but mentally pumped: the variety of conditions, scenery and fantastic paddling have my senses in overdrive. Only by listening hard for any night sounds does sleep finally come. The lake is starting to penetrate my soul.