A Day in Cartwright
Having never been in Cartwright (population 552 and declining) before, I wanted to have a good look around. Besides having a long history, the Sandwich Bay area is a modern world class, fly fishing destination. We were guests of Woody and Alice Lethbridge, owners of the Cartwright Hotel. (http://www.cartwrighthotel.ca/). Highly recommended! With no taxi in town, Alice kindly picked us up at the ungodly early morning hour and shuttled us and gear 3 km to the hotel. In true Labrador style, we were quickly made to feel at home and settled in.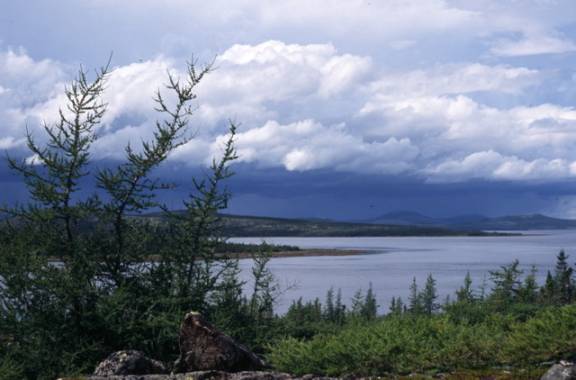 Set in a sheltered cove and protected from ocean easterlies by a low range of seaside hills, my immediate impression was of a quaint and sleepy town. White clapboard houses were neatly kept, with fenced yards and neat lawns. Missing from the street were beer cans and graffiti, an all too familiar a sight in some coastal towns. How picturesque! I grabbed my camera and strolled the gravel road to the water's edge. Dinghy's floated peacefully, the Sir Robert Bond tied up across the bay.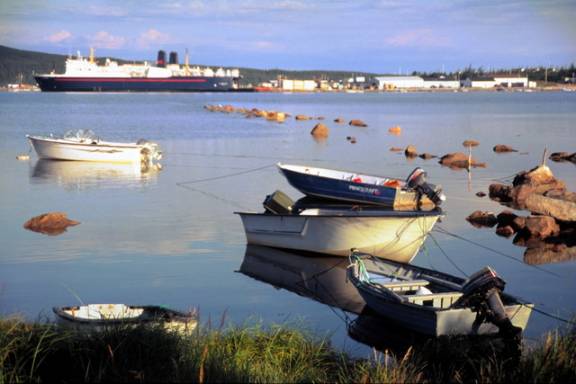 Woody lends us his van (the keys always left inside), and lazy us, we drive back downtown (yes, 3 km) and stroll up Flag Pole Hill. A legacy from the days of Captain George Cartwright circa 1775, a cannon perched on a rounded hilltop, protecting the harbour from long gone invaders.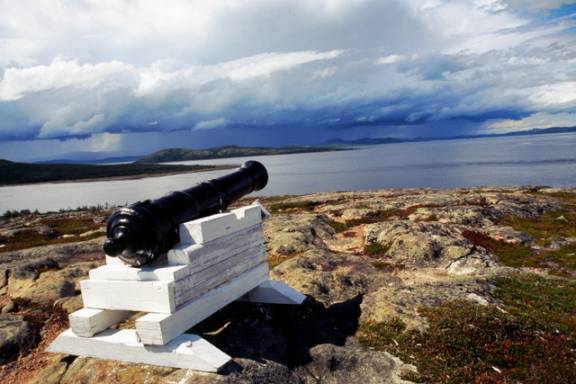 I love the walkway best: painted in proud Labrador colours (white green blue), the carefully placed stones lead to the lookout on top.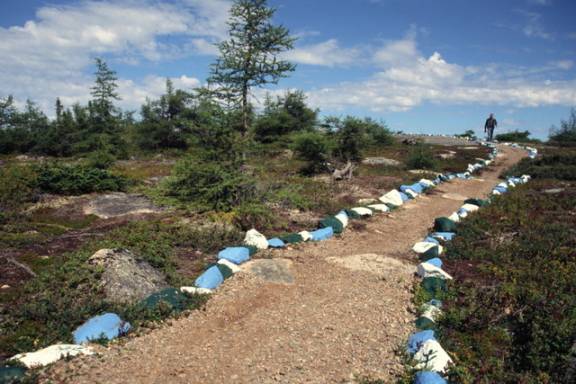 We descend from Flag Pole Hill to wandering the cemetery, searching for the monument to George Cartwright. White gravestones, some tilted, some toppled, their once crisp inscriptions softened by the patina of time, poke up from tough grasses. This final resting place is no cushy manicure lawn but surrounded by wild flowers and leggy spruce. A
huge thunderstorm brews in the Mealy Mountains, ominous clouds spilling closer. We make a dash for the van as the first rain drops fall.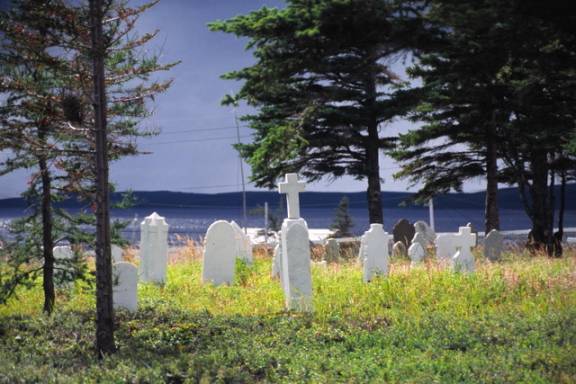 That evening, over a beer at the Eagles Nest, Woody recounted life growing up in Cartwright. His story was interrupted as a black bear dashed across the road, through the hotel parking lot and into the dense brush. As more patrons trickled in, we were introduced and the night's merriment continued. A gorgeous sunset lit the sky, washing away the afternoon storm.