Cape Porcupine
Maybe 2am? I stick my head out the tent, hoping for northern lights. Only the big dipper hangs low, fuzzy, in the sky. At 5am however, I'm out of the tent, peering over the beach ridge, just before sunrise. A hot dot below the horizon, is enough to light a strand of clouds overhead: mauve, the sky deep orange, the ocean lilac and maroon. Vapour steams off the water surface.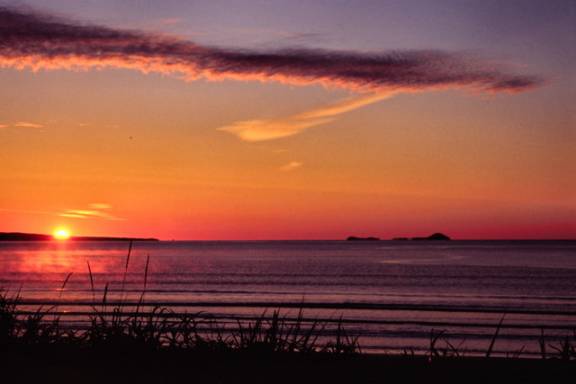 The sun awakens the sleeping strand. I'm surprised that there is no frost, no dew – a cool wind blows off the land towards the sea – its only 0C. Underdressed and chilled, I creep back into the tent. For a few more hours, I swim that fine line between waking and dreaming, nestled warmly in my sleeping bag.
Its mid morning before we roll out of camp. Cape Porcupine stretches ahead, the sand ending in a rocky corner. Somewhere there is a 1600m path across the Cape into the next bay. A red plastic gas can hangs from a tree limb - we don't stop to investigate further, but drop our packs and continue to walk the beach, following the numerous black bear tracks.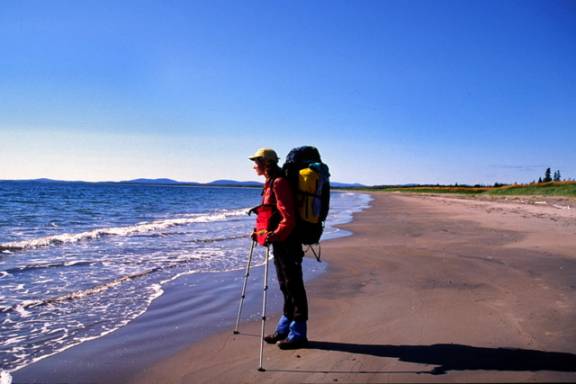 The bear is still around. Dragging his front paws through the shallow water amongst the rocks 300m ahead, he occasionally turns one over. Fishing or maybe looking for fresh water clams, he is not alarmed by our approach. It's likely these bear are partially habituated to humans, as North River (and its associated human smells) is not far. As we approach closer, the wind carries our scent towards him and he scuttles off into the brush. We give him time to adjust to our presence. Continuing up the beach, old caribou tracks loop out from the forest to the beach and return again. A regular shape in the woods catches my eye: hidden from plain sight with a peek a boo view of the ocean, a tumbled down log cabin rots slowly back into the forest floor.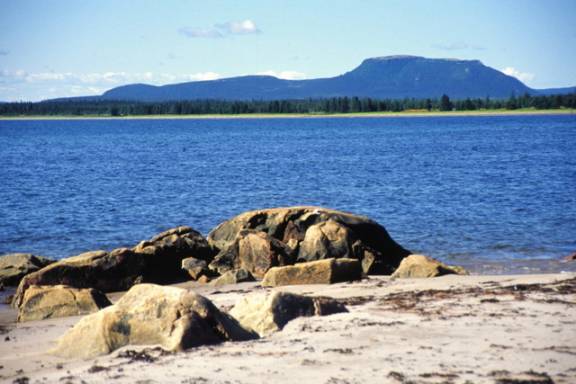 Finding no opening or trail for which to follow from beach across cape to beach again, we return to our packs and plastic red gas can. A few paces in land, a directional wood arrow is nailed to a tree. Clearly this is a route of sorts…but certainly not inspiring for summer travel! The direction is correct (generally northward and inland) but the terrain is less than appealing. Hummocks and bog surrounded by soft sphagnum moss make for arduous backpacking. Our motivation to push further evaporates faster than one can spell 'Wonderstrand' – without further discussion, we turn and retrace our morning steps.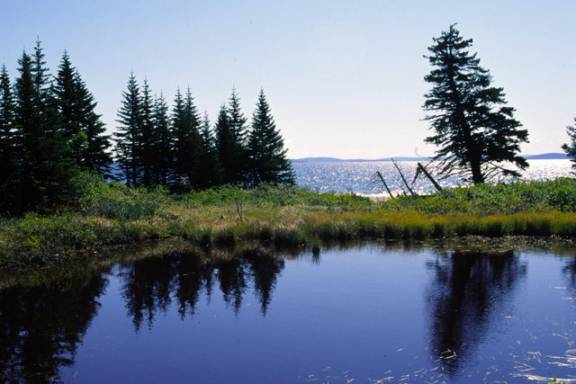 The weather is fantastically clear and almost too hot at 18C. Walking southward, the beats down on us, reflecting intense rays from the sand despite sunglasses and baseball caps pulled low.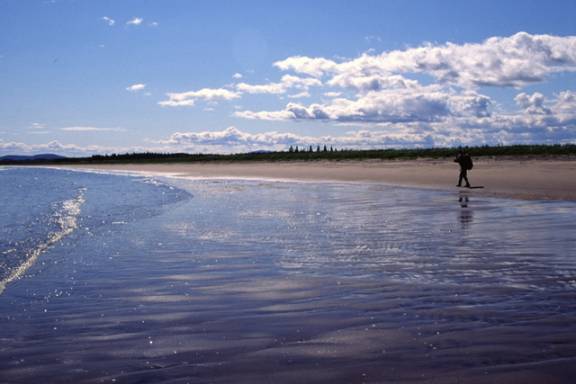 Packs become heavy and feet swell in heavy boots unused to such firm ground. Big Brook is slightly salty and only adds to our thirst. I take off my boots, gladly wading through high tide in an effort to cool my blistered feet.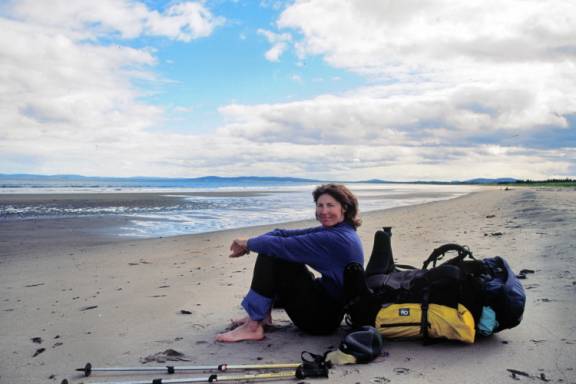 Climbing the shore sand ridge for a photo, Alfred discovers a great camping spot only a few meters from fresh water. I'm more than happy to stop and explore the area without picking up the backpack again. Sheltered from the ocean breeze by the ridge, we lounge, exposing our sun deprived Torngat bodies to some UV rays.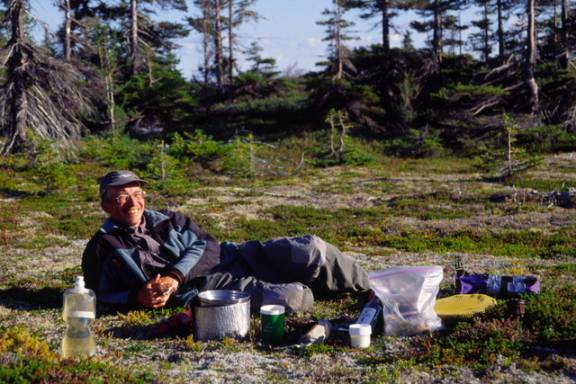 After a summer of difficult travel, the luxury of warm weather, ample food, a secure campsite (ie no polar bears), my system is swallowing up the Wonderstrand in big gulps. Body and soul replenish depleted reserves. How heavenly!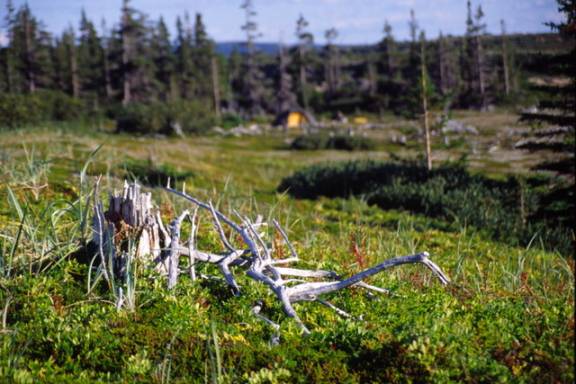 We idle, ponder the unpenetratable spruce thickets, the fresh back water ponds, the timing of sanderling flight formation, the glacial beach terraces far inland, gaze at the distant green Mealy Mountains and mostly, about the life of people who called this place home. These days book end summer's passage: the end of another season, reminding us that time moves all too fast.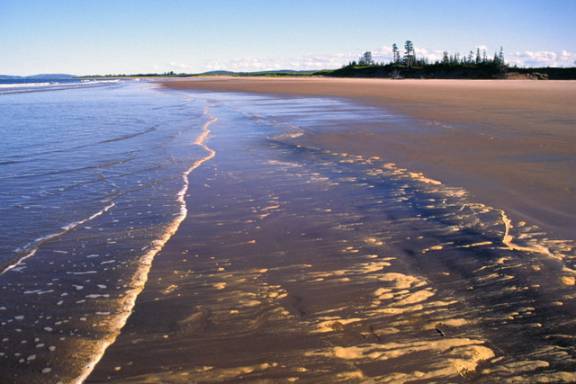 The sliver of an Arabian moon competes with stars, the faint glow of light washes the beach. Much later, northern lights flicker green just above dark tree silhouettes. Ten minutes later, and they too have gone.